| | |
| --- | --- |
| Venables concerned with playmaking ability of Jacoby Brissett | |
---
| | |
| --- | --- |
| Tuesday, September 30, 2014 4:19 PM | |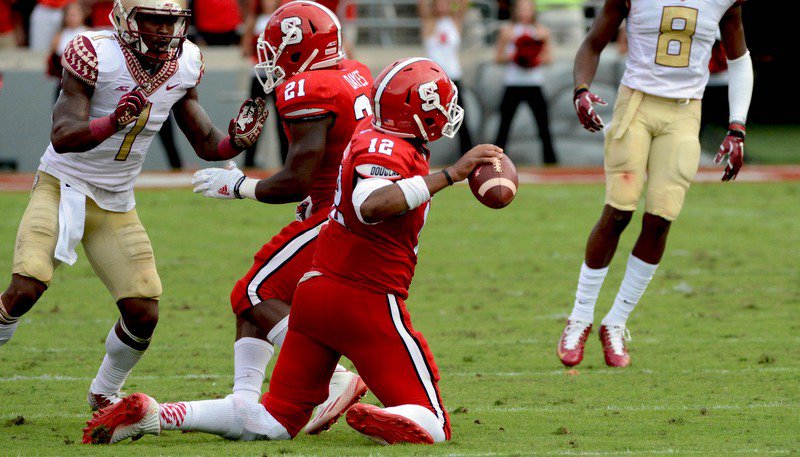 CLEMSON – Brent Venables

Brent Venables
Def. Coordinator / Linebackers
View Full Profile will need a more complete effort from his defense if the Tigers want to come away with a win over N.C. State Saturday afternoon.
Clemson's defense will be facing first-year N.C. State starter and Florida transfer Jacoby Brissett, who has completed 68.9-percent of his passes for 1,364 yards and 13 touchdowns against only one interception. Add that in with the fact that he can also beat you with his legs and has no problems extending plays, Clemson's defense will need to be focused for four quarters.
Venables met with the media Tuesday afternoon in the WestZone and said that his defensive unit played well for the first half of Clemson's 50-35 win over North Carolina but let four or five plays – some of the same plays they will see Saturday against the Wolfpack – put the Tar Heels back in the game.
"Pretty much what you thought after the game," Venables said Tuesday. "Pretty pleased with the first half. I think we held them to around three yards a play in 44-some plays. That's outstanding against an explosive offense like North Carolina, then we come back out in the second half and gave up three big plays and one ugly drive that was real displeasing.
"In a hurry everything gets pretty skewed, so I try to keep some perspective on things. You're still incredibly disappointed putting that type of product on the field, starting with us as coaches. The simple jailbreak screen - they gain over 100 yards on two of those plays and two touchdowns. I put us in a tough call on the first one. I can't say our guys weren't focused on that play or we weren't ready on that play. It was a bad call. It was a tough call - a zero blitz and they hit it just right. The other one was just very displeasing at every level. The other jailbreak that goes for 75, I don't think we tagged him. We're better than that. I know that we are."
However, Venables said the coaches know what the problems were and the players have taken accountability for their mistakes.
"We'll work on that from a fundamental standpoint and from a structure standpoint and defending it better, because that won't be the last time we see that play," he said. "Then we had the boot play. There was a total lack of discipline on two players' part and our job as coaches is to get them to play better with better discipline in short yardage situations. That what you're going to get with play-action. Guys who are responsible for playing the run need to do play the run and guys responsible for playing play action need to do that."
With his focus turned to N.C. State, Venables has been very impressed with Brissett, especially considering that he is a first-year starter at N.C. State.
"He's 6-3, he's 235 pounds," he said. "You saw what he did to a bunch of really good athletes on Florida State's defense last week. He's very strong, very calm and he keeps his eyes down the field. He's got a huge arm. They've done a good job of utilizing their personnel. He obviously did a great job as a redhsirt understanding their system because they do a lot with him. I haven't seen the quarterback from Florida but I can't imagine him being better than this guy. He's a really good player. "
Venables said that his defense is facing a tough challenge with Brissett at the helm, especially with his abilities to throw and run the ball in N.C. State's challenging offensive scheme.
"They're very balanced with what they do," he said. "They're leading the ACC in about every offensive category. They're really executing at a high level. That starts with the quarterback Jacoby Brissett and his ability to execute the offense and extend plays with his legs. He's a real quality dual-threat player. He throws a ball against South Florida in the end zone, perfect shot right into the bread basket from 65 yards. He put it on the money He's got a huge arm. He's successful running the football and that opens up a lot opportunities in the play action game.
"They do a lot of window dressing and a lot of smoke and mirrors just in regards to motions and shifts and exotic formations and tackle eligibles, a lot of jet-sweeps. They use a ton of different personnel groups, more than anyone we'll see all year. They use a variety of things you don't typically see. They're really good at executing a lot of stuff. You'll see everything from empty to three tight ends, two backs, the wildcat. They do a lot and do a good job from a precision standpoint of executing. They'll spread you out and they'll pack it in and you've got to handle all of it. They do it with tempo. Your players really have to be focused and dialed in and play with tremendous eye discipline."
Other notes
Venables on Garry Peters

Garry Peters
RS Sr. Cornerback
#26 6-0, 194
Conyers, GA
View Full Profile
"Yeah, he did excellent. He played well and he's got to keep improving fundamentally, but he was super competitive, had a great attitude and was on edge in the game. He had some opportunities and made some plays on the ball. We've got to get some of those tips into picks. He had some nice breakups and was very engaged. He's asking for more responsibility on special teams as well. He's a very hungry, focused guy right now. You've got to love that. It's the best he's been. Hopefully that'll continue to be the case. Garry is a senior, he's mature and I think he's got appreciation for the opportunities he has in the game. He recognizes that he's capable and needs to play at a high level."