| | |
| --- | --- |
| Venables: The story of this defense will be told on the field | |
---
| | |
| --- | --- |
| Thursday, July 17, 2014 8:08 AM | |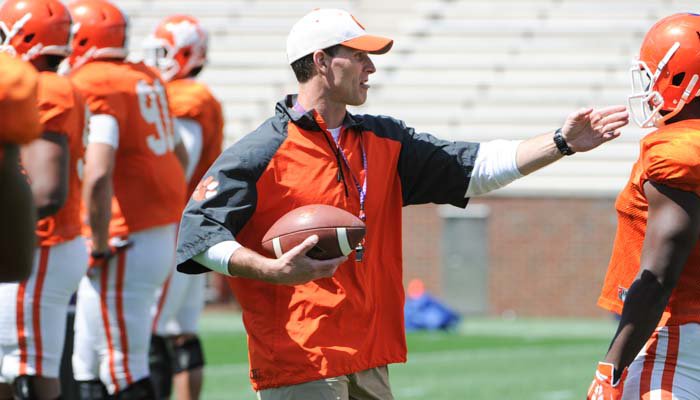 CLEMSON – A lot of preseason hype surrounding the Clemson football program centers on a defense that has the potential to be one of the best in the ACC, if not the country. However, defensive coordinator Brent Venables

Brent Venables
Def. Coordinator / Linebackers
View Full Profile isn't ready to say this will be his best group at Clemson or that his defense has the potential to be great – he knows his players will have to prove it on the field.
Following a dismal showing in 2011 that saw the Clemson defense ranked 71st overall in total defense, the Tigers improved to 64th overall in Venables' first year in 2012. Last season, the Tigers made a huge jump to 24th overall and led the nation in tackles for loss.
Tuesday, at head coach Dabo Swinney

Dabo Swinney
Head Coach
View Full Profile 's annual media golf outing, Venables was asked if this will be his best group at Clemson, and he said that he will never call a group "best" or "great" until the end of the season.
"I think it's the most quality depth we've had up front. Ask me at the end of the year and then compare apples to apples," Venables said. "Going into the year I feel like I know more about our guys – their personalities and strengths and weaknesses. I think we have proven depth upfront. I think we're talented across the board, but sometimes the talent doesn't always equate to production. Not trying to be evasive, but best and pretty 'great' and 'the best' – I don't take those words lightly."
Venables said that he hopes this year's defense continues the improvement shown by the 2013 squad.
"What I loved about last year's unit that really has nothing to do with this year's unit outside of some of the same guys back – is how we got better," he said. "How we found an identity and continued to improve from the beginning of the year to the end. As a coach, there's nothing more satisfying than seeing your guys get better. The greatest defenses I've been a part of have always had that trait, and as a coach there is nothing more satisfying than seeing your guys get better."
Venables then said that he has coached talented squads at both Oklahoma and Kansas St. that have underperformed despite lofty expectations.
"It's not happened much, but there's been a year or two where you've had a talented and experienced group coming back and you underperform," Venables said. "It's real simple to identify – some guys just not playing as hard. Not investing as much, taking things for granted – a lot of the little things. Not great leadership, not handling adversity well. Guys that are coming back and now they think they've arrived and they think they're doing everybody else a favor by coming back. I've had that. That can be a cancer to your team. We haven't started fall camp so we don't know yet. But I know Stephone (Anthony) isn't taking anything for granted – I've seen him in workouts and seen his dedication to the game and the sense of desperation that you want as a coach from your leaders."
Anthony, the starting middle linebacker, will be one of the players that Venables will count on to be a leader.
"I think he is one of the leaders of our front seven. Leadership you get in a lot of different ways – communication and being vocal and being the guy that is the first to arrive and the last to leave," he said. "There are other little things, like being the guy that will pick up the phone and hunt his buddies down that don't have his maturity and help them correct things. And not being afraid to call guys out when things don't go well, and that might be to tell a guy to close his mouth and listen and know when to speak. I think Grady Jarrett

Grady Jarrett
Sr. Defensive Tackle
#50 6-1, 290
Conyers, GA
View Full Profile is another guy."
How good will Clemson be on defense? Only time and the beginning of fall camp will begin to tell the story.
"We have good chemistry, but fall camp will really define that through three weeks of practice, work ethic, preparation and correction," Venables said. "That is work that will allow us to get ready to start down in Athens. Hopefully that leadership will continue to take a step forward rather than backwards."