| | |
| --- | --- |
| UNC's Larry Fedora says Clemson "every bit as good as Florida St." | |
---
| | |
| --- | --- |
| Friday, September 26, 2014 8:12 AM | |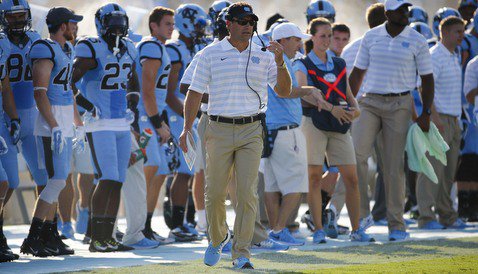 Larry Fedora was just happy the sun came up Sunday morning.
North Carolina's head coach spoke to the media earlier this week, and he said it would be up to the coaching staff to get the Tar Heels ready to play in Clemson this weekend after a demoralizing 70-41 loss at East Carolina last Saturday.
"Alright, the world didn't come to an end; the sun came up yesterday, it's back up today," Fedora said. "We've evaluated the film, broke it down, made the corrections and have moved on and we are preparing for Clemson at this time."
Fedora's defense – under former Clemson defensive coordinator Vic Koenning, gave up program records of 789 total yards and 70 points in the loss to the Pirates. It doesn't get easier this week as the Tar Heels travel to Death Valley to take on a motivated Clemson team coming off a 23-17 overtime loss to top-ranked Florida St.
"We will get ready for Clemson and put together a plan to stop Clemson and do the best job we can and we will practice that plan. You don't change your practice," Fedora said. "I don't think one game dictates how you practice. The most important thing we do now is put this game behind us and then put together a good plan for Clemson and make sure that we understand the plan by the end of the week."
Fedora had a fairly simple assessment of the Tigers, saying Clemson showed it was as good as Florida St.
"They're good; really good. I had chance to watch the (Clemson vs. Florida State) game the other night and Clemson didn't get beat in that game," he said. "They had a lot of opportunities to win that game and they just didn't seize some of those opportunities but they had the opportunities to win that game the other night and probably should have won but didn't. You have to give Florida State credit for winning the football game but they (Clemson) were every bit as good as Florida State was.
"I think Florida State would probably tell you the same thing. They're really good and I've spent more time looking at their defense then I have their offense but I know what (Clemson Offensive Coordinator) Chad Morris

Chad Morris
Offensive Coordinator / QBs
View Full Profile does offensively. I know how difficult it is to defend and now they decided, I'm guessing, to go with Deshaun Watson

Deshaun Watson
Fr. Quarterback
#4 6-3, 204
Gainesville, GA
View Full Profile . The kid is very talented. Defensively they can fly; they can really run. And all of their big guys upfront are big and fast and can really go. So we'll have our work cut out for us. This game will be tougher than the last week's game. "
The Tar Heels will have to contend with freshman quarterback Deshaun Watson, who will be making his first collegiate start, and Fedora said Watson was a true dual-threat.
"The thing that I know that he can do is that he can beat you with his legs, so that's always tough on your defense when a quarterback can do both," Fedora said. "And Chad (Morris) is going to do what he does. I don't think he's going to sit there and say we (Clemson) have to limit what we're doing because of Deshaun Watson. Deshaun has been there a year in the system and now he's risen to the starting position and I think that they're pretty comfortable with what he can do. I think that they'll have a full playbook, however limited they make it for a game, but I don't think it will be because of the quarterback play."
Fedora also said that Clemson's defense was impressive.
"Well Florida State was very fortunate to win that football game. I would say if you looked at that film, Clemson played very well in a lot of areas, just had a couple of miscues that were the difference in the game," he said. "Defensively at every position, they can run, they really can run. Their defensive line is extremely quick, aggressive. They get after it. They can fly around. They do a great job. Their linebackers can run. Their secondary does a tremendous job. They can play you in man at the corners and hold up against anybody."