| | |
| --- | --- |
| UConn: The Trick Play That Sparked Clemson | |
---
| | |
| --- | --- |
| Wednesday, January 6, 2016 7:01 AM | |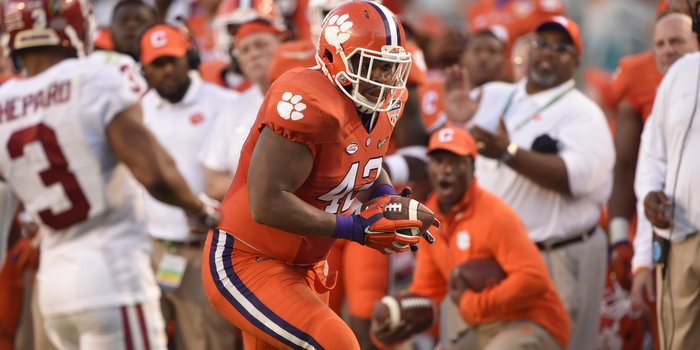 CLEMSON – Clemson head coach Dabo Swinney looked at punter Andy Teasdall and said one word and Teasdall wandered onto the field wondered if he'd heard right.
UConn, the term for the trick play that lets Teasdall loft a pass to defensive tackle Christian Wilkins. Teasdall walked to his position for the punt and thought about his next move.
"UConn - because that's where Christian went to high school, in Connecticut," Teasdall told TigerNet this week. "We've had that, I guess for two years now. Back when (Bradley) Pinion was here, we called it Concord when he was here though because he's from Concord, N.C."
Teasdall said the play wasn't put in just for Oklahoma.
"We practice it every week. Every Wednesday we do it, so it's not like it was special for this game," he said. "I saw it was 4th down and I'm always going to Coach Swinney to get the call. He said, 'UConn. We are going to run UConn.' He said it so casually, almost as if he was like, go kick it. So, I'm going out there, and I'm like, alright, what do I do on this one? Oh yeah, it's the one where I throw it. I just threw it up there and Christian made a great play."
Wilkins remembered it the same way.
"Yeah, he was very casual about it. I guess he just felt confident with it and the look that Oklahoma gave us and he just felt like we could go make a play," Wilkins said. "And, he felt like we needed to at that time because our offense wasn't moving the ball as well as they could have been and that gave us a little bit of a spark. Really, it's a go. I had to make sure I remembered the details - got low, got small, got skinny - so I hid behind the lines of scrimmage and made sure I just sneakily creeped out and made sure no one was around me."
Teasdall took the snap and lofted 35-yard completion to Wilkins for the first down, a play that would lead to Clemson's first touchdown of the game.
"They weren't pressuring me at all, so I had some time," Teasdall said. "I caught it and they weren't really moving and I knew Christian - as big as he is - he could "skinny up" and slide through the crack, so I just instinctively threw it. It took him so long to catch it, I guess I put a little too much air under it. Thankfully, it didn't go out of bounds or that I didn't overthrow it. When I saw that he caught it, I looked around to make sure there weren't any flags, and I was pretty ecstatic."
Wilkins said it's hard for a 309-pounder to "go skinny" but he obviously made it work.
"I guess I did a good enough job of it. It is a little hard to go unnoticed, but I was able to sneak out and get down the field and go make a play," he said. "It felt like the ball was in the air for a full minute, like any day now, come on drop. I thought I was going to have to go up and get it or something because it felt like it was taking forever, but it finally got to me and I was able to make the catch."
Teasdall got to the sideline and Swinney showed far less emotion than he had when a fake punt failed during the ACC Championship Game.
"He said, 'Can you believe that? How 'bout that?' I guess he said it so casually because there are cameras on him, and he didn't want the other team to know," Teasdall said. "Well-played and a good poker face."