| | |
| --- | --- |
| Tommy Bowden breaks down Clemson and FSU, compares Watson to Jameis Winston | |
---
| | |
| --- | --- |
| Thursday, July 30, 2015 8:07 AM | |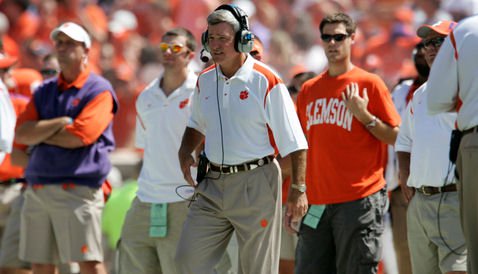 Former Clemson head coach Tommy Bowden

Tommy Bowden
Head Coach
View Full Profile sat down with TigerNet at the ACC Kickoff last week, and he gave his thoughts on the ACC title race, quarterback Deshaun Watson and Clemson's special teams concerns.
Clemson was picked to win the Atlantic in a vote of the Atlantic Coast Conference media but were also picked to win the conference title. Georgia Tech was picked to represent the Coastal Division in the ACC Championship Game.
Bowden said he thinks it's too close to call.
"You can flip a coin between them and Florida St.," Bowden said. "But they play Florida St. in Clemson and I think Florida St. has won the last few, so the incentive factor, playing at home, Deshaun Watson

Deshaun Watson
So. Quarterback
#4 6-2, 205
Gainesville, GA
View Full Profile - I can see why they were picked."
The perception of the media at Pinehurst was that Clemson might be the favorite because of fewer holes than the Noles, but Bowden said neither team suffers from a lack of talent.
"Since Jimbo (Fisher) has been there they have had Christian Ponder and E.J. Manuel and Jameis Winston, all first round draft picks," he said. "I think that is such a high-profile position and now you look at it and say there are a lot of unanswered questions. They lose some defensive players, but both Jimbo and Dabo and both Clemson and Florida St. have recruited really, really well. They reload. They will replace those losses with quality players. Some of the players that are gone are big names, and I think that is why there is the perception that there are question marks."
Bowden said that one advantage the Tigers have is Watson and that Watson reminds him of a former Florida St. signal caller.
"I was shocked at how composed he (Watson) was and his mannerisms on the sidelines," Bowden said of Watson's freshman year. "His mannerisms reflected a calmness. You have his accuracy when he throws. He has good running skills. I was totally shocked at how composed he was as a true freshman - not a redshirt freshman - and then the accuracy of his throws. I saw a little bit of Jameis Winston and what he did his freshman year, even though Jameis was a redshirt, freshman.
"But the accuracy that Jameis had in his throws, I saw a lot of that in Deshaun. I think the best comparison would be Jameis. The calmness and the leadership skills and how the team responds to him. Moreso from a head coaching perspective, you can tell a lot about a quarterback from their mannerisms. I watched him, and he exuded confidence and great leadership skills. That jumped out at me, and Jameis did the same thing. Jameis is the best comparison."
Bowden said he didn't doubt Clemson's defense would be back to form or that Watson and the offense would be able to score points – his main area of concern would be Clemson's kicking game as the Tigers will break in a new punter, placekicker, long-snapper, holder and kickoff specialist this season.
"That position, I've had them kick great in practice and not be nearly as productive in the game. You never really know," he said. "You think you might know in practice, but he has to go kick in a game and kick in a pressure situation. You have to kick field in the 40's with seconds left in the game or punt out of your endzone late in the game, things like that. With punter and kicker, you really have to see them with live bullets to know if they are going to be that good or not. As good as they feel during the spring or preseason, it really doesn't count until they've done it in a game. The year I went undefeated at Tulane I had an exceptional punter and kicker. If you want to go undefeated, then somewhere down the line in a close game those guys are going to be critical."