| | |
| --- | --- |
| Tigers pitch in to help Habitat for Humanity | |
---
| | |
| --- | --- |
| Saturday, November 9, 2013 6:14 PM | |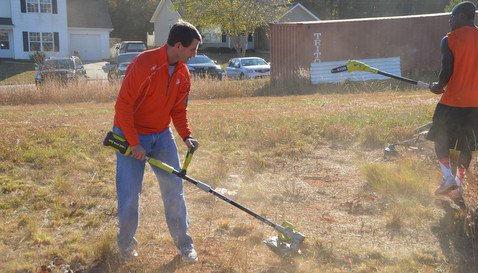 ANDERSON – The Clemson football team practiced on Friday afternoon in Anderson, they just didn't practice football.
Clemson head coach Dabo Swinney takes one day each football season where he replaces a normal football practice with a community service project and on Friday over 100 players and staff took buses to Anderson to help set up walls for a Habitat for Humanity project for Anderson County.
The houses are located in the River Trace subdivision, off the White Street Extension in Anderson, and the players were there to help build two homes, the 51st and 52nd homes built by Habitat for Humanity in Anderson County.
"We always try to use our open dates to just give back. One of the most powerful lessons anybody can learn – and not just these players - is the power of giving," Swinney told TigerNet at the project. "It is not always giving of your money – it is your time and talent and other resources. For our guys to be able to experience that is important."
Swinney said that if practice makes perfect, he wants to make sure his players practice giving back to the community.
"We are practicing today – we just aren't practicing football. For them to be able to come out here and see real impact that they can have and leave here knowing they have made a difference in people's lives is a great opportunity for all of us," he said. "Jeff Davis has done a great job of coordinating our community services, and to be able to partner up with Habitat and to build two homes is a pretty special opportunity for these guys."
The two houses were on opposite ends of the street, and the offense split up against the defense to see who could raise their walls first. The defense won that battle, and safety Robert Smith said that he had been looking forward to the project all week.
"This means a lot, especially when you can take your time and help the community and help build a house," Smith said. "I helped Habitat for Humanity back when I was in the 11th grade, so I knew what we were going to be doing. I was definitely on board with that."
Quarterback Tajh Boyd couldn't get much work done – once word spread around the neighborhood that the Clemson team was helping with the project, Boyd patiently tossed the football with neighborhood kids, posed for pictures and signed autographs.
He told TigerNet that it was good to get away from football and help those who need it most.
"Nothing beats going out and helping somebody," Boyd said. "This is something we look at as our way to give back. This is something I will always remember. We always get a chance to do something like this once a year, and this is the best one yet and it has been the most enjoyable."