| | |
| --- | --- |
| Tigers get defensive in avoiding upset, knock off BC 24-14 | |
---
| | |
| --- | --- |
| Saturday, October 12, 2013 7:12 PM | |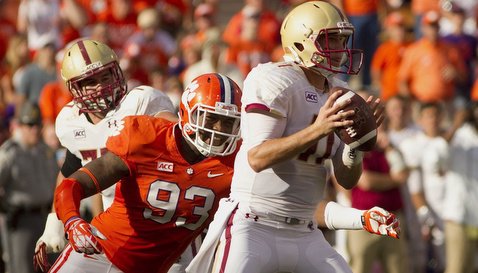 CLEMSON – The Tigers escaped on Upset Saturday, scoring two touchdowns in a 62-second span early in the fourth quarter, rallying from a 14-10 deficit to defeat Boston College 24-14 in Death Valley, setting up a huge game against Florida St. next week.
Clemson (6-0, 3-0) trailed 14-10 entering the fourth quarter, but a Tajh Boyd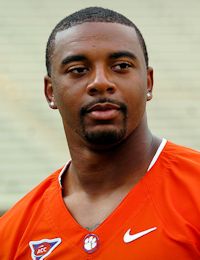 Tajh Boyd
RS Sr. Quarterback
#10 6-1, 225
Hampton, VA
View Full Profile touchdown run and a Tony Steward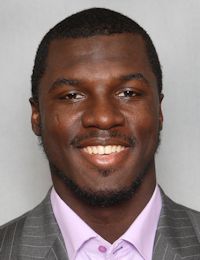 Tony Steward
Jr. Linebacker
#7 6-0, 235
Hastings, FL
View Full Profile sack 62 seconds later that turned into a Vic Beasley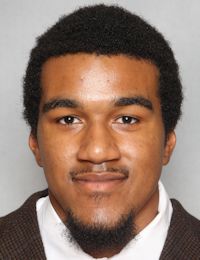 Vic Beasley
RS Jr. Defensive End
#3 6-3, 225
Adairsville, GA
View Full Profile fumble return for a touchdown gave the Tigers the cushion they needed in avoiding the upset.
"We have been in this situation a bunch of times," Boyd said after the game. "You saw maturity in the defense in the way they battled and the way the offense responded. And now, I am excited about Florida St., and I will get in the game plan tonight."
Boyd finished 30-for-44 for 334 yards and a touchdown, and Clemson's offense rolled up 496 total yards but could manage just 17 points. Running back Roderick McDowell had his best rushing game since the opener with 18 carries for 91 yards.
Missouri shocked Georgia earlier in the day, and beleaguered Texas knocked off Oklahoma in the Red River Rivalry, and it looked for much of the first half that Clemson would be the third and highest-ranked team to fall on the day.
However, Clemson's defense led the way and held on long enough for the offense to get back in the game.
Tiger defenders held Andre Williams, the nation's leading rusher, to just 70 yards on 24 carries, a 2.9 yards per carry average. Overall, Boston College ran the ball 39 times for just 94 yards, and they were just 3-for-15 on third downs. The Tigers also sacked Boston College quarterback Chase Rettig five times.
Beasley, who had five tackles, a sack, two tackles for loss, one pass breakup and the touchdown, was named the game's outstanding player and won the "leather helmet."
The Tigers were held scoreless in the first quarter – the first time they had failed to score in a quarter since the bowl game against LSU – and Boston College got on the board early in the second quarter after a drive that started deep in its own territory.
The drive took 11 plays and covered 93 yards, and Myles Willis is the one that put the Eagles ahead. The Eagle offense flowed right, and as quarterback Chase Rettig rolled past Willis, he put the ball in Willis' gut and he rumbled 38 yards for the touchdown and a 7-0 Eagle lead.
Meanwhile, the Clemson offense stumbled through myriad mistakes from the opening moments of the game. The Tigers had four fumbles – two which were lost – and two field goal attempts ended up in zero points as the Eagles allowed Clemson to cross midfield with ease. However, once the Tigers began to threaten the scoreboard, a mistake would end the drive.
Clemson finally got on the board with a 35-yard field goal from Chandler Catanzaro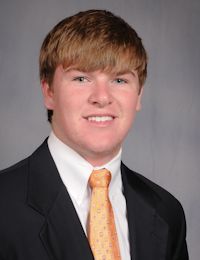 Chandler Catanzaro
Gr. Punter / Kicker
#39 6-2, 195
Greenville, SC
View Full Profile to end the first half, and Boston College led 7-3 at intermission.
The Tigers held the Eagle to start the second half, but a three-and-out had many in the crowd of 77,000 wondering if the second half would be a replay of the first half. However, Clemson's defense held on the Eagles' second drive, and Clemson finally got on track.
The Tigers drove 71 yards in just six plays, and Boyd hit Watkins over single coverage down the right sideline to complete a 49-yard touchdown toss that gave Clemson a 10-7 lead.
It took Boston College exactly one play to answer, however. Freshman safety Jayron Kearse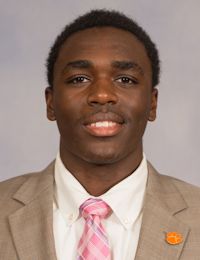 Jayron Kearse
Fr. Safety
#20 6-4, 205
Fort Myers, FL
View Full Profile – playing in place of the injured Travis Blanks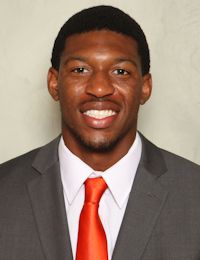 Travis Blanks
So. Defensive Back
#11 6-0, 190
Tallahassee, FL
View Full Profile – got beat by receiver Alex Amidon on a double move up the middle and Rettig threw it over the top to complete 69-yard touchdown pass and Boston College was back on top at 14-10.
The Tigers then responded with an eight-play drive that took just under three minutes off the game clock. A key play on the drive was a 4th-and-1 at the Boston College 39-yard line, and Clemson elected to go for the first down. Boyd pitched back to McDowell, who juggled the ball but got control of it long enough to scamper for a first down. Four plays later, Boyd rumbled up through the middle for a six-yard scoring run and Clemson led 17-14 with 13:44 left in the game.
On the ensuing drive, Rettig dropped back to pass on third down and was chased down by linebacker Tony Steward, who forced a fumble that was picked up by Vic Beasley and returned 11 yards for a touchdown and a 24-14 lead.

Score by Quarters     1  2  3  4   Score

-----------------    -- -- -- --   -----

Boston College......  0  7  7  0  - 14       Record: (3-3,1-2)

Clemson.............  0  3  7 14  - 24       Record: (6-0,4-0)

Scoring Summary:

2nd 13:38 BC - Myles Willis 38 yd run (Nate Freese kick), 10-93 5:48, BC 7 - CU 0

    00:00 CU - Chandler Catanzaro 35 yd field goal, 9-48 1:09, BC 7 - CU 3

3rd 06:59 CU - Sammy Watkins 48 yd pass from Tajh Boyd (Chandler Catanzaro kick), 6-71 1:58, BC 7 - CU 10

    06:40 BC - Alex Amidon 69 yd pass from Chase Rettig (Nate Freese kick), 1-69 0:11, BC 14 - CU 10

4th 13:44 CU - Tajh Boyd 6 yd run (Chandler Catanzaro kick), 8-48 2:46, BC 14 - CU 17

    12:42 CU - Vic Beasley 13 yd fumble recovery (Chandler Catanzaro kick), , BC 14 - CU 24

                                     BC       CU

FIRST DOWNS...................       12       23

RUSHES-YARDS (NET)............    39-94   37-162

PASSING YDS (NET).............      192      334

Passes Att-Comp-Int...........  21-13-1  45-30-0

TOTAL OFFENSE PLAYS-YARDS.....   60-286   82-496

Fumble Returns-Yards..........      0-0     1-13

Punt Returns-Yards............     3-22     3-19

Kickoff Returns-Yards.........     1-27     1-24

Interception Returns-Yards....      0-0      1-4

Punts (Number-Avg)............   9-43.2   5-43.4

Fumbles-Lost..................      2-1      5-2

Penalties-Yards...............     8-57     5-35

Possession Time...............    31:21    28:39

Third-Down Conversions........  3 of 15  4 of 17

Fourth-Down Conversions.......   0 of 1   2 of 4

Red-Zone Scores-Chances.......      0-0      2-4

Sacks By: Number-Yards........      0-0     5-42



RUSHING: Boston College-Andre Williams 24-70; Myles Willis 3-40; Alex

Amidon 2-12; David Dudeck 1-3; Chase Rettig 9-minus 31. Clemson-Roderick

McDowell 18-91; Zac Brooks 6-42; Tajh Boyd 9-33; D.J. Howard 2-1; TEAM 2-minus

5.

PASSING: Boston College-Chase Rettig 13-21-1-192. Clemson-Tajh Boyd

30-44-0-334; Sammy Watkins 0-1-0-0.

RECEIVING: Boston College-Alex Amidon 6-121; Brian Miller 2-16; Jake

Sinkovec 1-20; Mike Naples 1-17; C.J. Parsons 1-9; David Dudeck 1-6; Spiffy

Evans 1-3. Clemson-Adam Humphries 9-81; Sammy Watkins 7-101; Stanton Seckinger

3-29; Roderick McDowell 3-15; Martavis Bryant 2-48; Mike Williams 2-26; Sam

Cooper 2-16; Zac Brooks 1-14; D.J. Howard 1-4.

INTERCEPTIONS: Boston College-None. Clemson-Korrin Wiggins 1-4.

FUMBLES: Boston College-Chase Rettig 1-1; Myles Willis 1-0. Clemson-Tajh

Boyd 2-0; Zac Brooks 1-1; Corbin Jenkins 1-0; Roderick McDowell 1-1.

Stadium: Memorial Stadium      Attendance: 77506

Kickoff time: 3:36 PM   End of Game: 6:54 PM   Total elapsed time: 3:18

Officials: Referee: Gary Patterson; Umpire: Michael Webster; Linesman: Steve Clein;

Line judge: R. Pearson; Back judge: Pat Ryan; Field judge: Chris Junjulas;

Side judge: Eddie Bonet;

Temperature: 80 deg    Wind: Calm      Weather: Sunny

SACKS (UA-A): Boston College-None. Clemson-Corey Crawford 1-1; Stephone

Anthony 1-1; Vic Beasley 1-0; Tony Steward 1-0.

TACKLES (UA-A): Boston College-Steven Daniels 8-1; Kevin Pierre-Louis

5-4; Sean Sylvia 6-2; Dominique Williams 6-2; Manuel Asprilla 5-2; Bryce Jones

5-0; Steele Divitto 2-3; Kaleb Ramsey 4-0; Kasim Edebali 2-2; Al Louis-Jean 3-0;

Josh Keyes 2-1; Brian Mihalik 2-0; Spenser Rositano 2-0; Mike Strizak 1-0; David

Dudeck 1-0; Andre Williams 1-0; Connor Wujciak 1-0; C.J. Jones 0-1; Jaryd

Rudolph 0-1. Clemson-Robert Smith 6-3; Spencer Shuey 5-4; Stephone Anthony 3-4;

Vic Beasley 3-2; Quandon Christian 2-3; Corey Crawford 3-1; Jayron Kearse 3-1;

Bashaud Breeland 3-1; DeShawn Williams 3-0; Darius Robinson 2-0; Shaq Lawson

1-1; Garry Peters 1-1; Travis Blanks 1-0; Korrin Wiggins 1-0; D.J. Reader 1-0;

Tony Steward 1-0; T.J. Burrell 1-0; Grady Jarrett 0-1; Taylor Watson 0-1; Josh

Watson 0-1; Phillip Fajgenbaum 0-1; Tavaris Barnes 0-1.