| | |
| --- | --- |
| The latest on Ray-Ray McCloud and unforgettable Clemson visit | |
---
| | |
| --- | --- |
| Wednesday, June 11, 2014 12:14 PM | |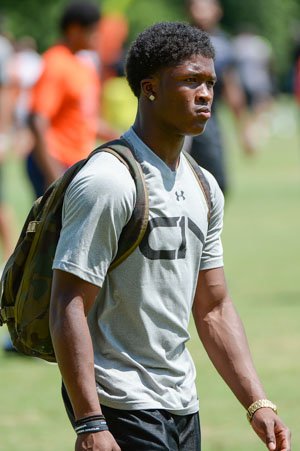 CLEMSON – Ray-Ray McCloud's visit to Clemson is one that no one in his family will ever forget.
The 2015 Tampa (FL) Sickles athlete spent Tuesday on Clemson's campus, making the trek up from Florida with his parents and a large group of athletes making the camp circuit. McCloud worked out with receivers coach Jeff Scott and friend and 2015 Clemson commit Deon Cain in the morning session, then spent time on the campus and visiting with the coaches for the rest of the day.
However, several members of his group ate at a restaurant in Anderson Tuesday evening and wound up with food poisoning, with 19 kids spending time in the hospital being treated according to Ray-Ray McCloud's father, Ray McCloud II.
"It has been a busy morning," Ray McCloud said. "We had all of those kids sick, and we have been trying to get them medicine and get fluids in them. Even the bus driver got sick. We were supposed to get out of here about 10 a.m. today, but I don't think that is going to happen."
Despite the food poisoning – which skipped the McCloud family – he said the visit went as well as could be expected.
"Any time I come up to Clemson, I have a great time," he said. "This is a great place, and it's always good to spend time with the coaches. The visit itself went great. We got to do some pretty good things last night, and the kids were involved. We got to spend some time with Coach (Dabo) Swinney, and he was telling us how Ray Ray would be utilized."
McCloud is listed as an "athlete" but worked out with the receivers while on Clemson's campus, and his father said that his son is compared to two former Clemson greats.
"As a running back, he is a lot like C.J. Spiller and can do a lot of things coming out of the backfield," he said. "He is just kind of unusual in that he has that burst, that quickness. And then the coaches were telling us that they might even use him like they did Sammy Watkins, and try and get him the ball in space."
McCloud II said that if it was up to him, his son would have already made a decision, but right now he is just trying to help him get through the process.
"We just have a lot to think about and a lot to pray about," he said. "We talk about it, and I ask him what he's thinking. He tells me there are things he loves about certain schools, and then there are things he doesn't like. I told him he has to take football out of the equation, and find a place that makes him happy outside of football. This is a lifetime deal."
He then detailed what the family is looking for in a school.
"Faith is important," he said. "Some places are more open about their faith, and some keep it quiet. And of course academics are important. You want to know if they are going to make sure he goes to class and make sure he gets an education. All of that is important to us."
McCloud II said that the final decision, however, is up to Ray-Ray.
"He is still thinking really hard about it," he said. "When he knows for sure, he will make up his mind and he will tell. The Clemson visit went great and they are definitely among his leaders."
As a junior, McCloud carried the ball 293 times for 2,316 yards and 26 touchdowns. He also caught 11 passes for 173 yards. He rushed for 1,319 yards and 12 touchdowns as a sophomore.