| | |
| --- | --- |
| The Painted (Orange) Desert | |
---
| | |
| --- | --- |
| Monday, January 11, 2016 7:01 AM | |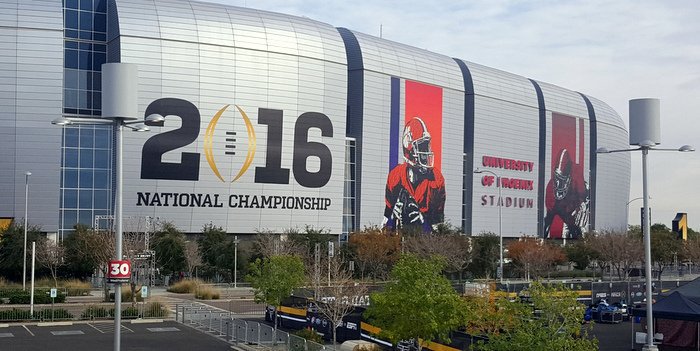 SCOTTSDALE, AZ – Welcome to the Painted Orange Desert.
The real Painted Desert sits just under four hours from the Phoenix metropolitan area, but there's no doubt that Clemson fans have outnumbered Alabama fans in the days leading up to today's College Football Playoff National Championship.
Clemson flags have been seen all over Phoenix and the surrounding area and there's no doubt that there is a certain buzz that surrounds this game. After all, it's the National Championship. If you can't get excited about this one, you just aren't a college football fan.
We took a little time off Saturday afternoon and drove up to Sedona, and at one of the first stops a couple pulls into the space next to us with a car bedecked in Tiger paws. I asked them where they live, and it turned out they live about five minutes from my house in Powdersville.
We drove on a little further, and there was more orange. Then a van full of Clemson fans disembarked just outside of Sedona and we talked about not only this season but future seasons. We drove up the canyon a few miles and there were more Clemson fans.
In all, we've had more than one local tell us that they've seen more orange this week than any other color, and it's led to questions about the school, about the football program and just what makes a bunch of people travel across the continent spreading two dollar bills in their wake.
*The media hotel is really nice – the JW Marriott Scottsdale Camelback Inn Resort & Spa – and the members of the playoff committee have made sure that everything is top-notch. Following the final press conference with the two head coaches Sunday morning, we ran into Dabo Swinney and Nick Saban while they were taking photos with Hannah Storm.
Swinney noticed us and asked if we were staying at the Camelback, and we said yes. He broke into a big smile and said, "You've been to Charlotte for the ACC Championship, you went to Miami for the Orange Bowl and now you're staying here? You're welcome."
Yep, thanks coach.
*Different ESPN analysts have been made available to the media, and it's no surprise that the SEC has been front and center. Marcus Spears (LSU), Greg McElroy (Bama) and Tim Tebow (Florida) have been the interview choices, and each one has extolled the virtues of the SEC at each turn.
However, a few media members have gone overboard with some of their questioning. While Spears was being interviewed, one reporter leaned in and blurted out, "Marcus, do you think Nick Saban is single-handedly responsible for the SEC's dominance of college football?" The question drew chuckles from just a few…………….
*Rumor has it that the Clemson football team went through the final walk-through Sunday on the roof of the team hotel.
*Had a really nice conversation with one reporter who covers Alabama, and he told me that the reason Bama will prevail is that they run the football while Clemson is a passing team. He said that teams who run the football with success will always beat a pass-oriented offense. I then told him – quietly – that Clemson actually ran the football better than Alabama this season, with more carries for more yards and more yards per game. He then smiled and said, "Yes, but they weren't as physical when they did it."
Yep. Got it.
*Clemson has a lot of players that have decisions to make later this week and next week regarding the NFL Draft. Both Swinney and Saban said Sunday that they wished the NFL would make changes to their system and allow players to get their draft grades only after the competitive season has ended. In other words, if your team went 3-9 and the season ended on November 28th, you can get your draft grades after that game. If your team plays into January, you get your draft grades after the final game.
That would take a lot of pressure off of the players and the families and make things easier on coaches who are trying to win a championship.