| | |
| --- | --- |
| Tanner Muse talks playing safety for Clemson, possible baseball career | |
---
| | |
| --- | --- |
| Monday, December 22, 2014 2:01 PM | |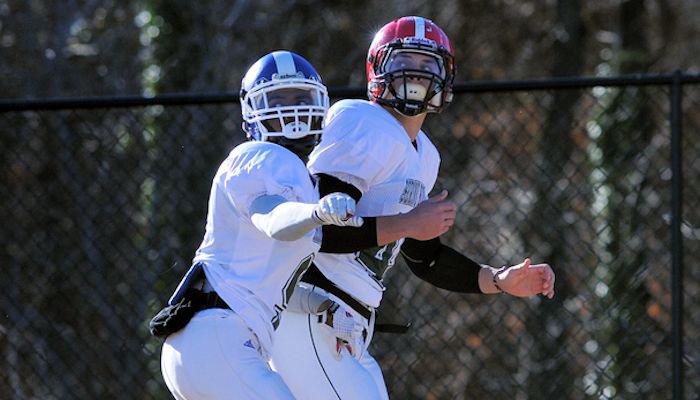 SPARTANBURG – Most high school football players only have to make one decision – where they will play college football – but Clemson commit Tanner Muse

Tanner Muse
Linebacker
6-4, 205
Belmont, NC
ESPN:


View Full Profile is now mulling a second life-altering decision.
The 3-star Belmont (NC) South Point safety has decided to forego early enrollment at Clemson and test the waters as a baseball prospect.
As of right now, Muse is hearing that he could be selected anywhere from the fifth round to the eighth round in the 2015 MLB Draft and with his stock on the rise he told TigerNet after Shrine Bowl practice last week that he wanted to see how his senior baseball season plays out and attend a few baseball clinics before making his decision – football or baseball.
"Honestly, I decided to stay in high school my entire senior year, so I'm going to play this baseball season and see what happens," Muse told TigerNet last week. "Whatever happens, it will just be a decision that at the end of the year I'll make."
The 6-4, 205-pound athlete is slated to play safety at Clemson, but plays centerfield on the baseball diamond said that he talked to the Clemson coaching staff about his decision and that they wanted him to enroll early in order to compete for the spot vacated by Robert Smith.
"They wanted me to come early," Muse said. "They wanted me to start knowing the defense and knowing the coverages. They wanted me to get with the guys and start getting to know them. They wanted me to come in and compete for that position where there's a senior leaving at that position but we'll just see at the end of year how it goes."
On the gridiron, Muse said that will bring his aggressive style to Clemson's defense if decides not pursue a baseball career.
"I'm going to try to bring my aggressiveness to the defense and just try to be the safety that everybody remembers," Muse said.
That aggressiveness is just one of the tools that Muse possesses, according to North Carolina coach Tom Eanes – who coached the defensive backs in last week's Shrine Bowl.
"He has got all of the tools. He has the height and the speed," Eanes said. "If they were making a Superman movie, I think he would find a role in that spot. He is a good football player."
Eanes likened Muse's style to a former Clemson player from the 1980s.
"When you talk about Clemson, I remember back in the 80's they would take those guys that were quarterbacks that were fairly tall and they would beef them up and they would be great football players as outside linebackers," Eanes said. "I think of Andy Headen from back in my dad. He has the ability to be able to do that. It just depends on what plan they have for him."
Muse played on both offense and defense at South Point. Defensively, Muse had 150 total tackles, one sack, four interceptions and one caused fumble.
On offense, Muse carried the ball 90 times for 1,292 yards (six 100-yard games) and one touchdown, while catching seven passes for 150 yards.