| | |
| --- | --- |
| Swinney's comments on Stoudt appreciated by his players | |
---
| | |
| --- | --- |
| Tuesday, November 18, 2014 7:42 PM | |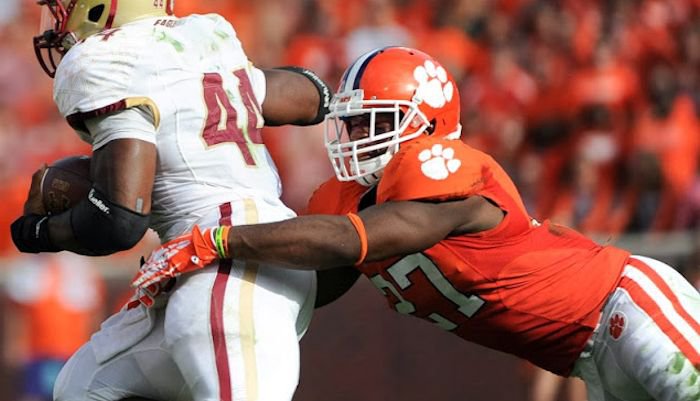 CLEMSON – Clemson fans spend most of their time bickering with opposing fan bases about the merits of a particular game or program, but the past few weeks have seen a seismic shift between fans who consider themselves loyal to a fault and the ones who don't mind calling out coaches and players when they feel like it merits the criticism.
Front and center of that shift has been the quarterback position – senior Cole Stoudt

Cole Stoudt
Sr. Quarterback
#18 6-4, 231
Dublin, OH
View Full Profile has struggled and has taken his fair share of criticism while freshman Deshaun Watson

Deshaun Watson
Fr. Quarterback
#4 6-3, 204
Gainesville, GA
View Full Profile has dealt with injuries.
The noise became even louder when Stoudt struggled at Georgia Tech last Saturday and a certain segment of the fan base bashed Stoudt with a fervor usually reserved for the feathered rivals down the road.
It got nastier on Tuesday when that segment turned it's fury on Swinney - Swinney struck a nerve during his press conference when he took up for his senior quarterback and said that fans shouldn't even consider booing one of their own because of what the senior quarterback has done for Clemson University both on and off the field.
"Not if they're who I think they are. Why would we react negatively to Cole Stoudt? Because he had a bad game," Swinney said during his Tuesday press conference. "This kid has given four years of his life to Clemson University. He was always ready whenever we needed him," Swinney said. "He lost some confidence this year. Difficult situation? Probably. For our fans to not embrace him? At the end of the day we're supposed to be family and we have each other's back. This guy has done nothing but represent this university with class. He's not the reason we lost the Georgia game. He played pretty good against UGA. He's not why we lost to FSU. Young people today are surrounded by negativity. It's difficult. I think it's a shame that this question is even asked. What has he done to even warrant someone booing a guy. That would be an absolute embarrassment. Cole Stoudt could have left here. He was the best backup he could be three years. He did everything he could to help us win. He represented this program the right way.
"People need to get a life if they're going to boo a guy like Cole. He's a class act and deserves to be treated with class. It's my hope that Cole will finish out this thing great. We have won six out of the last seven. We had a bad day. A bad, bad day offensively. We played well enough on defense and special teams to win. We all have adversity and make mistakes and make bad decisions. What I try to instill in my players here is that when adversity comes, you have a choice. You can let that define you, let it destroy you, which a lot of people do, or you can let it develop you. I try to teach our guys that to allow good and bad things to develop them into the person God has created them to be. Winners in this world are the ones who don't get discouraged by defeats. The greatest winners in this world all had massive defeats but they didn't get discouraged by those defeats. They learned and grew from those experiences."
It's that willingness to support and back his "sons" on the football team that make them want to put on the Tiger Paw every weekend and pay for Swinney, according to junior center Ryan Norton

Ryan Norton
RS Jr. Offensive Line
#58 6-3, 292
Simpsonville, SC
View Full Profile .
"There are some true fans out there and there are some not so true fans out there. There are people that they call them bandwagon fans," Norton said Tuesday. "There are a ton of different people out there and everyone thinks they know the right answer. You might think you know what you're talking about but you really don't. Once you watch them break down the film it's completely different from what you really see out there in the actual game setting. Coach Swinney, I have the most respect for him. He is definitely a players' coach. It's like he's our father. He's a father figure for us. Your dad can yell at you but if your neighbor yells at you then your dad is going to yell at the neighbor. That's the situation."
With social media and 24-hour sports channels and websites constantly pushing out stories, it's hard for 18-22 year old young men to block out what's being said about them ,and believe it or not that negativity does have an effect on a player's confidence. Just ask Norton, who received death threats after a bad snap at Florida State earlier this year.
"I would say it affected me a little bit," Norton said of the fans reaction to the bad snap. "It doesn't build confidence but that's something that you have to flush. Once you see it flush it and forget about it. That's all you can do from it. It's a personal journey. Everyone has different remarks made about them. That's the way the media and everyone being their own media person is now. That's the way the world is and there's nothing you can do about it but flush it and forget about it."
Senior safety Robert Smith

Robert Smith
Sr. Safety
#27 5-11, 211
St. George, SC
View Full Profile said there's no way to block out the criticisms from the "extended family."
"I feel like sometimes they forget and it's out of frustration with the fans," Smith said. "We know they love us and we want to make them proud as well. It's just like with a family, sometimes you get frustrated with each other. You want the best for them and you say stuff you don't actually mean. You just want more for them and you just have to call it tough love. I believe the Clemson fans have been accustomed to us going out and dominating and right now it hasn't been a great moment for us. We believe we can go out there and make a difference and end the season on a positive note."
However, the family within the football team will fight through all of the adversity and come together the right way.
"When I first got here to Clemson, one thing Coach Swinney emphasized was family," Smith said. "Within a family, you handle things with each other. You don't listen to external stuff. You don't go by he said and she said. You go to each other. We're going to do whatever we can to challenge each other. We're not going take away what's wrong but we're going to handle it like a family. We're going to challenge each other at practice and not blame one person. That's the biggest thing - we've been able to handle some of the adversity by handling things as family."