| | |
| --- | --- |
| Swinney, players say strength and conditioning paid off in "weight room battle" | |
---
| | |
| --- | --- |
| Saturday, October 18, 2014 9:42 PM | |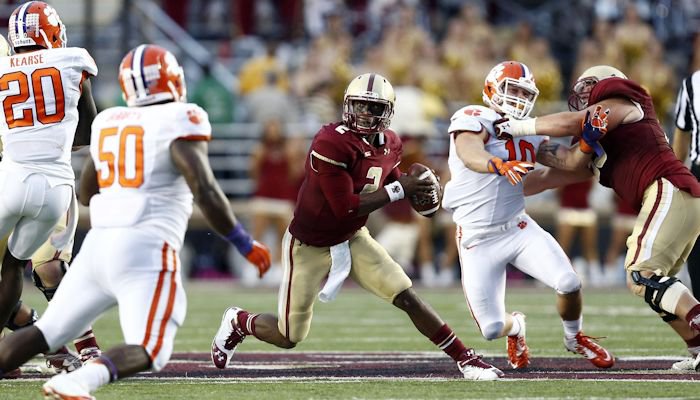 Dabo Swinney

Dabo Swinney
Head Coach
View Full Profile said that Saturday's 17-13 win over Boston College was exactly the kind of win that proves Clemson's offseason and conditioning programs are producing winners.

"Nobody was foolish enough to think this wasn't going to be a hard-fought battle," Swinney said. "We knew it was going to be a four quarter, rock 'em, sock 'em kind of game. All you had to do was watch the tape and see how Boston College plays and how they run the ball. We knew it was going to be a hard-fought game, and we prepared for it mentally all week.

"They are a physical team, and we said all week that it was going to be a weight room game. Their squats versus our squats. Their offseason versus our offseason. Their mat drills versus our mat drills. That is kind of how we went into it and our guys fought to the end. Our guys found a way to win, and it wasn't pretty but we found a way to beat our opponent."

Senior defensive end Tavaris Barnes

Tavaris Barnes
RS Sr. Defensive End
#9 6-4, 273
Jacksonville, FL
View Full Profile said the Tigers are winning games in October because of work put in during the offseason.
"Our summer training and winter training is above all. Coach (Joey) Batson really makes us work hard," Barnes said. "We get in there and we work. It is about the weight room, and that all comes into play. Especially in a game like this. They have the biggest offensive line we have faced, but we felt like we matched up well with them. We work hard during the offseason and it pays off on Saturday."
Running back C.J. Davidson

C.J. Davidson
RS Jr. Running Back
#32 5-10, 203
Clemson, SC
View Full Profile said he felt like Clemson was the more physical team on both sides of the ball.
"We learned a lot about our offense and defense in games like this," Davidson said. "I felt like we were the more physical team. From the start to the finish, it comes down to what Coach Batson says and it's about who is more disciplined and stronger physically and mentally. We came into this game knowing it would be a dog fight and it was. We fought it out, and we know we are going to face games like this all the time."
Defensive tackle Grady Jarrett

Grady Jarrett
Sr. Defensive Tackle
#50 6-1, 290
Conyers, GA
View Full Profile said games like Saturday's are the types that he embraces.
"This kind of game was my kind of game. We knew what we were getting into tonight and we delivered. That's satisfaction," Jarrett said. "We expected it to be physical. But when you are in a game like this you can't run away from it, you have to embrace. When a team attacks you, you have to attack them. We knew it would be a physical battle. Hard work pays off, and everything counts. Whatever you do whenever people aren't looking always pays off. If you want to cheat the off-season program you don't get the results you want during the season. It's very crucial to the players' performance, and we have a great strength and conditioning staff and they get the most out of us and it is starting to show, especially at this point in the season."
Video courtesy Clemson Athletics