| | |
| --- | --- |
| Swinney doesn't rule out Watson against Wake Forest | |
---
| | |
| --- | --- |
| Thursday, October 30, 2014 2:21 PM | |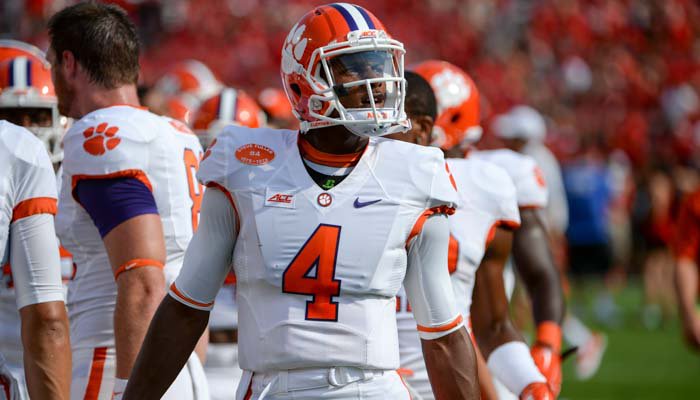 CLEMSON – The hand of quarterback Deshaun Watson

Deshaun Watson
Fr. Quarterback
#4 6-3, 204
Gainesville, GA
View Full Profile has been a main topic of conversation around the Clemson football program since the freshman broke a bone in his right hand against Louisville. During a Thursday afternoon press conference in the WestZone, Clemson head coach Dabo Swinney

Dabo Swinney
Head Coach
View Full Profile said that Watson looked good enough in practice Wednesday that he wouldn't necessarily rule Watson out against Wake Forest in a week.
The Tigers and Demon Deacons play next Thursday in Winston-Salem, and Swinney said Watson's progress has been ahead of the curve and said Watson "looked good" this week.
"Actually, Tuesday we did a 30 minute walk through and that's the first I saw him throw the ball a little bit," Swinney said in the WestZone. "He looked good and got back into practice last night. It's been very encouraging. He is getting a little better every day and doesn't have any pain. The trainers are doing a good job of protecting him and I think he is very encouraged, just like we are as coaches."
Watson is 75-for-112 for 1,176 yards and 12 touchdowns on the season, and has added another 147 yards on the ground. Senior Cole Stoudt

Cole Stoudt
Sr. Quarterback
#18 6-4, 231
Dublin, OH
View Full Profile is 115-for-182 for 1,143 yards but has only two touchdown passes while adding another 80 yards on the ground.
However, Watson's season came to a halt after the break early in the game against Louisville, requiring surgery and four screws inserted into his right hand just below the knuckle in between the index and middle fingers.
Watson threw a NERF football after the surgery, but Swinney said he had graduated to the real thing this week.
"He is a little restricted because of the way they have him taped," Swinney said. "But the biggest thing is just the rotation of his fingers and no pain. I think everybody is just really encouraged about where he is at so far."
Swinney said the game against Georgia Tech on November 15th is still the goal.
"Anything is possible, but it's kind of one of those things where it's kind of on him," Swinney said. "They will do another x-ray either tomorrow or Monday and see where he is at, and we will take it day by day."
I asked Swinney if he could foresee Watson taking snaps at Wake Forest, and he gave a cautious yes.
"I don't think anything is off the table based off of what I saw yesterday," he said. "But there are still a lot of unknowns. Like I said, he gets better every day and he's one of those guys than when you tell him to do something, he does it to the nth degree. It's always nice when you have a willing participant - he is going to be at every treatment and he is going to do the things away from here while nobody is looking to continue to expedite the process. Not everybody is wired that way. That is just how Deshaun is – he is probably in class doing his strengthening exercise. I don't think anything is off the table, but right now there are just too many unknowns. The biggest thing to me is that there isn't any pain. It's just a matter of him getting unrestricted and building the strength back."