| | |
| --- | --- |
| Swinney: "We aren't going away" | |
---
| | |
| --- | --- |
| Thursday, December 25, 2014 9:01 AM | |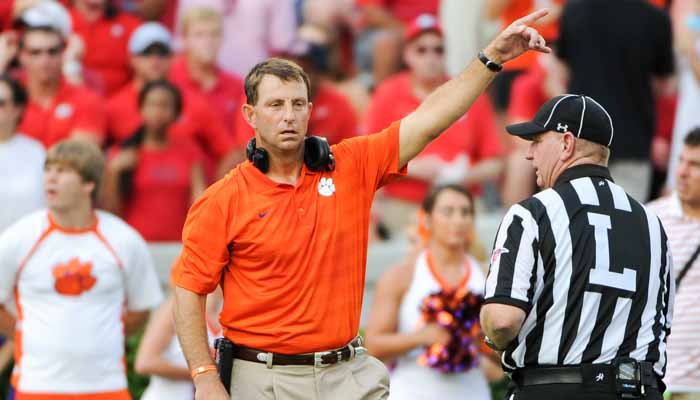 ORLANDO, FL – Clemson isn't going anywhere.
That was the message that Clemson head coach Dabo Swinney

Dabo Swinney
Head Coach
View Full Profile had for the media and for the fans Wednesday. The Tigers practiced in Orlando Wednesday afternoon in preparation for next Monday's Russell Athletic Bowl, and Swinney was asked about what a bowl win would mean for the program and if a win over Oklahoma would act as a springboard into next season.
The Tigers (9-3) have a chance at a 10th win when they take on Oklahoma in the bowl game, and Swinney said that while a win over a national power is always a good thing and can only help in the long run he was more interested in achieving a 10th win, a win that would put the Tigers in elite company on the national level.
"Well, it would be a 10th win four years in a row. That is hard to do, and there are only three other teams that can say that," Swinney said to the media. "Northern Illinois won 10 or 11 this year, and then Oregon and Alabama. That just goes to show you that there are a lot of great teams out there and great programs that haven't done that. For us to be one of the four that have won ten games four years in a row that is the type of consistency we want to be known for. Especially this year, with a lot of transition and adversity and things we have dealt with in our season. It would be a great way to finish the year and would be a 42nd win for our seniors and would probably put us in the Top 15 three years in a row. There are a lot of great things that come from a bowl win."
A loss to Oklahoma would end the streak of 10-win seasons, but Swinney made it clear that Clemson had a chance at the new College Football Playoff this season and should be considered among the nation's elite right now – and in the future.
"I think we are a team that is built to make a run for several years. For many years to come," he said. "We are a team that had a shot this year. I think we had a chance at the playoff this year. There are probably always 10, 12 or 14 teams that are legitimate candidates and we are definitely one of them. A break here or there, make a play or two and we are 11-1 and we are right there. We definitely had a chance this year."
He then said Clemson will remain a player on the national stage.
"I think we are set up to make a run at the ACC and for the college football playoff for many years to come. We aren't going away," Swinney said. "We have a great program and we have recruited well. Certainly, we are losing good players but that is why you recruit and then other guys get opportunities to step up and then they grow up into good players. I love our personnel and like our team and like our staff, and we certainly expect to be a contender for many years to come."