| | |
| --- | --- |
| Steward says chance to play for Bills a "dream come true" | |
---
| | |
| --- | --- |
| Sunday, May 3, 2015 8:01 AM | |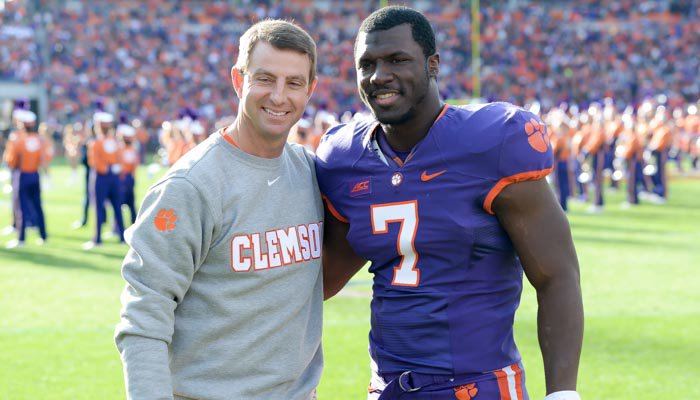 The Buffalo Bills once again reached into the upstate of South Carolina for a player, grabbing Clemson linebacker Tony Steward

Tony Steward
Linebacker (2011 - 2014)
#7 6-, 235
Hastings, FL
View Full Profile with the 188th overall pick (6th round) in Saturday's NFL Draft. It's something that Steward says is a dream come true.
The Bills took wide receiver Sammy Watkins

Sammy Watkins
Wide Receiver (2011 - 2013)
#2 6-1, 205
Fort Myers, FL
View Full Profile in the first round of last year's draft and have had several other Clemson players on the roster the last few seasons, including defensive back Jonathan Meeks

Jonathan Meeks
Safety (2009 - 2012)
#5 6-1, 210
Rock Hill, SC
View Full Profile and running back C.J. Spiller

C.J. Spiller
Pro Running Back
#28 5-11, 195
Lake Butler, FL
View Full Profile .
The Bill's first six picks in this year's draft were all players from the Atlantic Coast Conference with Steward coming as that sixth pick.
Steward said he didn't really think the Bills were one of the teams that would draft him.
"I didn't really talk to the Bills. I talked to (head coach) Rex Ryan a little bit, but it was just a big surprise," Steward told the Buffalo media. "It is a dream come true. It's exciting. I talked to him (Ryan) a little bit after Pro Day, but that's really the only contact I have had with him."
Steward said that any concerns about his knees – he has suffered two torn ACL's – should be dismissed.
"I just looked at it as a bump in the road. Things happen. You have to go through some hardships," he said. "I am just one of those guys that puts his head down and does what he has to keep working and get better. They are 100 percent. I have played for three years on them with no problem at all. I am very confident. I feel great. I feel like I am a competitor and I feel like I can come in and do what I have to do to make the team and be able to help the team out."
Steward said he hasn't been told his role, but expects to go in and compete right away for a spot, even if it is on special teams.
"All they told me was that they were drafting me, and honestly the rest is up to me," he said. "They are giving me an opportunity and that is all I ask for. I am going to come in and give it all I've got. I plan on making the team. That (special teams) is something that I enjoy doing. That was my biggest role early on at Clemson and I took it and ran with it. I was good at it and I enjoyed it. I am going to give everything I've got every time I am on the field."
Buffalo Director of Player Personnel Jim Monos said the Bills are satisfied with Steward's health and see him in a backup linebacker and special teams role.
"That (medical report) was clean. We looked at it. Coach Ryan has known him for a long time because of the Clemson connection with his son," Monos said. "He fits a need obviously at special teams and as a backup linebacker. Special teams right away. We were all at the Pro Day and he was awesome at the Pro Day. He's 240 pounds and runs a 4.6 40-yard dash all day. He's tough and productive. We are excited about him."
Steward also said he is excited about the chance to reunite with Watkins.
"I am very excited. Sammy is a Florida guy and we played together at Clemson," he said. "He is a stand-up guy and I am excited about getting the chance to play another year with him. It's a pretty awesome opportunity."