| | |
| --- | --- |
| Stanford's David Shaw visits Clemson, details similarities between the programs | |
---
| | |
| --- | --- |
| Saturday, March 28, 2015 8:01 AM | |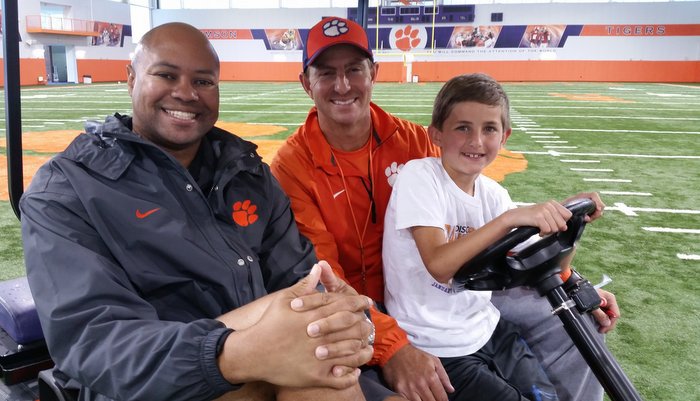 CLEMSON – Following Friday's practice session, Stanford head coach David Shaw and Clemson head coach Dabo Swinney

Dabo Swinney
Head Coach
View Full Profile sat on Swinney's golf cart inside the indoor practice facility as the children of both men climbed on and over the cart, running and playing as children will do.
Both coaches sat watching their children at play and watching as the final members of Clemson's football team finished their workout, secure in their friendship and the knowledge they are at the helm of two of college football's most successful programs over the past four seasons.
Shaw was in Clemson at the invitation of Swinney and took the time to speak at Swinney's high school coaches' clinic and say a few words to Clemson's football team, and Shaw said that he and Swinney have more in common than people would think.
"I think early on we saw that - and we always talk about - that you want to surround yourself always with good people and that's how we put our staffs together," Shaw told TigerNet in an exclusive interview. "You meet a lot of people in this profession and when you find people who do things the right way and do them well you tend to gravitate towards each other. That is what has happened with us."
Swinney said the two met a few years ago and found out they have many of the same values.
"We met a few years and kind of gravitated toward each other. We have similar core values and I've always had great respect for what he's done," Swinney said Friday. "I've followed him from afar. I finally had an opportunity to meet him - we were actually rookies together on our first trip with the Nike coaches. So we kind of hit it off from the get-go. His whole family is out here and it's been fun. We were actually going out there last year, but we had a death in our family and weren't able to make it."
Shaw took over as Stanford's head coach in 2011 for the departed Jim Harbaugh, and has a record of 42-12 (28-8 in the Pac-12) and has taken the Cardinal to three BCS bowl games in four years. Swinney has guided the Tigers to four consecutive seasons of 10 or more wins and has led Clemson to bowl wins over LSU, Ohio St. and Oklahoma the last three seasons.
Both coaches are also successful off the field and with Stanford on spring break it proved to be a good time for Shaw to visit the upstate of South Carolina. It was a trip he had been wanting to make.
"I've only been to South Carolina one other time. But to come to Clemson - I had heard so much about it and I kind of wanted to see it," Shaw said. "I got to know Chester McGlockton and had worked with him several years before he passed away and he always spoke so highly of this place. And then James Trapp as well. To get the invite from Dabo, Clemson was a place I had to come see."
Swinney said he kids – sort of – Shaw about the similarity between the two programs.
"This worked out great. I kid him all the time and I tell him we are the Stanford of the east coast and they are the Clemson of the west coast and we have a good time with that," Swinney said. "But at the end of the day we value the same things and that's how we do things. Not just what we do, but how we do them and the people we surround ourselves with. Graduating players. Winning games at the highest level, but doing it in a way that hopefully makes our families proud.
"And at the end of the day, that is what I see at Stanford and at Coach Shaw's programs. It was a natural fit and I tried to get him here. He did a fantastic job speaking to these coaches. And of course I wasn't going to let him come this far and not let him sow some seeds into our team and he did a great job. Stanford is very lucky to have him out there. It's not an accident they have had the success that they have had. You never know, maybe we will meet up on the gridiron one day. But it certainly has been a treat to have him here and we are going to spend the weekend together and just swap ideas and see if we can get better and make each other better."
Shaw said the visit exceeded his expectations and that it was easy to see why Clemson is on the upswing – Swinney has surrounded himself with the right people.
"It's been great. Like all great places they have a bunch of great people and that is definitely here," Shaw said. "It starts with people, and here you have great people who know what they are doing and they do it well. You have that and you have a chance to be successful, and that is on and off the field."
Shaw said that finding good people – and the right kind of players - isn't as hard as people might think.
"To me, that's the biggest thing that would surprise people. It's really not difficult. You can find them. They are out there," Shaw said. "You put the pressure on yourself to find the guys who fit who you are and who you want to be. Yes, great football players and we want them to graduate with great degrees. But we also want them to be good guys. We want our families to come to practice and be around them. We want them to be around our kids. Having that kind of environment - yes it produces wins on the football field but it produces an environment that spawns productivity and success outside of football. I think you feel that when you are around both of our programs."