| | |
| --- | --- |
| Short-yardage failures bite Tigers again | |
---
| | |
| --- | --- |
| Sunday, September 21, 2014 2:09 AM | |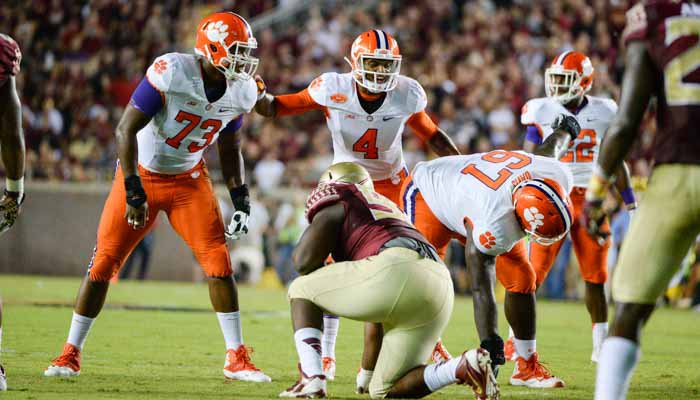 TALLAHASSEE, FL – In a game full of big plays, spectacular moments and high-pressure mistakes two plays stand out, and they both focus on not being able to make a short-yardage play with the quarterback under center with the game on the line.
Late in the third quarter and with Clemson tied with top-ranked Florida St., the Tigers had a second-and-goal inside the Seminole one yard line. Instead of a quarterback sneak or a power run, the Tigers dropped quarterback Deshaun Watson

Deshaun Watson
Fr. Quarterback
#4 6-3, 204
Gainesville, GA
View Full Profile back in the shotgun formation and center Ryan Norton

Ryan Norton
RS Jr. Offensive Line
#58 6-3, 292
Simpsonville, SC
View Full Profile 's snap sailed 23 yards over Watson's head. The Tigers settled for a field goal attempt that was missed by Ammon Lakip

Ammon Lakip
RS Jr. Kicker
#36 5-10, 200
Alpharetta, GA
View Full Profile , his second miss of the night.
Clemson's final play of the game was more of the same – on Clemson's drive in overtime, the Tigers faced a fourth-and-inches at the Seminole 16 yard line, and instead of going for the field goal head coach Dabo Swinney

Dabo Swinney
Head Coach
View Full Profile called for a run.
Once again Watson was in the shotgun six yards deep, and Florida St.'s defensive line blew up running back Adam Choice

Adam Choice
Fr. Running Back
#26 5-10, 211
Thomasville, GA
View Full Profile before Choice had a chance to get started. Game over.
The question quickly becomes – why not put Watson under center, get the football closer to the line of scrimmage and execute a power run of some kind? Both Clemson head coach Dabo Swinney and offensive coordinator Chad Morris

Chad Morris
Offensive Coordinator / QBs
View Full Profile had to answer those questions after the game.
Swinney said the coaches talked about putting Watson under center in both situations, but decided that the freshman was more comfortable in the shotgun.
"Yeah, we did talk about that. We just really weren't comfortable with Deshaun," Swinney said in his postgame press conference. "It's just not something he has really done a lot of. Again, we do what we do. That is obviously something you can second-guess on and point to the flaws and all of that kind of stuff, but you know we have to snap the ball. That's what we do. We've done it ten thousand times. We just didn't do it that time. I certainly get your gist there, and it's fair to criticize."
Morris said there were no second-guesses on his part about putting Watson in the shotgun.
"No. Everybody is going to second-guess," Morris said. "They will say yeah maybe you go underneath it. But that's an area that I could say Deshaun has struggled in the most in taking snaps under center, especially in a short-yardage situation. We do that all of the time, and that's one of the things he has struggled with. He has struggled with handling snaps, and we've been down that road many times before in my four years here. That's tough. I thought we got it in the play before to be honest with you."
Morris said the missed opportunities were the key to the loss.
"It's frustrating when you leave that many opportunities out there," Morris said. "You look at one of the early drives in the game, and we missed a touchdown pass. We came away with no points, and then we go down there and snap it over our head. We haven't done that since I've been here that I recall. Especially on the road, to move the football like we did and then to get down there you have to be able to come out of there with points and we didn't do it."