| | |
| --- | --- |
| Shaq Lawson: Tigers have already turned the page to Florida St. | |
---
| | |
| --- | --- |
| Sunday, November 1, 2015 8:01 AM | |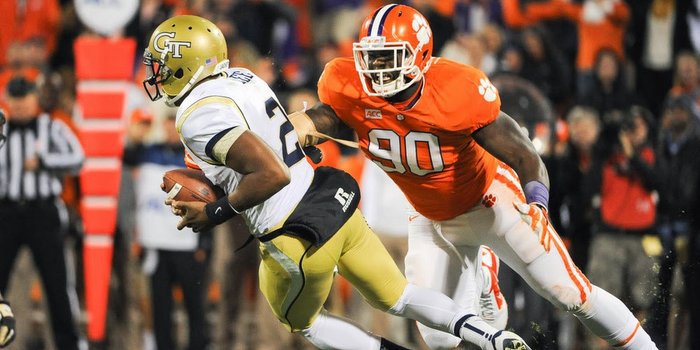 RALEIGH, NC – Junior defensive end Shaq Lawson marched out of Clemson's locker room Saturday evening a man on a mission.
Lawson and the Tigers had just put the finishing touches on a wild, back-and-forth affair in Carter-Finley Stadium, a 56-41 victory that sets up an Atlantic Division showdown with Florida St. next weekend in Clemson.
The Seminoles (7-1 overall) were 45-21 winners over Syracuse Saturday afternoon, while the Tigers improved to 8-0 with the win over the Pack. The winner has the edge in the fight for the Atlantic Division title and a berth in the ACC Championship Game.
Lawson was already focused on the 'Noles and didn't mince words when he was asked when the Tigers would turn the page to Florida St.
"Now. We're focused on Florida State now. I know they want us to enjoy this win, but right now my main focus is Florida State," Lawson said after the win. "I'm going to go watch them when I get back because we owe them from last year. We felt like we came out and played last year and we feel like we were the better team. It was a bad moment for us that night. We had a sick feeling in our stomachs. I know a lot of our guys are going to be ready, especially the guys from Florida. I've been waiting for this game all year."
The Tigers gave up a bevy of big plays to the Wolfpack and Lawson said the defense will have a lot of corrections to make.
"We just have to stay focused and come in every day next week to study the opponent. Every game is a big game. It won't be any bigger this week," he said. "We just have to come in and have better preparation and practice and just practice every day like it's a game-type situation, and Saturday will take care of itself.
"We got exposed in some areas that we need to clean up. They had a great game plan coming in, and we just had to make adjustments to it. We knew coming into the game that they were going to make plays, and we just had to be ready for it and play a four-quarter game. That's what it came down to."
N.C. State quarterback Jacoby Brissett was 24-of-41 for 254 yards and three touchdowns, and his ability to escape the rush – and break tackles – were a big reason the Pack had success.
"He's big. He's 240 plus the real pads, it was hard to bring him down," Lawson said. "I know I got him one time, and I got a couple of good hits on him. I knew then that he was going to be hard to tackle. He's very elusive and a very athletic quarterback."
Lawson said the defense – fresh off a shutout of Miami last weekend – expected State's best shot.
"We knew it was going to be tough coming up to Raleigh. We knew they were going to come out and fight us. They're a great team. We just had to play a four-quarter game, and that's what we did today. We found a way to win. It was a shootout on offense. They came out attacking us early. We knew that they were going to come out making plays, but we just had to respond, stay focused, and don't let that get in our minds, so that's what we did."
Lawson finished by saying the lessons learned against the Pack will pay off down the road.
"We needed that. That was a great test for us," he said. "We know we got down early and we came back and handled ourselves pretty well. That's the great thing about our defense, we knew how to handle ourselves and remain focused and not let anything get to us."