| | |
| --- | --- |
| Scott talks recruiting, using Watson as a recruiting tool and 5-star recruits | |
---
| | |
| --- | --- |
| Wednesday, February 11, 2015 9:27 AM | |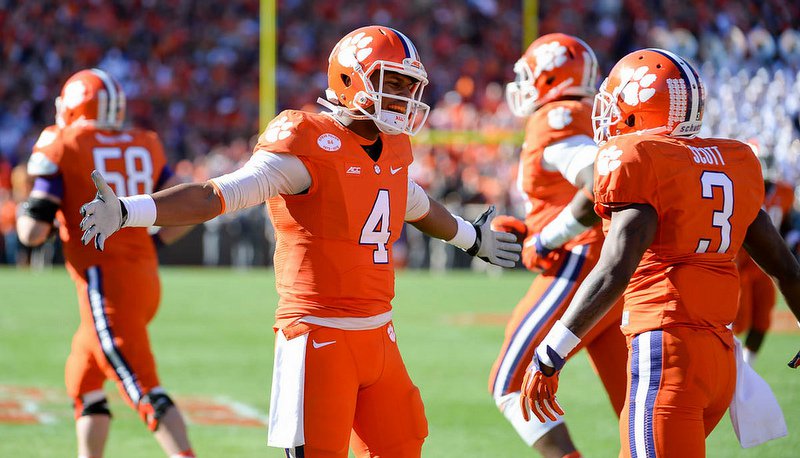 CLEMSON – Jeff Scott

Jeff Scott
Asst. Coach (WR) / Recruiting Coord.
View Full Profile 's time as recruiting coordinator has seen the Tigers reel in some top shelf talent. He saved the best for last, however, as the Tigers finished with the nation's number four overall class according to ESPN.
Scott met with the media last week, and he covered a lot of ground that included Clemson's new recruiting initiatives, the recruitment of 5-star talents Ray-Ray McCloud and Deon Cain and using star quarterback Deshaun Watson

Deshaun Watson
Fr. Quarterback
#4 6-3, 204
Gainesville, GA
View Full Profile as a recruiting tool.
The following is an edited transcript of that interview:
How have the new marketing initiatives helped in recruiting?
"It's very important. We're fortunate to be at Clemson where we have a great brand. It's a national brand. When prospects and their families see that Tiger Paw - just like watching the TV today and all of the national attention that Clemson is getting, that's very, very valuable advertisement. Our marketing department has done a great job at Clemson with the athletic department, the university and on the football side. We've got a lot to sell and we want to send that out to our prospects and let them see that as much as they can. It's amazing, some of them come here for the first time and they know every one of our coaches by name already because they've seen them in videos and in pictures. Recruiting is all about relationships so it allows that relationship to really speed up a lot whenever they're able to learn a lot about you and your program while sitting at home."
Was there any angst or nervousness about Deon Cain and Ray-Ray McCloud leading up to NSD?
"We were kind of laughing because we really thought going into the beginning of last week that it would be really quiet going into Signing Day, but I've been doing it long enough to know that it's never easy and it's never quiet. You have to trust the year-and-a-half or two year relationships. That's what it comes down to. Tony Elliott

Tony Elliott
Assistant Coach / Running Backs
View Full Profile deserves a lot of credit. I've walked past him four or five times today and every time I do I high-five him. He hand delivered two great athletes to Clemson. It wasn't just withstanding this last official visit weekend, there were a lot of bumps in the road and a lot of arrows that were coming our way over the last year-and-a-half with those guys and Coach Elliott did an excellent job with them and their family. I can tell you after talking with both Deon and Ray-Ray over the last two days and this morning, they're fired up about Clemson and can't wait to get here. We feel the same."
Talk about the fact that there were no defections after Chad Morris

Chad Morris
Offensive Coordinator / QBs
View Full Profile left?
"Coach Morris did an excellent job. He brought a special attitude and a type of offense to Clemson that Coach Swinney was looking for and we can't thank him enough for that. We knew because of the success that Coach Morris had here at Clemson that it would only be a matter of time before he left to be a head coach. I think what it speaks to more than myself or Tony or Coach Swinney, I think it speaks to the type of players that we're getting committed to Clemson. They're choosing Clemson for the right reasons. We don't want any player to choose Clemson because of one coach or because they get to rub a rock and run down a hill in front of 80,000 fans. We want them to choose Clemson because of the whole experience. Clemson is a lot bigger than just one coach or certain things on game day. Ultimately, the difference is that the guys who chose Clemson did so for the right reasons. It's been also valuable that Coach Elliott and I were involved in recruiting a lot of these skill players, it actually worked the opposite of what some other coaches were hoping it would do. They got excited because they knew that the guys they knew the best had a chance to elevate and have more opportunity in some of the play calling and stuff. It was pretty seamless and the bowl game was definitely a positive."
When did you know this was going to be a great class?
"Mitch Hyatt committing last year on Signing Day. We knew last year that offensive line was going to be a major focus and we felt like Mitch was one of the best there was in the country so when he committed last year, I think that was a strong statement. We were able to go out to some of the other recruits that were close because they're all watching each other. Mitch was kind of the bell cow, if you will, for that class - kind of like Deshaun Watson was with his class and we were able to build the '14 class around him. Early on we felt like we were in on the right guys. A lot of things have to fall into place for this to happen and fortunately for us it did this year."
How much do you use Deshaun Watson as a recruiting tool?
The thing that I learned - and it goes back to C.J. Spiller

C.J. Spiller
Pro Running Back
#28 5-11, 195
Lake Butler, FL
View Full Profile and Sammy Watkins

Sammy Watkins
Wide Receiver (2011 - 2013)
#2 6-1, 205
Fort Myers, FL
View Full Profile . Everybody wanted to see and spend time with Sammy Watkins and what we realized is that for him to be a student athlete, we had to be very careful about his time and not every time we get a great player on campus, which is about every other weekend, try to pull him over there for five or six hours. Having that experience, I think Deshaun and Artavis Scott

Artavis Scott
Fr. Wide Receiver
#3 5-11, 190
Oldsmar, FL
View Full Profile are two of the guys that these younger guys look up to. Those guys are great. They come over on junior day and official visit weekends and go to the basketball game with our guys. We try to be careful at the same time and not wear them out and realize that they aren't full-time recruiters, they're a student athlete going through a great time in their live. It helps. The players know that if recruits can spend 10 minutes with Deshaun or any of our guys, they can tell that these guys love it here and what those coaches are telling me. I see it exactly whenever I'm around their players. That's one of the best things for us to do is to get these guys around our players. They do a lot of the recruiting for us.