| | |
| --- | --- |
| Rodriguez wants to be more than a feel-good story | |
---
| | |
| --- | --- |
| Wednesday, April 23, 2014 12:31 AM | |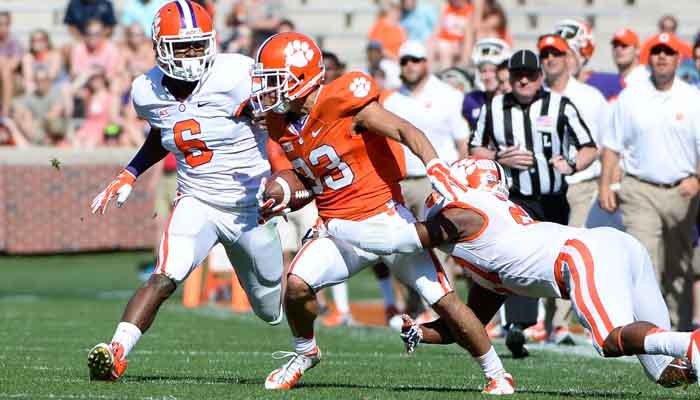 Daniel Rodriguez

Daniel Rodriguez
RS Jr. Wide Receiver
#83 5-8, 175
Stafford, VA
View Full Profile has enough awards and honors to adorn any three walls in his room, including a Purple Heart, the Discover Orange Bowl-FIWAA Courage Award and the USAA Athletic Inspiration Award.
Now, he wants a different kind of honor, the kind of honor that shows he has earned the respect and trust of his coaches and his teammates at Clemson – the chance to contribute during games when it counts, when the scoreboard dictates that it's crunch time.
His story is well-documented, but now the rising junior from Stafford, Va., wants to move past the feel-good aspect of the Daniel Rodriguez story, and get to the part of the story where he makes more than just an inspirational difference.
It has taken patience, but that's ok with Rodriguez, who knows a little something about waiting on your dreams.
"It's been a good spring. We always have a word at the beginning of every spring, and mine has always been patience," Rodriguez told TigerNet recently. "It's kind of frustrating being a walk-on, so I've always wanted to have patience and know my role so that when I do get an opportunity I can make the most of it. It's been an awesome spring so far, and I've been able to get a lot of reps and continuity with our quarterbacks."
Rodriguez has played 119 snaps over the first two years of his Clemson career, and he's hauled in ten passes for 30 yards and a touchdown. However, he wants more.
"That's the dream. Obviously, you have to put in your time and nothing comes handed to you," he said. "But my competitive nature will always be very high. For me, that's what I want. I want to be out on that field. We've had some great players here at my position before me, but now they're gone and I really want to do my best and get on the field and be an impact player on this team. I want that role – I want that on my shoulders."
Rodriguez has also taken on another role this spring – mentor to the young wide receivers that started in the program back in January.
"I can remember coming here and not knowing anybody," he said. "Now, I have guys asking me, 'Where do I line up?' and 'Who am I reading on this play?' It's kind of shocking to reflect on that and know that you are a veteran on the team. And yes, I believe my patience has paid off. I have stuck it out with the program, I've done what the coaches asked me to do, and I've tried to be the best person I can be on and off the field. Hopefully, we can have an exciting season and I can do my part and contribute."
Rodriguez spent a lot of time this spring at punt return, something that he says feels natural.
"I was talking with some of my friends about that, and we were talking about how we've been playing catch like that since kindergarten," he said. "It's something that's comfortable to me. When I get back there, it feels natural and I enjoy it a lot. It's a tough job, and it's not for everybody. But I've been in some tough situations that I can kind of compare that to, and I embrace it."