| | |
| --- | --- |
| Reese Colburn lives the dream at Clemson's camp Saturday | |
---
| | |
| --- | --- |
| Saturday, June 6, 2015 11:11 PM | |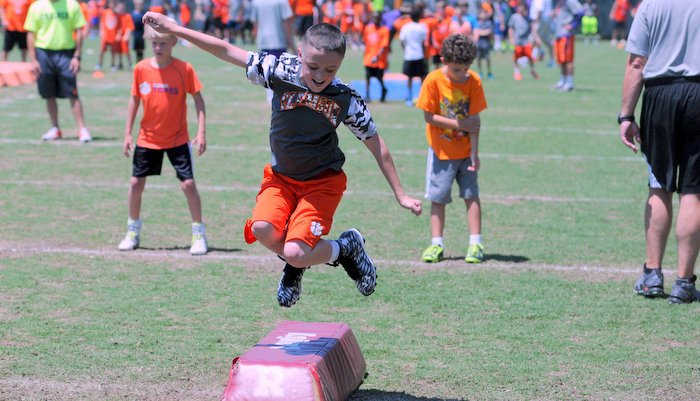 CLEMSON – Reese Colburn was living the dream Saturday, bouncing from drill to drill with his peers, receiving coaching from Clemson's football coaching staff and even getting to get in on a little competition at the end of the day.
We told you the story of Reese yesterday – Reese was born with a congenital heart defect that limits his participation is sports like football. However, his father Roman played football with head coach Dabo Swinney

Dabo Swinney
Head Coach
View Full Profile at Alabama and when Roman wanted to get Reese in on a little football action he asked Swinney. Swinney obliged and Reese and his family camped at Swinney's youth camp on the Clemson campus Saturday.
Reese tried to sprint from drill to drill – leading the pack on most runs – and attacked each drill with abandon. When his parents tried to intervene or ask if he was ok, he would give a small grin and wave them away. In other words – he was a normal kid.
Later in the day, during the Swinney Bowl games, Reese achieved one of his goals and was able to "tote the rock" on a play.
His father said it was a better day than any of them could have imagined.
"He got in there in the first game and they threw a bubble pass to him and he went 10 or 15 yards," Roman Colburn told TigerNet. "He did really well. They had three more games after that and he just started fading, got really tired and had to come out more. He is just exhausted - from the physical side of it and the emotional side of it.
"The main thing is it proves to him that he can do it. He sees his friends doing it all the time and he can do it, but it also lets him realize that he is special. He is kind of limited. He pulled me to the side today right before lunch, and he said, 'I know what you mean now' as far as just staying up with them all day long. But this was good for him - he gets to live out a dream but also it kind of makes him realize he is special. He needed to see this and see what his limitations are."
The Colburn's also connected with several hundred new friends – all of them wearing orange.
"It's been unbelievable. We've made about 500 new Facebook friends from Clemson," Roman said with a laugh. "And it was just like I knew it would be with Dabo. It's like a homecoming for us. This is like a second family - it's people we grew up with in Alabama, played football with, won a national championship with and it was just like coming home or back to a family reunion for us. They've already talked to us about coming back for a game. It's just been amazing trip."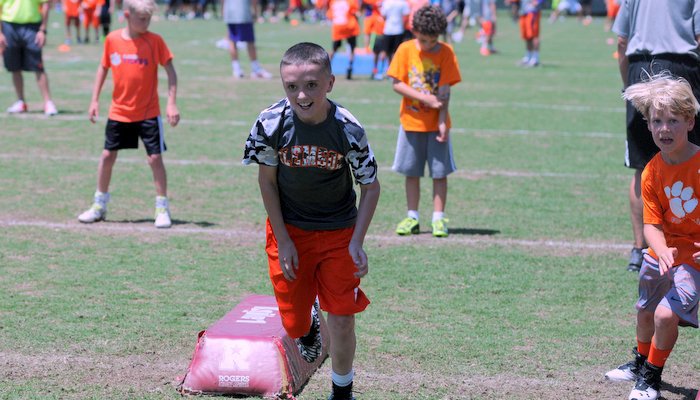 Colburn said nothing will ever take away his allegiance to Alabama football, but Clemson now has a special place in his heart.
"There is no doubt. I did some things I thought I would never do today," he said. "First of all, I thought I would never wear orange. You have Auburn, Tennessee and Florida that all wear orange and you can't wear orange in the state of Alabama if you're a Crimson Tide fan. I will still wear crimson but I will wear orange boxers. We would not have been treated this way anywhere else and this is special."