| | |
| --- | --- |
| Radakovich talks facilities, Littlejohn, Leggett and cost of attendance | |
---
| | |
| --- | --- |
| Monday, March 30, 2015 9:37 PM | |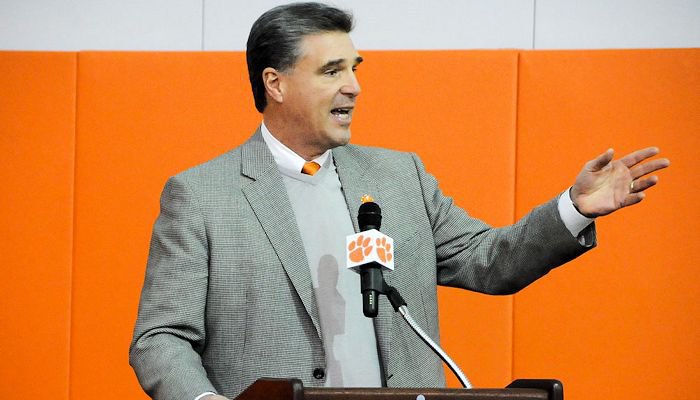 CLEMSON – Clemson Athletic Director Dan Radakovich

Dan Radakovich
Director of Athletics
View Full Profile met with the media on the fourth of the WestZone Monday afternoon, and TigerNet was there to cover a bunch of topics.
Here are the highlights:
The construction of suites in Death Valley
"That project is going well. It's created a real opportunity for us. We sold about 535 of the 600 club seats, so that's been positive for us as we move ahead, since filling those club seats is a revenue driver for other athletic projects. On the North end of the stadium, we've moved our IPTAY box from the first level to the second level and created a large spot for IPTAY as our fundraiser organization. All of the suites on north end will be changing – an enclosed climate controlled area. The patrons on the north side of the stadium will enjoy a great environment. Each of the suites on both sides will have operable windows."
Doug Kingsmore
"Over at Doug Kingsmore, the work that is going on down the right field line, that project was a little delayed in getting started but we hope to have it done later this spring. It will be an office area, player development and locker room."
Littlejohn Coliseum
"Come May – May 11th – we will begin the large project of the Littlejohn Coliseum rebuild. That project has recently gone through all of the requisite state approvals, so we will be moving forward with that. As you know, we'll play basketball with the men at the Bon Secours Wellness Center and the women will play here in Jervey. We have moved a wood floor into Jervey. Our women's basketball and volleyball will both play there.
"Littlejohn is a renovation project and a lot of things can go bad in a renovation project like they found out here back in the early 2000s when they had different plans than what they ended up doing. What we did is we asked for a little more money in our first iteration. We haven't changed a thing as to what we wanted to renovate inside Littlejohn. It's just now we know what the number is and how much it's going to cost. The idea that we skinnied down Littlejohn isn't the case. We had a number that in case we found something during our due diligence that we could move back up to that number.
"We're going to build a club, world class office and practice facility. We've uncovered a 10,000 square foot area to be utilized for campus events and basketball events. We're going to put all new seats in. There are going to be handrails everywhere. We'll have a new scoreboard. All of the things we said we wanted to do with the renovation, we're going to do. We just have number and we'll start that construction in two months."
Littlejohn construction impact on football parking
"I don't think that Littlejohn will have an effect on parking for the masses. Will there be some? Yes. Maybe a little of Avenue of Champions and some on the grass area on the south side. IPTAY, the athletic department and our contractors are working very hard to keep that at a minimum."
Football facilities
"Next up on the agenda is the beginning of the requisite approval for the new football operations facility. That first step begins later this week with the Commission on Higher Education and a joint committee for approvals later. We will then meet with potential architects and contractors. We will be moving throughout the summer and start this project as soon as we can later in 2016."
Other projects
"We are undergoing a feasibility study for our tennis program and our indoor tennis facility. We will replace the playing turf at Riggs Field to that of something similar to what's at Doug Kingsmore. We will be making a new entrance to Jervey since we'll be playing basketball there to make it a little easier into the facility."
Total cost of attendance
"The cost of attendance is something that is a hot topic around college athletics. We are moving forward with that on our campus. Whenever we do our number for what it's going to cost Clemson Athletics it's about $925,000 that we'll be paying given the student athlete enrollment that we have. We're planning for that and going through our budgetary process now and that will be something that will begin in August of 2015.
"That's going to come from our athletic department. It will be a new cost that we'll have to defray. We'll turn to IPTAY and our own athletic department revenue. Our cost of attendance as listed by our Financial Aid Offices is $3,608 and you take that times the number of full scholarship athlete we have and add summer school and you get about $925,000."
Baseball and Jack Leggett

Jack Leggett
Baseball Head Coach
View Full Profile 's future
"Obviously, this has not been the start to the season that everybody wanted but we've all been around baseball and there have been times where you start the season hot and finish .500 or where you start the year .500 and finish hot. At this point, where we are is we're in the middle of baseball season. We have a good group of kids who fight hard, play hard and I enjoy watching the baseball games and we'll see how the season plays out."
Getting students to Greenville next basketball season
"We've met with student leaders. We'll have transportation for the students for the 15 or 16 games that will be up at the Bon Secours Wellness Center. We've even had some inquiries from local fans, especially for the midweek games and maybe we can provide transportation from this part of the world to get them to Greenville. We're working on that and we'll be part of the season ticket information later this summer."
Howard's Rock
"We hope to have Howard's Rock back in its rightful place prior to the spring game. The best thing to tell you is that there will be increased and updated security means and methods to protect that priceless article."