---
| | |
| --- | --- |
| Thursday, October 10, 2013 10:54 PM | |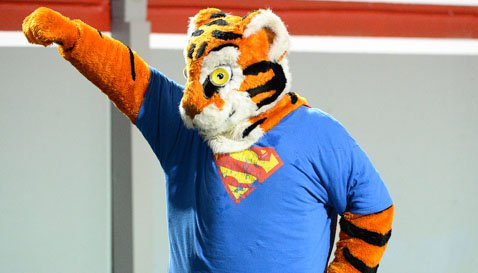 The job search is eternal, but maybe the Pigskin Prophet has finally found a home. In Syracuse. As the language monitor for Syracuse head coach Scott Shafer.
In case you missed it, Shafer dropped the big F word (not Furman) on national television last weekend, throwing a bit of an obscenity at Clemson head coach Dabo Swinney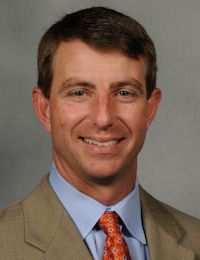 Dabo Swinney
Head Coach
View Full Profile because Swinney asked that the heat be turned up even higher in the Carrier Dome.
Most believe that Shafer got mad because the Tigers elected to go for a 4th-and-goal up 35-7, but further investigation has revealed that it started when Swinney told Shafer in pregame that the Carrier Dome was "cold" and remarked that they needed to turn the heat on.
Later on, Swinney apparently made the sign for jingling keys at Shafer, and then cupped his hands to his ears, and that is when Shafer let loose.
As a result, ACC Commissioner John Swofford has hired me to protect Shafer from himself. Swoffie and I went out and bought a shock collar at PetSmart, and whenever it looks like he is about to throw another F-bomb out there, I hit the switch and he shuts up.
Too bad I couldn't have the same gig with coaches that tend to drink. But I digress. On to the picks, and remember, it's all in fun.
OKLAHOMA VS. TEXAS
Is this the last Red River Rivalry game for Longhorns coach Mack Brown? The Sooners have outscored Texas 987-3 over the last four meetings, so Brown is just hoping to keep it within a hundred points. He also hopes his defense can tackle somebody for once. The good news is that this isn't the high-powered Oklahoma offenses of the past, so they should only put up 70 or so. And hey, it might even be closer than that. I hate the new name – Red River Rivalry – because the old name of the Red River Shootout was so much cooler. But we have to politically correct. So there's that. BOOMER SOONER 40, DIDNTYOUUSEDTOBETEXAS 20.
BOSTON COLLEGE AT CLEMSON
It's funny. These guys don't play like a bunch of Catholics. Instead they play like a bunch of lumberjacks, and they always give Clemson fits. However, I am going to start a rumor right now, and I send thanks to Clemson's rival from the middle part of the state for the idea. One brilliant web artist (see YouTube persona who has no real brain) said that Clemson beat Georgia because the Bulldogs had food poisoning and the NCAA was going to disallow the win. Turns out, his source wasn't a real Georgia player, but Manti Te'o's deceased girlfriend. So the clam chowder the boys from Boston will be served for the pregame meal is tainted!! Clemson wins easily. TIGERS 47, CHOWDERS 17
PITTSBURGH AT VIRIGNIA TECH
Pitt won an exciting game against Mike Shashefskis Blue Devils a few weeks ago, scoring a late touchdown to win 121-118. It won't be that easy this week, however, because Virginia Tech has a pretty good defense, and a quarterback that is really, really tall. Pitt quarterback Tom "Macho Man" Savage has actually been playing pretty well, and this one could be the kind of old Big East war that used to draw tens and tens of people to the games. HOKIES 24, PITT 17.
MISSOURI AT GEORGIA
As long as Georgia can keep players healthy and out of jail, they should win this one. However, they unfortunately had what amounts to the entire two-deep rotation tear an ACL last week. Missouri has been playing better, but Aaron Murray has been on a roll. Last week, he was engineering game-winning drives to the guy that wipes the slobber off UGA's face – hey he had on a Georgia jersey – and might even have to use cheerleaders this week. Georgia keeps rolling. UGA 38, MISSOURI 24.
SOUTH CAROLINA AT ARKANSAS
This team confuses me. The head coach does his best Foster Brooks impersonation on television, and the star player misses the game because he suffered a paper cut cashing his salary checks. In the meantime, the quarterback has his arm ripped out of its socket, and the trainers put it back on with Superglue and duct tape, and he goes out and plays. However, we hear that No. 7 will start earning his paycheck this week, putting aside the paper cut and hangnails and dread infections to go out and dominate. He might even tackle somebody, but that might be asking too much this soon. SCAR 30, ARKANSAS 28.
FLORIDA AT LSU
Let's be honest - this kid that is playing quarterback at Florida now looks a lot better than the Turnover Kid, and he gives them a chance to knock Les "Don't Blame Me For the Clock Management" Miles. However, he's a young one, and his reward for playing fairly well is a trip to LSU, where we hear that even the grandmas flip you the bird and spit on the bus windows. Florida's defense looks really, really good, but LSU's offense isn't too shabby, and this one goes down to the wire. Go with the home team. LSU 27, FLORIDA 20.
BAYLOR AT KANSAS ST.
Baylor is emerging as a national championship contender, and Art Briles is about to be on everybody's short list. Meanwhile, things haven't been going very well in Kansas – do things ever go well in Kansas? – and the Bears continue to pile up points. Unless they get bored with the scenery, in which case they will only put up 60 points. BRILES BEARS 50, KANSAS ST. 30
VIRGINIA AT MARYLAND
So Virginia gets blasted by Ball St. Maryland gets blasted by Florida St. I guess the real question is this – does anyone really care? MARYLAND 24, VIRGINIA 20. YAWN.
SYRACUSE AT N.C. STATE
Even though I have the shock collar, there is new drinking game this week. Every time Shafer throws an F-bomb at someone, take a drink. I guarantee you are feeling good by the end of the first quarter. And if you are watching this game, you will need the extra "support" those drinks provide. NC STATE 30, SHOCK COLLARS 24.
RICE AT UTSA
WHO????????????????????????????????????? I've never heard of Rice. Seriously.
GEORGIA TECH AT BRIIGHAM YOUNG
The world's best coach travels all the way out to Mormon Land, where the local clerics will promptly fit him with a shock collar for every time he throws out a bad word on the sidelines. They don't allow that kind of stuff out there. He can have six wives, but he can't say a bad word. MORMONS 30, FIGHTING PJ'S 28.
TEXAS A&M AT OLE MISS
There is no truth to the rumor that Ole Miss offered Johnny Manziel a job at the local hospital. At least we don't think so. After a hot start – they played a couple of middle schools – Ole Miss has come back to earth, and they now understand that you can't simply buy a championship in one year, unless you know Cam Newton's dad. TEXAS A&M 40, HOSPITALS 30.