| | |
| --- | --- |
| Ohio defensive back has Tigers atop his list | |
---
| | |
| --- | --- |
| Tuesday, July 28, 2015 2:42 PM | |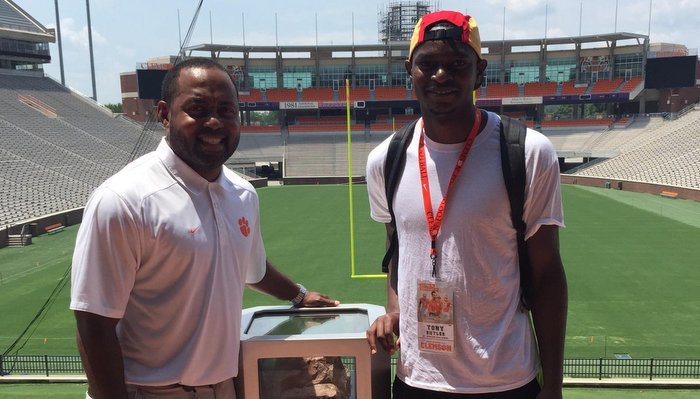 When Clemson came calling, Tony Butler

Tony Butler
Defensive Back
6-2, 195
Lakewood, OH
ESPN:


View Full Profile knew he had to listen.
The 3-star Lakewood (OH) St. Edward defensive back knew that Clemson doesn't recruit the state of Ohio all that much, so if the Tigers' defensive staff was interested in him, it meant they saw something special.
Butler committed to Pittsburgh last March, but after he began garnering attention from other schools he reopened his recruitment and began taking visits again to see what other schools had to offer. Butler told TigerNet that one of the first stops was Clemson because of the Tigers' reputation on defense.
"It's definitely an honor. Last year they had the number one defense in the country," Butler told TigerNet Monday afternoon. "It's crazy to think that a college like that would want to recruit me - a little Ohio kid. They never recruit Ohio. They traditionally get Atlanta, South Carolina, North Carolina, and Florida. Coming to Ohio to get me is a real steal, because a lot of teams really did sleep on me."
The 6-2, 197-pound prospect traveled to Clemson with his mother after attending a family reunion in Atlanta, and he said he enjoyed the visit.
"It was good. I got here about 11:30 and left around 3:00," Butler said. "I did a little bit of everything. We saw the facilities, the academic side, went to the hill, went to the locker rooms and talked to some of the players. We met the coaches. We just did normal things. It was a great place to be. I really enjoyed it."
The highlight for Butler was getting to spend time with several of the defensive coaches.
"I talked to Coach V [ Brent Venables

Brent Venables
Def. Coordinator / Linebackers
View Full Profile ], Coach [Mike] Reed and Coach [Corico] Wright. Those were the three guys that were there," he said. "The head coach wasn't there because he was doing the ESPN thing so he couldn't make it. The message was really that Clemson is a great place to be. They just want me to make the right decision and make sure that I'm 100-percent, because if I'm not 100-percent then they don't want me to commit. There were a lot of lessons that they taught me. They taught me how to pick a college. It's a great place. I really like the coaches a lot."
Butler spent a good amount of time with Reed - Clemson's defensive backs coach - and he said that he could see himself fitting in with the Tiger's defensive backfield.
"He's a great guy. He's really honest and open," he said. "He jokes around with the players. In the locker room, he jokes around with the players, and that's something that I'm used to because my coach jokes around with me a lot. He understands that it's a business, but you also have to have fun. He makes the game fun. I think Coach Reed is a great guy and a great coach. I would love to play under him."
With over 20 offers including Arizona St., Maryland, Michigan, Rutgers, Boston College and Kentucky, Butler said he still has research to do before rendering a decision. However, the Tigers have earned staying power after the visit.
"It's [Clemson] definitely one of my top schools," he said. "I've still got a few places to visit. I'm not going to sell myself short and shut everything down even though it was a nice visit. I'm going to take a couple of more visits, compare and contrast and talk to my mom about things because she ultimately has to okay the decision. I want to do it either before or after the season, but I'm just not sure yet. A decision date could be coming soon, but I have to talk to my mom."