| | |
| --- | --- |
| Notre Dame 1977: Steve Fuller remembers the one that got away | |
---
| | |
| --- | --- |
| Wednesday, September 30, 2015 8:03 AM | |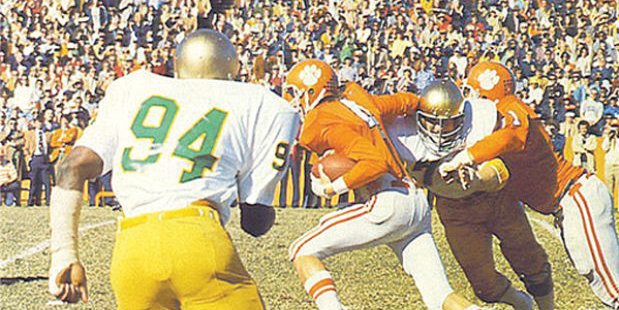 It's the one that got away, and the one game that Steve Fuller still wishes had finished with a different outcome.
Clemson plays host to Notre Dame this Saturday in a nationally-televised matchup on ABC, a battle of two teams ranked in the Top 11 who have hopes of making the College Football Playoff. The meeting is just the third all-time between the two schools on the gridiron, with the first occurring on November 12th, 1977 in Memorial Stadium when a pair of top 15 football teams met in Clemson's Death Valley.
A fifth-ranked Notre Dame football team led by quarterback Joe Montana, defeated a 15th-ranked Clemson team led by quarterback Steve Fuller, 21-17. Both of those quarterbacks went on to become Super Bowl Champions. Notre Dame went on to win the National Championship that season. Thirty-six players in that game went on to play in the NFL, including future Notre Dame Hall of Famers Ken MacAfee and Ross Browner. The Clemson roster that day included future NFL Pro Bowl players Dwight Clark and Jerry Butler.
Fuller told TigerNet earlier this week that it's the one game he wishes he could have won, and he struggled to find the words to express his feelings on the contest.
"I was disappointed. Loss of opportunity. One of those that when you look back in retrospect, it's one of those that you wish you had to do over," Fuller said. "It was a chance to beat a really good football team and a nationally recognized name and a team that wound up being a national champion. We had them dead to rights in our own stadium and we let them off the hook. It's just a little disappointment looking back. It was nice to see us making the steps to where we could compete on the national level week to week, but at the same it was terribly disappointing not finish that one off."
The game was notable on many fronts - Irish head coach Dan Devine showed his famous temper late in the game, even running onto Frank Howard Field during a play to snatch up a penalty flag and hand it back to the referee who threw it. The Memorial Stadium crowd and Tiger Band give the Irish the silent treatment during the pre-game activities and did not raise a ruckus until the cannon fired at the end of a silent performance by the band when the Sousaphone pedal note of Tiger Rag is the first sound made.
"It was loud. Certainly, the night games now have a tendency to get a little louder because you have all day to prep for them," Fuller said. "The upper deck wasn't there. I don't know how many people were there (54,189, a stadium record), but it was full. It was a great crowd as usual."
Clemson held a 10-7 lead at intermission and the lead could have been larger. The Tigers held a 213-101 advantage in total offense and Fuller was on fire, hitting 9-12 passes for 124 yards, while Montana was held to 3-9 passing for 53 yards by the Clemson defense. The third period was more Clemson. On the Tigers first possession, Fuller hit Warren Ratchford for a 35-yard completion. Four plays later on fourth down Lester Brown scored around left end from two yards out, a play that drew the ire of Devine because an official had gotten in the way of Notre Dame defensive back Ted Burgmeier as he was trying to make the tackle.
It was still 17-7 Clemson entering the fourth period when Montana led Notre Dame on one of his famous comebacks. On the last drive of the third period, which continued into the fourth, Montana led the Irish on a drive that actually gained 119 yards in total offense. Devine picked up an unsportsmanlike conduct penalty when he argued over a clipping call on Notre Dame receiver Kris Haines that negated a good Notre Dame gain. It set up a second-and-31, but Montana overcame his coach's tirade, hitting MacAfee for 27 yards then 16 yards on fourth-and-two. Montana finished off the drive with a 1-yard run to make it 17-14.
After a Clemson turnover, Notre Dame got the ball back at midfield. Montana had been saving a screen pass for a special occasion and he connected with Ferguson for 36 yards, bringing the ball to the Clemson 14. Montana scored later in the possession to make the count 21-17, Irish.
Clemson, which was going for its 100th all-time win in Memorial Stadium, had two more possessions, but could not get a first down and the Irish had escaped Death Valley with the four-point win.
"I think as the game wore on - they scored first and then we pretty much dominated for the next two and a half or three quarters. I just regret that we kept putting the ball on the ground and they kept getting it," Fuller said. "We didn't put our defense in a very good place to try to close that one out. I'm sure everybody came away hoping for more. I think most of the guys that were out there feel the same way. Of all the games that we played with my group, that's probably the one that we look back and say we wish we could have over."
This year's contest has generated plenty of buzz and publicity, and Fuller said it isn't even fair to compare the two games.
"It wasn't anywhere near like this game this week is, and I think it's more because there is ESPN that is 24/7 and you have social media," he said. "There is just so many 24/7 sports news cycles right now. Back then it was mostly word of mouth. We knew of Notre Dame and we knew their reputation and they had a program that had been very successful for many years, but we didn't know any of the players or coaches. Our rivals were Georgia, Tennessee and South Carolina. It was an important game because it was a national program coming to our place, but I would say in comparison to this year, it wasn't even close."
Fuller performed well in the game, and Clemson will need sophomore quarterback Deshaun Watson

Deshaun Watson
So. Quarterback
#4 6-2, 207
Gainesville, GA
View Full Profile to have a similar effort if the Tigers are to come away with the win. Fuller said he would have just one piece advice for the player he has allowed to wear his No. 4 jersey.
"Just do what you do. The great thing about Deshaun - and I think after a year and a half everyone is pretty aware of it - that he doesn't get real flustered," Fuller said. "He stays on an even keel in most cases, and that will serve him very well on Saturday night. They're a good football team. They have scholarship players and coaches just like we do. They're going to make some plays and we're going to make some plays, and there are going to be a lot of mistakes made on both sides. He just needs to get on to the next play and keep doing what you're used to doing. I don't have any concerns with him in that respect at all. His head is so good in situations like that and I'm completely comfortable with it."