---
| | |
| --- | --- |
| Monday, November 30, 2015 10:33 AM | |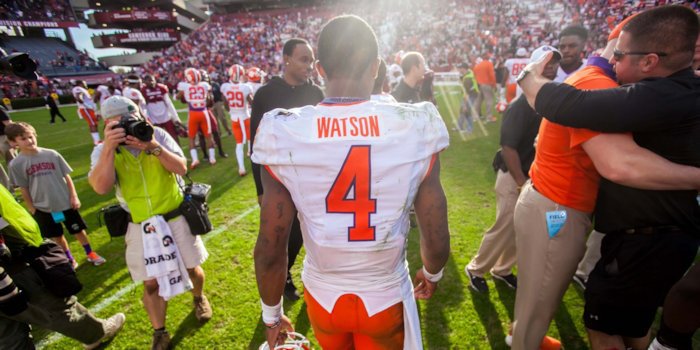 Dabo Swinney said after Saturday's victory over South Carolina that his team will seize this opportunity and play the game so there are no regrets when the final whistle blows.

"They have embraced the moment. They all know what is in front of them," Swinney said. "They all know what this opportunity represents. These are competitors. This is what they are trained to do. There is nothing to be nervous about. It's just football. It's just football. It's what we do. It's what we practice for. If we get beat, we get beat. You tip your hat to the opponent and move on. Shoot, let's don't have any regrets. Let's play."

Swinney said the no regrets mentality has also shaped the play-calling for the Tigers as they have remained undefeated, and that was never more evident as the Tigers faced a third-and-seven on the South Carolina 33 with just under 10 minutes to play. Swinney elected to call a timeout to discuss the play with quarterback Deshaun Watson, and it ended up being the right call as Watson hit Trevion Thompson on the sideline for a 24-yard gain, setting up the Tigers' final touchdown.

"We were down there, and we had a situation where might could have come out with five more yards and come out and maybe kick a field goal," Swinney said. "(On the headset) 'Look, we are here to win a national championship. Let's play.' We hit a big play to keep the drive going, and we go on to get a touchdown out of it. I just think that is the mentality of our guys. We have embraced the opportunity. We are going to be a tough out, and it ain't going to be because we tip-toed through the daisies. We are going to play, and we are going to have fun with it. There is no pressure. Pressure comes when you are not prepared. We're prepared."

Deshaun Watson is an important reason the Tigers feel confident heading into the showdown with the Tar Heels.

"You are talking about a true sophomore. I think he is the best player in the country," Swinney said. "I don't know how you measure that. I look around and see a lot of great players out there, but this kid is special. He just doesn't flinch. He just keeps grinding. He makes great decisions. He's just a great leader. He's very comfortable on that stage. It's what he was born to do is all I can tell you."

Win Saturday and Clemson will be in the college football playoffs, but regardless of the outcome Swinney said there will be no what-ifs.

"We are going show up and play and put everything we got into each and every game, and we will live with whatever result we get."