---
| | |
| --- | --- |
| Wednesday, September 2, 2015 7:12 AM | |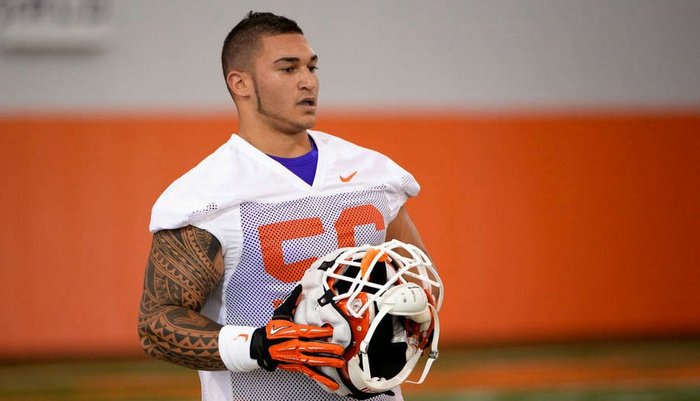 CLEMSON – Carlos Watkins

Carlos Watkins
RS Jr. Defensive Tackle
#94 6-3, 295
Mooresboro, NC
View Full Profile is the man in the middle, and now he's the leader of a young defensive line that is dealing with the loss of D.J. Reader

D.J. Reader
Defensive Tackle (2012 - 2015)
#48 6-2, 325
Greensboro, NC
View Full Profile .
The 6-3, 295-pound junior out of North Carolina has played 336 snaps in 23 games over his Clemson career, but with last week's news that Reader was taking a break from football, Watkins now becomes the Tigers' most experienced defensive tackle.
Reader and Korrin Wiggins

Korrin Wiggins
Jr. Defensive Back
#12 5-11, 195
Durham, NC
View Full Profile were counted on to be stalwarts – two of the few players who have had experience starting – for a young Clemson defense in 2015. However, Wiggins was lost to a torn ACL and Reader is out indefinitely, and there are now even more questions about how good the Tigers will be this season.
Watkins doesn't see a drop-off, however.
"I still don't believe that there will be a drop-off. We've got guys on the team who compete every day. Wiggins is a great player," Watkins told the media following Thursday's practice. "I won't take that away from him. We have to have guys who are ready to play if someone falls, so I really don't think there will be a drop-off."
Watkins and Reader are good friends, and Watkins says he has spoken with Reader to let him know his teammates will be there for him.
"I told him that I supported him, his decision," Watkins said. "I didn't want to say too much to him because it's a personal issue. I told him I would be here for him. He's like my brother. He's still on campus."
He then said that Reader knows he did the right thing in stepping away to clear his mind.
"He's in a good state of mind. I know a lot of people are wondering why he made the decision," Watkins said. "He knows it's the right decision, though. He's just trying to get through the situation and come back strong."
Watkins suffered severe injuries in a car accident in late September of 2013 and missed the rest of the season. Last season and this spring and summer provided the former 4-star prospect a chance to regain his form and strength, and he says that while is he is still refining his game he feels like his old self.
"I just want to practice with great effort, run to the ball, work on small things like technique. I want to help other guys prepare for the game," he said. "I don't know who will start yet, but I can coach up whoever it might be. I definitely feel like I am better than where I was in 2013. I'm just ready to get back on the field and see what happens. I've gotten stronger. I've gotten faster. I've learned a lot more about this game, just growing up and maturing. There's a lot I've added since 2013."
Freshman Christian Wilkins

Christian Wilkins
Fr. Defensive Tackle
#42 6-5, 305
Longmeadow, CT
View Full Profile and Scott Pagano

Scott Pagano
RS So. Defensive Tackle
#56 6-3, 295
Honolulu, HI
View Full Profile are likely to get the most snaps at tackle, and Watkins said they each bring something different to the group.
Wilkins is an athletic freak.
"He is a really, really good athlete. That guy is big, he can move really well, he plays with great pad level. He hustles. He's got really good effort," Watkins said of Wilkins.
Pagano brings strength and a knowledge of the playbook.
"He's a strong, physical guy. He knows the game real well," Watkins said. "That's a plus for him. He knows the playbook really well. You rarely see a mistake out of him. If you know the plays, you play with great confidence."