| | |
| --- | --- |
| Mike Reed's dog tags are a constant reminder of his heritage | |
---
| | |
| --- | --- |
| Thursday, November 20, 2014 1:01 PM | |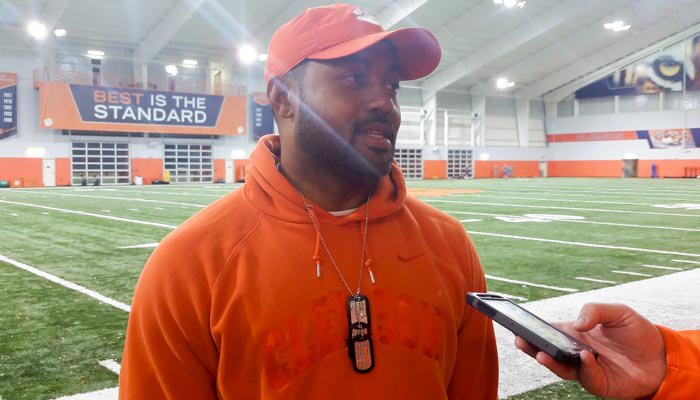 CLEMSON – Clemson University and its football program honor the military once a year with its annual Military Appreciation Day, but for Mike Reed

Mike Reed
Assist. Coach / Defensive Backs
View Full Profile the military is never far from his heart – literally.
Clemson's second year defensive backs coach is the grandson of a World War II veteran, the son of a career Marine and the son of a woman who battled breast cancer for 14 years – a soldier in her own right.
Reed wears three sets of dog tags – his father's from his time in the Marine Corps, one in remembrance of his mother and another for all of the men and women who have made the ultimate sacrifice. He said that he never wants a day or a moment to go by that he doesn't remember the reason he is able to enjoy the freedoms of every day life and the opportunity to coach young men in football and in life.
"One is in honor of my father," Reed told TigerNet in an exclusive interview Wednesday evening after practice. "They are actually his dog tags, and when he died that was one of the things that was given to me, so I wear them. I have another one that says, 'M.J. Reed salutes those who are gone but are not forgotten,' and I have one in memory of my mother because I consider her a soldier because she lived with breast cancer for 14 years. You have to be a soldier to go through that type of experience."
Growing up as a military brat creates unique memories for a family. Some are good, like spending afternoons with your father watching old war movies and some not so good, like the sweltering summers in Parris Island.
"Michael J. Reed, Senior is my father and I was named after him," Reed said. "He missed Vietnam. He did stints in the Persian Gulf and Guantanamo Bay, so he's seen his fair share of action. Growing up, it was one of those things that if I didn't go to church with mom, I would always run downstairs and jump on my dad's lap and we'd watch war movies every day. My wife thinks I'm crazy because I still have some of those movies but they are memories for me.
"We didn't move much. We did a stint in Parris Island. I can remember being a young kid and that was probably one of the hottest spots that I've ever been in. The mosquitoes were huge and I can remember alligators running around that place. We moved maybe twice and then Dad got into the reserves."
The lessons he learned from his father and grandfather are the same ones he's trying to instill in his own daughter.
"Him and my grandfather who served in World War II were always sticklers of discipline - make your bed," he said. "It's crazy because I make my daughter make her bed when she gets up in the morning."
Constantly being around the military not only rubbed off on Reed's lifestyle but it was a dream of Clemson's secondary coach – a dream that could never be fulfilled because of injuries sustained in the NFL.
"My dad was in the Marine Corps. He was in for 32 years," Reed said. "He was a Chief Warrant Officer. Growing up, that's all I saw. I actually wanted to be a Marine, but my father thought I was crazy. He wanted me to take a different path, so I did. When I stopped playing in the NFL, I actually wanted to go into the military and they wouldn't take me because I had four screws in my knee. It was one of those kind of things that it was a lifelong dream, and to this day I still have those ambitions."
The military is never far from his thoughts or even his wardrobe, and Reed said that wearing military apparel is another way for him to honor his heritage.
"I'm always wearing something military. I have a pair of fatigue pants," he said. "I'm always thinking I'm going to war even though I'm not actually going to war. I take great pride in having that blood run through me - my father being able to serve, my grandfather serving and all of the soldiers that have served. They are our heroes and still to this day, I wish I could have served."
If you see Reed on the sideline Saturday afternoon when Purple Hear recipient Daniel Rodriguez

Daniel Rodriguez
RS Jr. Wide Receiver
#83 5-8, 175
Stafford, VA
View Full Profile appears at the top of hill or when the National Anthem is sung and the war birds fly over, you might just catch him wiping a tear from his eye as he thinks about his father, grandfather and all of those who have given their lives fighting for our country.
"It's a great honor because you see it every day on the news, guys and gals fighting for our freedom," he said. "As people we don't realize that there are people we don't even know that are laying down their lives so we can have freedom here. The dog tags are a reminder. They only time I take them off is when I shower because my silencers always get messed up. It's a remembrance that, 'Hey, there are people out there that died for me.' Every time the National Anthem is sung, or there are flyovers, it's very touching for me and it almost brings me to tears. You get in that moment - as people say, in that zone. I can remember my grandfather telling me stories and my dad. The pictures that you see on the news every day. It's a remembrance."