---
| | |
| --- | --- |
| Saturday, April 5, 2014 1:10 PM | |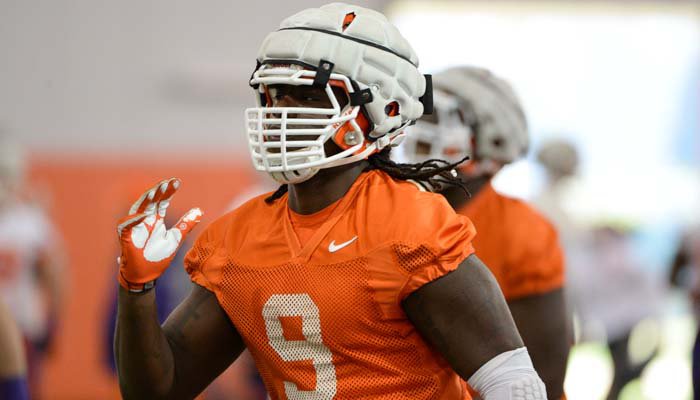 CLEMSON – After Clemson's loss to South Carolina last November Tavaris Barnes
Tavaris Barnes
RS Sr. Defensive End
#9 6-3, 270
Jacksonville, FL
View Full Profile thought that he might be playing his final season of football as a Clemson Tiger, but after much thought and prayer, the Jacksonville native decided that returning to school for his senior season would give him the best opportunity to support his wife and six month old daughter.
Barnes was a four-star prospect coming out of First Coast High School, but has only played 597 career snaps and recorded two sacks during his Clemson career.
Keep in mind, though, that Barnes has played behind the likes of Andre Branch

Andre Branch
Defensive End (2007 - 2011)
#40 6-5, 260
Richmond, VA
View Full Profile , Da'Quan Bowers, Malliciah Goodman

Malliciah Goodman
Defensive End (2009 - 2012)
#97 6-4, 270
Florence, SC
View Full Profile , Vic Beasley

Vic Beasley
RS Sr. Defensive End
#3 6-3, 225
Adairsville, GA
View Full Profile and Corey Crawford

Corey Crawford
Sr. Defensive End
#93 6-5, 270
Columbus, GA
View Full Profile . However, Barnes realizes that if he is going to make a name for himself, he is going to have to stop being satisfied with second-team snaps.
"You go from high school and feeling like you're the man to college where you are playing behind people or you don't play," Barnes told the media recently. "I lost confidence. I didn't believe in myself. You are playing back seat to people and you ask yourself, 'Why can't I be that guy?' Now, I'm starting to believe that I can. I know I can. That's the difference. I'm just playing with swagger out there on the field. I'm just doing my thing."
After the South Carolina game and the Orange Bowl against Ohio State, Barnes took a long hard look in the mirror and asked himself if he was truly the man and the player that he was capable of being.
"I talked to my wife, my mom and just me. Looking at the man in the mirror," Barnes said. "What did I do last year? Nothing. No one knows me. I have a chip on my shoulder and I have something to prove. I love my wife to death and my daughter is my heart. It's motivation. I have a family to feed and that's what I'm going to do."
With the answer being a resounding 'No', Barnes knew that he needed to step up his own game and he is preparing to unleash a new force on opponents.
"I know that I can maximize my opportunity during my last year," Barnes said. "If I would've left last year, I know that I would've been hurting myself. I prayed about it and talked to my family and thought that the best decision was to come back and grind and become one of the top defensive ends in the nation next year. I felt like I could help if came back.
"I have to improve everything. My whole game, man. Intensity. Leading on and off the field and working hard and playing hard and nasty. I'm just playing hard and nasty now, kind of like I did in high school. It's going to get ugly for a lot of people this year."
Barnes has been listed as second on the depth chart behind Corey Crawford, but the 6-5, 270-pound defensive end said that there is no talent gap between the two. The difference – Crawford makes plays.
"I don't feel like I'm being too hard on myself," Barnes said. "Talent level, there is no gap. He's a playmaker. He gets his hand on the balls. He bats balls down. I haven't really made plays, so that's what I'm getting to.
"I'd say, honestly, Corey is a playmaker. Last year I didn't make many plays. I was around the ball, but I didn't make plays. Corey makes plays. That's what I'm getting to this spring. This is really helping me become a playmaker."
With Crawford suspended for Clemson's opener against Georgia, Barnes will have an opportunity to show that he is ready to be the man on Clemson's defensive line.
"Most definitely. We're both competing hard. Corey is a great player," Barnes said. "I'm tired of playing back seat to people. That's what I've been doing my whole career here – not believing in myself. I'm getting my confidence back. I came back to be one of the best defensive ends in the country. I think I've got something to prove."