| | |
| --- | --- |
| Mackensie Alexander: On an island by choice | |
---
| | |
| --- | --- |
| Tuesday, September 23, 2014 4:14 PM | |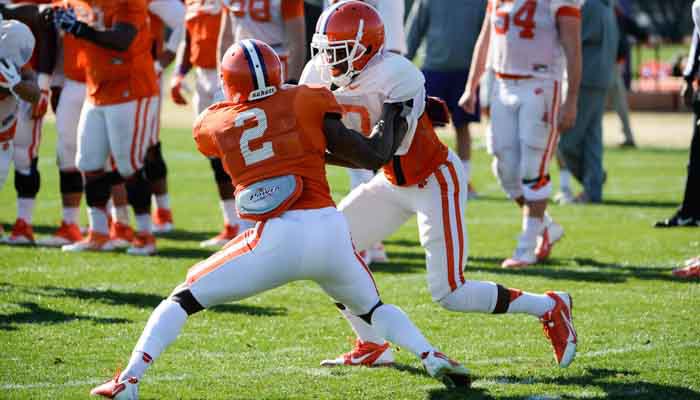 CLEMSON – Clemson cornerback MacKensie Alexander

MacKensie Alexander
RS Fr. Cornerback
#2 5-11, 190
Immokalee, FL
View Full Profile prefers to be on an island by himself, whether it's in the secondary on football Saturdays or when asked to do interviews.
The talented freshman out of Florida has declined all interview requests so far this season, telling members of the Clemson Sports Information staff that he will grant interviews when "I've done something worth talking about."
Alexander started Saturday's loss at Florida St., and other than a slip and fall which turned into a long touchdown by the Seminoles held Florida St. receiver Rashad Greene in check for most of the evening.
Greene wound up with nine catches for 135 yards, but 74 came on the long touchdown pass in which Alexander had single coverage and slipped and fell. Defensive coordinator Brent Venables

Brent Venables
Def. Coordinator / Linebackers
View Full Profile told the media Tuesday that if he had to do it again he would give Alexander help over the top.
"That was my fault. We were in quarters coverage and the safety is responsible for number three in trips coverage and Mackensie can use some help there," Venables said. "It was a bad guess. We had been eating them up. Quarters is good for a lot of things but it's a little bit more vanilla and protects you from verticals and deep shots, particularly with their tight end and any of the trick screens. It was a bad call. He'd been in that type of coverage the whole night and been kicking butt. That was a big reason - the way the secondary and corners played - why we were in the position we were and playing the way we were. You've got to give him some help and I have to be smarter than that."
Venables said that one particular play came at a bad time for the Tigers.
"He (Alexander) was in his (Greene) hip. When you're out there on an island, you can't have leverage every way," he said. "You want to be heads up and take away certain things by formation and situations. He was in his hip. That's part of the game and unfortunately it happened at a tough time and that's where they were going with the ball. But he's got a focus and a maturity to him in that secondary room, along with Robert (Smith) and some of those other guys that are growing up really fast."
Senior safety Robert Smith

Robert Smith
Sr. Safety
#27 5-11, 211
St. George, SC
View Full Profile said he has been around a lot of secondary players during his Clemson career and that Alexander has a chance to be the best, if not one of the best in the nation.
"I think he can. He was a freshman going against one of the top wide receivers in this year's draft. He proved a point," Smith said. "Up until that one play, I feel like he had a good grasp on Rashad Greene. Greene is a great player. That's kudos to Mackensie. That's the type of player that he is. He goes out day in and day out to be the best player. Whenever he gets a challenge, he always tries to make the most of it."
Smith said that while he tries to be a leader in the secondary and watch a lot of film, he's hard-pressed to beat the freshman to the film room.
"I watch a lot of film and I see him all of the time. I could pretty much tell you that he's watching film," he said. "He's a freshman and that just tells you his understanding of the game and what it takes in order to prepare for a game. Anytime I'm walking into the building, I'll see him. I'm leaving, I'll see him. There's been numerous times that I'll walk in with him and I'll go into Coach Reed's office to watch film and he's already there and I'm like, 'Man, you're taking my spot. This is where I watch film at.' You love things like that because you're playing with a guy that loves it as much as you do."