| | |
| --- | --- |
| Mac Lain thinks the sky is the limit for the OL in 2015 | |
---
| | |
| --- | --- |
| Monday, April 20, 2015 10:54 AM | |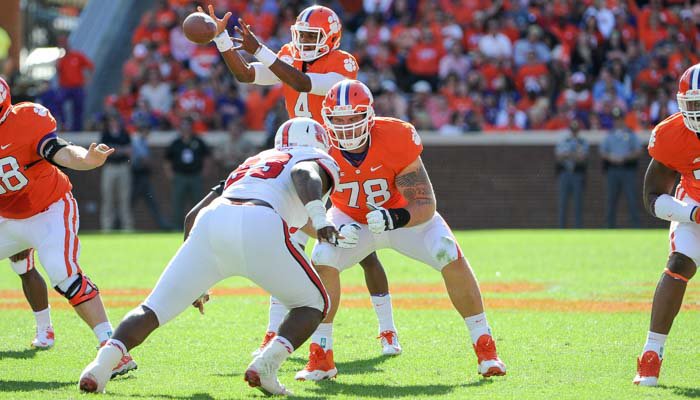 CLEMSON – Clemson's 2015 fall camp sits three-plus months in the future, and college football fans across the country will spend their summer anxiously awaiting every scrap of news and devouring preseason publications.
For the players and coaches, however, the downtime is usually a blessing after the rigors of a long season, winter conditioning and fall camp. The last thing on their minds is fall camp. Usually. Senior left guard Eric Mac Lain

Eric Mac Lain
RS Sr. Offensive Tackle
#78 6-4, 305
Hope Mills, NC
View Full Profile is the exception, and he said that the improvement he saw out of the offensive line this past spring has him ready for fall camp and even the start of the season.
"We have four months until we kick off. We are just ready to go," Mac Lain said after the spring game. "I think this was a great start, and a key point that we can build off of and really push for the summer. We know what we did wrong in the spring and now we just need to work on correcting it this summer."
Mac Lain then said he thinks the sky is the limit for a group that head coach Dabo Swinney

Dabo Swinney
Head Coach
View Full Profile has said has the potential to be the best during his tenure.
"I think the sky is going to be the limit. Whatever Coach (Robbie) Caldwell pushes us to do, we will do," he said. "The coaching staff has the trust in us to run the ball and they like the way we are protecting things. I think we are going to have a phenomenal year and I can't wait to get started."
Both offensive lines performed reasonably well in the spring game, and Mac Lain again repeated that the performance has him pumped for 2015.
"It was good when you split two teams like that, because you can really watch the younger guys that you might not get to see them a lot in practice," he said. "It was great - I think we had a phenomenal day. I don't think we gave up but maybe one sack, and that was questionable with the quarterback rules. I think we had a great day blocking and didn't have too many tackles for loss. It was really exciting.
"I cannot wait. Obviously, we are back to having one of the most explosive offenses in the country. We really slowed down our offense to a sense to where can do things and pick up things, and today it was high-flying and today we let it all loose. We slowed it down all spring so the guys could learn and then we let it loose in a game setting, I really think we are going to be one of the fastest teams we've had."
Offensive coordinator Tony Elliott

Tony Elliott
Co-OC / Running Backs
View Full Profile said that the summer will be a chance for the young offensive linemen to gain weight, get stronger and work on the playbook and their game.
"This is an opportunity for them to continue to transform their body and get their body ready for the season. You want to see them to continue to keep the tempo, continue to keep the enthusiasm," Elliott said. "You want to see leadership emerge. You want them to take advantage of the opportunities that they have to work as a unit, continue to build that cohesiveness, keep the timing up so that once we get into camp we don't have to start back over, we can just kind of roll in and continue to build."
Still, Mac Lain can't wait for August to arrive.
"It is going to such a fun camp," he said. "Sun up to sun down, this is a fun group to have around and this will be fun. This spring is something we can build off of."