| | |
| --- | --- |
| Kearse says playoffs start this week for Tigers | |
---
| | |
| --- | --- |
| Friday, December 4, 2015 8:10 AM | |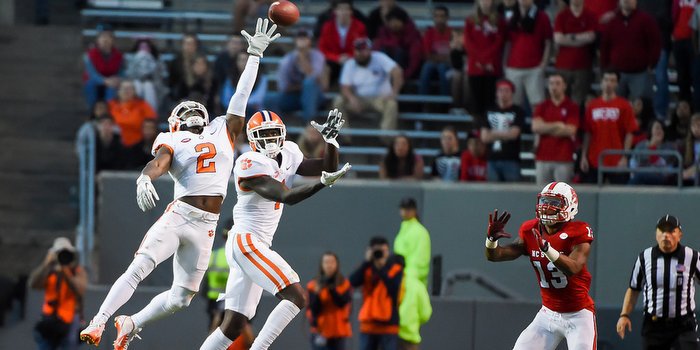 Clemson has been ranked No. 1 in each of the College Football Playoff rankings that have been released heading into the ACC championship game this week.
But if the Tigers can't get past North Carolina, it's not likely they will earn one of the four spots in the playoffs. Clemson safety Jayron Kearse acknowledged that when he met with the media Monday.
"It's real exciting. We have put in a lot of hard work, and it's paying off," Kearse said. "The only thing I will say is just the way things have been going the past couple of weeks, we have to correct those things for us to have a chance to have a deep run in this playoff, to win this ACC championship and go into the College Football Playoff and have a good run. If we don't correct those things, the turnovers and the defense giving up those big plays, we're not going to make it too far.
"Definitely, it we don't take care of our business Saturday, there's no playoffs for us. We definitely feel like they start this Saturday, and we have to come out there and play good."
The Clemson defense will need to get things turned around against the Tar Heels after a tough stretch the past few games.
North Carolina leads the ACC in scoring offense, averaging 41.2 points per game. Marquise Williams has thrown for 2,605 yards and 18 touchdowns, while rushing for 786 yards and 10 touchdowns. He threw for 345 yards and four touchdowns last year against Clemson in the Tigers' 50-35 win.
"I would say they're pretty similar quarterbacks," Kearse said of Williams and Clemson quarterback Deshaun Watson. "They can both throw the ball pretty good, and they can beat you on the ground. I would say they're pretty similar. They're game-managers, they're big-play guys for their teams on the offensive side of the ball."
Clemson's defense played well early in the season but has struggled in the second half of the season, allowing 41 points to N.C. State, 27 to Syracuse and 32 to South Carolina.
"It's been a long season. Some guys' legs might not be under them like they were at the beginning of the season," Kearse said. "I don't know if that's the problem, but it's just something we have to figure out what the issue is this week, and we have to work on it this week and make sure it doesn't hurt us against UNC.
"It's very hard. Me and Deshaun were just talking about that earlier (Monday). We had our bye week pretty early, and it's been all football from there, no break. It takes a toll on the guys, it takes a toll on your guys' legs. But it's football, and ultimately, we just have to do good with it, take care of our bodies during the week, and we should be good."
The Tigers are focusing on getting some rest this week, while also trying to turn around their defensive season. Kearse said there isn't one thing that has to be fixed to get the defense back on track.
"You can't really pinpoint one thing. There's a lot of things to take into account when something happens on a play," Kearse said. "If a guy misses a fit, you don't know if he's not focused. You don't know what it is. There's a lot of things to take into account when something like that happens. It's just something we have to come up with a plan.
"We had a good first half last week, and the second half, we had a pretty good fourth quarter, but the third quarter, they came out and ran all over us and threw all over us. It's just something we have to figure out what the problem is, and we have to attack it this week. It's frustrating. We came in playing some good football at the start of the season. These last couple of weeks things haven't been going how we planned, and things haven't been indicative of the way we practice. It has been frustrating. I think we'll definitely attack that this week, and we'll be better next week."
Daniel Shirley is the sports editor of The Telegraph in Macon, Ga., and co-host of The Morning Show on FoxSports 1670 AM. Follow him on Twitter at @DM_Shirley and read his blog at macon.com/peachsports.