| | |
| --- | --- |
| Kearse: "We have the opportunity to make history" | |
---
| | |
| --- | --- |
| Monday, September 15, 2014 6:44 PM | |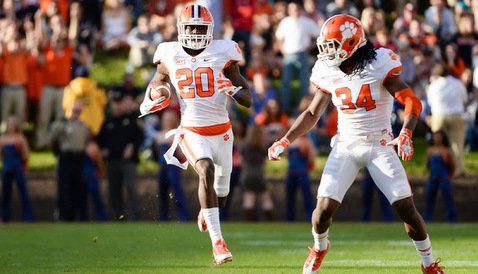 CLEMSON – Las Vegas says Clemson doesn't have a chance, and the national media's love affair with Florida St. will rise to a crescendo during GameDay festivities this weekend in the buildup to Saturday's nationally-televised kickoff between the Tigers and Seminoles.
Few if any predictions will have Clemson knocking off the nation's number one team, and early betting lines have the Seminoles as a three touchdown favorite.
Clemson defensive back Jayron Kearse

Jayron Kearse
So. Safety
#20 6-4, 215
Fort Myers, FL
View Full Profile spent 12 minutes answering questions about the matchup Monday afternoon in the WestZone, and it was evident the Florida native doesn't buy into Florida St.'s dominance.
In fact, he thinks the Tigers can shock the nation.
"The fun is in the winning. The thing that makes this more fun for me is that this is the number one team," Kearse said. "It's an eight o'clock game, on ABC, primetime and all eyes are going to be on Clemson and Florida St. So, what we go out there and do will set the foundation for us for the rest of the season. We slipped against Georgia so we need to go out there and show the world that was just a bad game.
"They (FSU) came in ranked No. 1 in the preseason. We were ranked 16, and we felt like that was a slap in the face. Coming off just beating Ohio St. and finishing in the Top 10, they just kind of blew us off. This is a new season. Those guys are gone, and this is a new team. So they are basing this off what they did last year. We lost Sammy and Tajh but we are the same team. We have that same hunger and we want to go out there and be the best team on the field. I feel like we have the opportunity to do that - to show we are one of the best teams in the ACC if not the nation if we beat FSU. "
Kearse said the Tigers aren't intimidated by Florida St.'s lofty ranking.
"I feel like we will be ready for it. To us, it's just another football game," he said. "They are ranked No. 1, but what is the difference between them and Georgia? It's the same thing. We are going to prepare the same, and we are going to go out there and play our best and try to win. We just have to go out and play our best football and we will keep him contained. We just have to go out and worry about Clemson and not too much about what they do. If we get our job done, we should be okay. At the end of the day, it's another game for us and another task. They aren't as good as they were last year but that is still a championship contending team."
Kearse said that while he didn't play a lot in last year's game in Death Valley, he was still embarrassed with the outcome. This year, he wants a chance to make history.
"I was real mad. Coming in and being ranked number three, I feel like we let a couple of things get to our head with the victories we already had. I feel like we didn't go in and play our best football," he said. "Just off what they did last year to us, that was an embarrassment. I really didn't play much, but I was embarrassed just like the guys that went out and played are embarrassed. Just looking through the media, that's all they talk about is they beat us 51-14.
"But this is a new season, and that is all behind us. We are just ready to go out there and show the world what we can do at eight o'clock. I feel like we let the media distract us. This year, I know they are number one. You don't have too many opportunities where you are going to play against the number one team in the nation. And right now, we have the opportunity to go out there and get a win and make history. We are trying to show the world we are the same Clemson as we were with Tajh and Sammy. It's no different. We lost to Georgia, but I feel like that was something where we didn't play four quarters. We came out with eight minutes left in the fourth quarter and let them dominate us. I feel like we are the same Clemson, no matter who we have, because we are going to go out there and fight. "
Other notes from Kearse
Nickel?
Kearse mentioned he played a little nickel last week, and we could see him more at that position this week.
On the secondary
"We are all coming together and playing as unit. Coming in, people questioned us and we feel like we have a lot to prove. We will know more as the season goes on. They are talking about the front seven, but we want them to talk about the whole defense. Right now, it's all about the front seven that the media wants to talk about. Right now, we want to get to the point where they are talking about the Clemson defense instead of just the front seven. I am willing to go to war with the guys in the back end with me because I know the type of heart they have for the game, the passion they have for it. We can win as a defense - we can't win as just a front seven. If you don't have those guys on the back end, no matter what you're doing up front it's all going to go to waste."