| | |
| --- | --- |
| Jimbo Fisher says Clemson game won't define Florida St.'s season | |
---
| | |
| --- | --- |
| Thursday, November 5, 2015 9:01 AM | |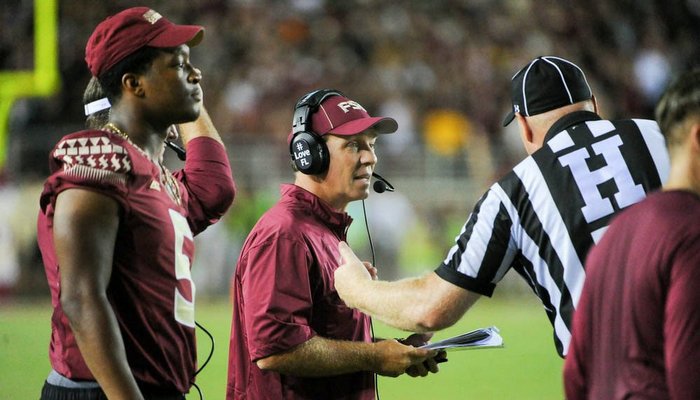 Clemson is 8-0 overall and 5-0 in the ACC, and if it beats Florida State on Saturday, it will win the Atlantic Division title for the first time since 2011.
The Tigers also were ranked No. 1 in the season's first College Football Playoff rankings, which were released Tuesday. Florida State was 16th in the first ranking, and the Seminoles have won the division and ACC titles the past three years.
Still, Florida State head coach Jimbo Fisher isn't buying into any added importance for Saturday's showdown.
"I don't think it's a defining game of the season. I don't think any part of that's defining," he said. "I think all games are defining. I think you have to play them all the same. They're all the same responsibility as far as wins and losses, what they stand for. It's how you play in the game. At the end of the year, that's the two teams that have usually had the best record at the end of the year. But as far as defining games in the season, I don't ever look at things like that."
Fisher, however, is paying extra attention to the Seminoles' injury report this week.
Quarterback Everett Golson and star running back Dalvin Cook missed the team's win over Syracuse on Saturday. They both returned to practice Monday. Cook leads the ACC with 1,037 yards rushing, but he has been slowed by a hamstring injury for most of the season before suffering an ankle injury against Georgia Tech. That's what kept him out of the game with Syracuse.
"We'll see," Fisher said about Cook's availability for Saturday. "Have to wait and see how his injury goes. He is healing up. Dalvin is a miraculous guy, but we'll have to wait and see.
"The hamstring is actually good. He had no problem with it in the game with Georgia Tech. It was just the ankle, where he was. It was good he did get off of that as far as that goes. Now he's got to get the ankle healed up."
Without Cook, the Seminoles turned to freshman Jacques Patrick, and he rushed for 162 yards and three touchdowns in the 45-21 win over the Orange.
Fisher said the two could be used in the backfield at the same time.
"We've done that in the past with all of our tailbacks, done that a bunch," he said. "It's just a matter of what they're capable of handling and the new guys are capable of handling, not when the ball is going to you, but when it's going away from you, and you take a fullback's role. We've done that with two tailbacks. We don't know if Dalvin will play. We have to see if Jacques can handle that."
Fisher is also taking a wait-and-see approach with Golson. Sean Maguire started for Golson against Syracuse and threw for 348 yards and three touchdowns (with no interceptions). He started in the Seminoles' win over Clemson last year, as well.
"I can't judge that until I see the health of Everett," Fisher said. "I hate to say that, decline the question. I don't have enough information, because it's not just health-wise. Is he healthy enough to play? Is he playing well during practice? Has he responded well? We'll have to wait and see. We feel very confident. We have two guys, we know now they can come in and play very well. Both have had outstanding games throughout this season. Everett has had a 370-yard game. Sean has had a 350-yard game. As I said before, we feel very comfortable with the two quarterbacks in our system."
Florida State's offense is averaging 32.8 points and 440.9 yards per game, while the Clemson defense is allowing 17.6 points and 278.1 yards per game.
"They've got big guys up front. They have 24 sacks, I believe it is," Fisher said of the Clemson defense. "They've got a bunch of tackles for loss, over 70 tackles for loss. They cause chaos. They're big inside with interior guys. They've got edge pressure with (junior defensive ends) Shaq (Lawson) and (Kevin) Dodd, and those guys can pressure the passer. The backers are experienced. They play a lot of nickel. They blitz you in different looks. Coverages with (defensive backs Mackensie) Alexander and (Jayron) Kearse and (T.J.) Green, (Cordrea) Tankersley, all those guys, they all cover well. They're a very talented group across the board at all levels. All those guys will play in the NFL."
Clemson's offense is averaging 485.1 yards and 40.6 points per game and leads the ACC in both categories. The Seminoles' defense is allowing 16.8 points and 324.8 yards per game.
"Just executing. They're getting hats on hats; they're playing with great confidence," Fisher said of the Clemson offense. "You can see them playing fast, making those tight plays, those contested plays. Quarterback plays with a lot of confidence. They are blocking well. They can run the football. They have playmakers. They're confident. You can see them playing more and more confident each week."
The Seminoles have had a lot of confidence against the Tigers in recent years, winning four of the past five meetings. That includes a 51-14 win two years ago in Clemson when both teams were ranked in the top five halfway through that season.
"Knowing you can win anywhere. That is one of the toughest places to play in the country, just like our place is," Fisher said. "It's a great atmosphere. It's a great environment. Everybody says it's a tough place to play. The toughest place to play is the ones that have real good players. They've got real good players, too. I mean, that all comes into it. But, yeah, you have to have confidence and know you can win there. We have done it before."
*Daniel Shirley is the sports editor of The Telegraph in Macon, Ga., and co-host of The Morning Show on FoxSports 1670 AM. Follow him on Twitter at @DM_Shirley and read his blog at macon.com/peachsports.