| | |
| --- | --- |
| Israel throws for 600 yards twice in a span of two weeks, but he's still not satisfied | |
---
| | |
| --- | --- |
| Wednesday, October 29, 2014 7:01 AM | |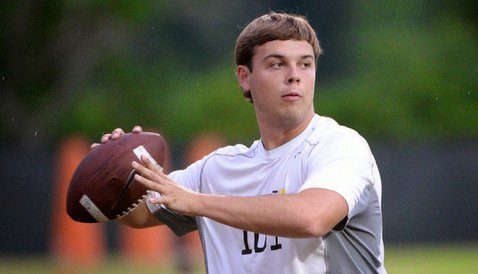 Have yourself a great couple of weeks Tucker Israel

Tucker Israel
Quarterback
6-0, 195
Orlando, FL
ESPN:


View Full Profile .
One week after becoming the first Florida high school quarterback to throw for more than 600 yards in a game, 2015 Clemson quarterback did it again.
The Orlando (FL) Lake Nona senior completed 30-of-38 pass attempts for 630 yards and nine touchdowns to lead the Lions to a 73-22 win over Celebration last Friday night. Two weeks ago, Israel set the record by throwing for 659 yards against St. Cloud.
The nine touchdowns were just one off the state record – held by Israel. He threw 10 touchdowns against that same Celebration team his freshman season.
Israel told TigerNet this week that he would never have imagined he could throw for 600 yards in a game – much less twice – but threw all of the credit to his receivers. .
"Both times I really didn't know how many yards I had thrown for. They just kept stacking up as the game went on," Israel said. "My receivers made some good plays. I wouldn't have had 600-yard games if it wasn't for them. They weren't all bombs. Some of them were four or five or six-yard routes and they would take them 90-plus yards. That happened a couple of times in the past few games."
Israel leads the state of Florida with 3,097 yards and 39 TD passes this season, and the touchdown tosses are just one shy of the area record of 40 he set as a junior. However, he says that the season has been a disappointment despite the big numbers and a 6-2 record.
"It hasn't gone as well as I hoped it had from a team standpoint. We have two losses, and the first loss I had a lot of numbers offensively but we still lost," he said. "Over the last two years we've had 16 turnovers against them. Being the perfectionist that I am, I wanted to be undefeated at this point. We played another team that was ranked and pretty much gave the game away as well by not converting on third downs."
Israel said he has been paying attention to Clemson's quarterback situation, and he realizes there might be a chance to play early.
"My mindset is to step on campus and compete for the starting job every day," he said. "If somebody beats me out and they are more deserving, then so be it. But if you are a backup or a starter you are either one play away from playing or not playing, so you need to be prepared at all times."
Israel will take his official visit to Clemson the week that Clemson plays Georgia St., and then will be back the next week for an unofficial visit when Clemson hosts arch-rival South Carolina.
*** Tucker Israel is 237 yards away from being the 18th player in high school history to pass for 13,000 yards.