| | |
| --- | --- |
| Huegel: Champions are made when no one is looking | |
---
| | |
| --- | --- |
| Thursday, September 10, 2015 6:36 PM | |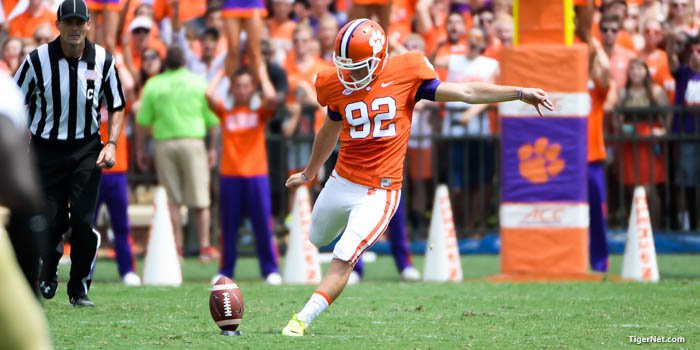 CLEMSON – Greg Huegel

Greg Huegel
Fr. Punter / Kicker
#92 5-11, 180
Blythewood, SC
View Full Profile was just another walk-on when fall camp began – nobody even knew his name – but after a three-week tryout he was dubbed the Grocery Store Kicker and tapped as the Tigers starting place kicker.
The Columbia (SC) native came to Clemson for his love of the school and the architecture program, but never gave up on his dream of running down the hill as a member of the Clemson football team.
The redshirt freshman – and first-year Clemson player – met with the media for the first time Tuesday and said he decided he wanted to attend Clemson after visiting his sister, and later decided he would try out for the football team because he had nothing to lose.
"Before my freshman year at Clemson, I came to the summer kicking camp to see how it would go. I thought it went well, but they decided not to bring me on," Huegel told the media Tuesday in the WestZone. "I still decided I wanted to go to school at Clemson. My older sister goes here, and I wanted to be an architect because some of my aunts and uncles are architects. I've been growing up doing house projects with my dad, and I just felt like it was the place to be. I just loved it up here - the environment, everything they have going on - so I thought I'd go on to school. Then there were walk-on tryouts, so I thought, 'Why not? You don't have anything to lose.' So I did it, and it worked out."
The walk-on tryout didn't go exactly as planned, as head coach Dabo Swinney

Dabo Swinney
Head Coach
View Full Profile told Huegel that there wasn't going to be room on the roster until the fall semester. However, the Blythewood alum never lost faith and came out to fall practice with one goal in mind - make Swinney remember his name.
"I remember one distinct time when I had to go up and kick the 48-yarder at the end of practice and everybody was going crazy," Huegel said. "The first two guys went up and kicked it, and I went up there and Coach Swinney looks at me and says, 'What's your first name again?' After that, I was like, 'At least give him a reason to remember it.' From then on he called me 'Huegel' and then 'Greg' started coming out."
Becoming Clemson's starting kicker didn't just happen overnight, as Huegel put in long hours learning from his older brother, before even becoming the starting kicker for his Blythewood High School team.
"I played soccer all of my life. I started at a really young age and that's really the only thing I ever did. My brother Steve kicked at USC, and whenever he would go out and kick I'd be the one out there catching his balls and throwing them back," he said. "I wanted to quit playing soccer and play football because I was tired of not being able to hit anybody. I wanted to get a little bit of aggression out. I wanted to try out for safety on the B-Team and the varsity team needed a kicker. They didn't have anybody. They asked if anybody had played soccer, so me and a buddy went out there and started kicking. I knew what to do because of my brother, and I just started making them. My buddy Jake became the punter. From then on, I wasn't allowed to play safety or anything. I was just the kicker."
However, it was the hours alone on the practice field or in the backyard when nobody was looking that ultimately paid off for Huegel.
"The main thing was, champions are made when no one is looking so if you really want to be a champion or be on the big stage - such as Clemson," he said. "I never thought I would be at a school or how big of a school I would be at. I just knew this was the dream that I wanted to accomplish, so that's the time I had to put into it."
Not only has Huegel put in the time to perfect his craft, he's also learned from one of Clemson's best – Arizona Cardinal kicker Chandler Catanzaro

Chandler Catanzaro
Punter / Kicker (2009 - 2013)
#39 6-3, 200
Greenville, SC
View Full Profile .
"I work with Dan Orner. He's one of my kicking coaches that I go to, and CatMan was at the last camp that I went to," he said. "He's probably been at two or three just helping out. If I ever had any questions, and Dan Orner was busy helping another kicker, then I could easily go to CatMan and say, 'Hey, can you watch my steps on this one, or watch my follow through?' He was always helpful."
Huegel was 6-for-6 on extra points in last week's win over Wofford, but he said whether he's kicking field goals or extra points, he's determined to get the job done for the team.
"Being in football, it's not an individual sport. I'm out there to do what the team needs," he said. "If they need me to kick a field goal, I'll kick a field goal. If they need me to kick an extra point, I'll be happy to kick an extra point."
The All-Region kicker from Blythewood is comfortable up to 45 yards, but made a 51-yarder in high school, however, he said we would like to get his first field goal attempt out of the way in the friendly confines of Death Valley.
"I would say, yes. Just because of being at home and being able to do it in front of the Clemson family," he said. "If I do happen to miss my first field goal - I certainly hope I don't - I would rather do it at home in front of the people I'm more comfortable with instead of at Louisville when people would be going nuts, and I'd have more to worry about."