| | |
| --- | --- |
| Georgia game week: Monday nuggets from the WestZone | |
---
| | |
| --- | --- |
| Monday, August 25, 2014 6:39 PM | |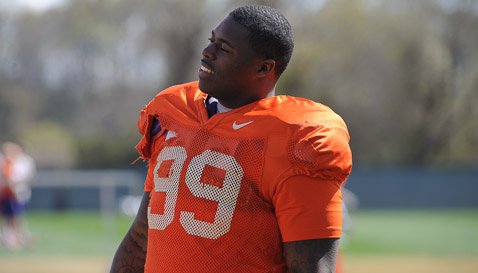 CLEMSON – Game week is finally here.
There was a different feel this morning and early afternoon in the WestZone – the media assembled on the fourth floor to conduct our ritual Monday interviews with offensive coordinator Chad Morris

Chad Morris
Offensive Coordinator / QBs
View Full Profile and selected players, and it was good to finally talk about an opponent.
Nobody was more excited than defensive tackle DeShawn Williams

DeShawn Williams
Sr. Defensive Tackle
#99 6-1, 292
Central, SC
View Full Profile , who walked in with a smile on his face, and that smile never wavered during his almost ten minutes in front of the camera. He was asked about the smiling, and he admitted that he's already excited about the challenge of playing Georgia in Athens this Saturday.
"A game like this, you know you have to be amped up. Like my father used to say, big time players shine when in big time moments," Williams said. "There is no better stage - in enemy territory. I smile when people say they are going to be physical, but we are a physical team, too. They are a great team - they have a great running back with (Todd) Gurley and they are a veteran group like us. They are playing at home and I am sure they can't wait to get after us. I can't smile any harder than I did this morning because it's game week. We are going to be there in Athens, and it's going to be live. They are going to talk bad about us, but I am sure my teammates love playing on the road."
Williams said he is looking forward to the challenge of playing against a team that likes to play physical football.
"Very physical. That style of play - SEC ball - they are going to try and pound you into submission," he said. "But I think last year we took on that challenge. I felt like we were stronger and the weight room paid off because we had worked so hard in the summer. But it was a battle. Every play was a battle. Even when they passed the ball, because they blocked like it was a run. So it was a battle."
Adding to that challenge is Gurley, and Williams said he can compare him to former Ohio St. running back Carlos Hyde.
"Both of them are very physical and powerful and strong at the point of attack," he said. "Those guys - you rarely see them get tackled by one person. The defense has to swarm to the ball. Gurley will make one guy miss, and you have to have your brothers behind you because he is a big strong guy. And you saw on that second series when he took it 80-something yards. I knew he was fast, but I didn't know he was that fast."
OTHER NOTES
Kalon Davis

Kalon Davis
RS Sr. Offensive Guard
#67 6-5, 340
Chester, SC
View Full Profile
On the offensive line
"I think we are mentally and physically ready, now we just have to go out and perform. I think we are much better than people are giving us credit for."
On what Georgia does defensively
"They try to create confusion on the offensive line. They will go odd (front) with the stand up end. They have two people that can do that, which is very special for their defense. They have 59 (OLB Jordan Jenkins) and 84 (OLB Leonard Floyd) who they are both big on. They will switch from left to right, and they switch from standing up to down. They will even drop them back in coverage. It's just a lot of changeup.
"They are very good in creating the 1-on-1, but not in bringing more but in having the stand-up ends. Having 84 drop and come, having 59 drop and come. By doing that they create 1-on-1 opportunities even though technically it's still five offensive linemen against four defensive lineman. They can create a mismatch especially if we rotate the wrong way or call a protection the wrong way or get bluffed."
Charone Peake

Charone Peake
RS Jr. Wide Receiver
#19 6-3, 204
Moore, SC
View Full Profile
On the health of his knee
"I've been practicing since last Monday, and I think I will be read to play. Coming off the ACL, I got a lot of confidence in my knee over the summer, and that transitioned over to my knee after the meniscus. I feel fine now."
On Georgia's defense
"They have that new defensive coordinator, so they will be doing different things than they did last year. But they look athletic everywhere, and it's going to be a really good defense. You have to prepare for that going into any game - you can watch all the film you want, but you really don't know what they are going to do going into any game. The way we look at it is, if they press us they don't think we can get off of it. I guess we have to go out there and prove it to them."
His advice to the young receivers
"Be ready to play. It's still football at the end of the day and you can't think too much when you're out there. I know I still get butterflies but when that first snap hits I am ready to go. "