---
| | |
| --- | --- |
| Sunday, August 2, 2015 8:01 AM | |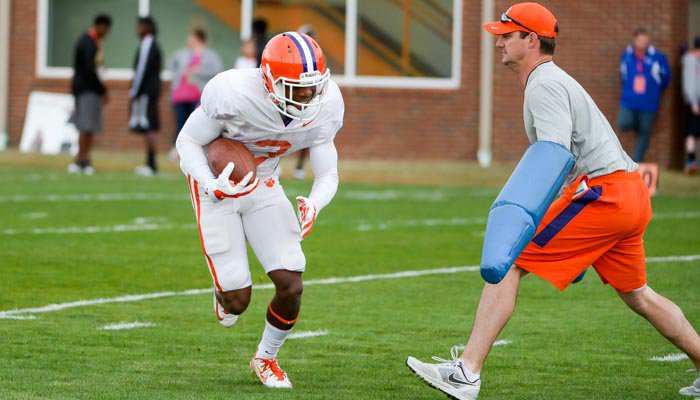 SUNSET – Jeff Scott

Jeff Scott
Co-Offensive Coordinator / WR
View Full Profile has been around football his entire life, and he knows the importance of film study.
The son of a coach, Scott played the game he loves and then followed in his father's footsteps into the coaching ranks. Clemson's new co-offensive coordinator told the media a few weeks ago at head coach Dabo Swinney

Dabo Swinney
Head Coach
View Full Profile 's media golf outing that it doesn't matter if you're a player or a coach, film study is crucial to success and that his film study started as soon as last season ended.
"It starts before this offseason. And I think as a coach, being around the game, you know how it works," Scott said. "If you have success, you're going to get an opportunity. So, obviously, the last four years, when Coach (Chad) Morris got here, I knew early on I would get an opportunity to be an offensive coordinator. This is the offense I want to run. That preparation starts over the last three or four years.
"Then, obviously, going into spring ball there was a lot of work, but I think Tony (Elliott) and I have probably spent more time in the film room this summer studying ourselves and also studying some other teams that we have respect for. We were watching the flow of the game, the play calls, and those types of things. It's been more film study than in the past, but I think a lot of the preparation has been done on both of our parts the last three or four years."
Scott said he feels a sense of excitement heading into his first season in his expanded role.
"There is a little bit of difference because obviously you've got more control over how the offense works and what goes in," he said. "You have to look at it as a bigger picture, as opposed to just having your position. I think there's a little more excitement because you can do some more things than you were able to do in the past. I'm just ready to get out there, and we're very fortunate that we've got a good group of guys going out there. Having more of a leadership role is definitely exciting."
Scott said his relationship with Elliott – they were stretching partners and teammates back in 2003 – has helped with the transition.
"I've said this before, but I don't think there's anybody else out there that I would rather co-coordinate with than Tony," he said. "He and I hit it off when we were players here. We kept up when we were apart over the years, and then the last four years working together. I think we really balance each other with our knowledge. Neither of us are ego guys. We're about Clemson and the success of Clemson. We definitely communicate a lot. I think the bowl game was obviously great to be able to experience.
"We talked about the good and the bad afterwards and going through spring practice. With me on the field and being able to see that perspective, and Tony being able to be in the box, I really think that will be an advantage for us. Whenever you have one guy in charge of the whole thing, he's either up top or down below. So, we're going to get two different perspectives. We're excited, we've got a great working relationship, and we communicate every day."
Elliott also coaches the running backs and Scott coaches the wide receivers, but Scott said that coaching a position shouldn't take away from the duties of being a coordinator.
"I think that was one thing that was beneficial from a co-coordinator position," Scott said. "We can split that up a little bit so that we're not taking away from our position. Maybe you have a little bit more decision-making power when you're in those staff meetings than you did before. I think it was important to Coach (Dabo) Swinney and us that you can't do it halfway — coaching wideouts and coaching running backs — you have to be fully invested in those positions without letting any of the details go by. We were able to do that in the spring, and I expect that we'll be able to do the same thing in the fall."