| | |
| --- | --- |
| Elliott looking for finishers as spring draws to a close | |
---
| | |
| --- | --- |
| Friday, April 3, 2015 8:14 AM | |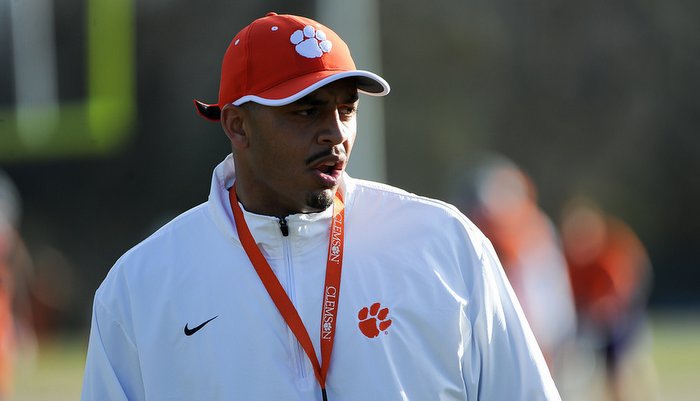 CLEMSON – There's a lot of "new" on both sides of the football for the Clemson Tigers this spring. The offense has new coordinators, is trying to get three inexperienced quarterbacks ready to play and has four offensive linemen that are getting a long look from the coaches.
On the defensive side of the ball, defensive coordinator Brent Venables

Brent Venables
Def. Coordinator / Linebackers
View Full Profile is having to replace eight starters, but the defense got the measure of the offense during Wednesday's scrimmage in Death Valley. According to offensive coordinator Tony Elliott

Tony Elliott
Co-OC / Running Backs
View Full Profile , however, the results would have been reversed if the offense could have capitalized in the red zone.
"We did some good things, but we have to finish," Elliott said after the scrimmage. "Obviously, our job is to score points and we moved the ball and had some big plays, but when we got into the red zone we didn't quite capitalize the way we are capable of capitalizing. The big thing, it comes back to offensive football. Once you get that close, you have to get locked in.
"You can't have those mistakes and we had those and it stalled a couple of drives for us. We moved the ball into the red zone in the open-field portion of the scrimmage but we didn't come away with points. And then we had some scripted red-zone situations where we did get the ball into the end zone, but it wasn't as consistent as we would like. That's an area we've got to continue to improve."
Front and center are the youngsters, and Elliott said he liked what he saw out of the four freshmen on the offensive line.
"I thought they did a pretty good job. I thought we were a little more consistent in the running game this week than we were last week," he said. "We had a couple of TFL's (tackles for loss) but we weren't turning guys loose. Over the course of a drive every play matters, and I think our young guys are making progress. Coach flipped it up a little bit and they had a chance to go up against the first defense a little bit, and from where I was standing they held their own. We still have a lot of work to do but I like what I've seen."
Elliott said that the young players are going through the typical growing pains.
"As a coach, you see some things from the sideline. And boom, you may call it before going, 'Oh man. They're not ready for that.' It's good for the young guys because they're getting that experience," he said. "But there are some growing pains, and just things where they have to continue to put in that work each and every day so they can have good command of the system."
In addition to looking at the freshmen, Elliott wanted to make sure the team's tempo increased.
"Tempo is what we do," he said. "We're going to continue to push and try to strive for tempo. But it's just like a game: You've got to get a feel for what's working in the scrimmage, what are they handling. In the spring, you've got your entire package to pull from. Whereas in the season, you're going to game plan and be specific. But here, we're just trying to get the package in for the most part. We still don't have the whole package in, but everything is available."
Another area of concern heading into the scrimmage – as detailed by co-coordinator Jeff Scott

Jeff Scott
Co-Offensive Coordinator / WR
View Full Profile – was the center-quarterback exchange.
"The exchanges were much better. I don't remember any miscues there, where we had several in the previous scrimmage," Elliott said. "We did connect on some plays down the field, which was a positive. We still had too many tackles for loss. As an offense, you want to go out of every game without having any. But we did have a couple where the defense was able to disrupt us in the backfield. And the quarterback's got to continue to gain confidence in being able to pull the ball and help make us right in some situations with his legs."