| | |
| --- | --- |
| Different DNA: Tigers just beginning to scratch the surface | |
---
| | |
| --- | --- |
| Tuesday, November 3, 2015 6:35 PM | |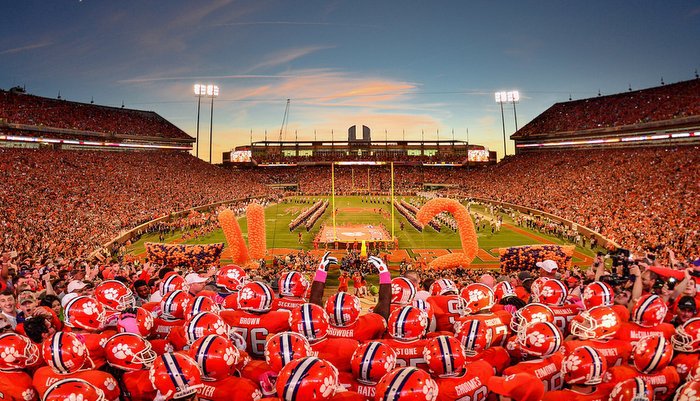 CLEMSON – The last time Clemson started 8-0 in a season was in 2011 when the Tigers climbed all the way to No. 6 in the national polls after a shootout win over a school from North Carolina.
The Tigers had just defeated North Carolina 59-38 in Death Valley and were already dreaming BCS dreams, but those dreams were shattered on a chilly night in Bobby Dodd Stadium in a 31-17 loss to Georgia Tech. Clemson lost four of its last six games – a win over Wake Forest to clinch the division title and a win over Virginia Tech in the ACC Championship Game were the lone bright spots – and the season ended with a demoralizing blowout loss to West Virginia in the Orange Bowl.
The Tigers are once again coming off of a shootout win over a North Carolina school – a 56-41 victory at N.C. State last Saturday – and sit at third in the Associated Press poll. They might be even higher when the College Football Playoff rankings are announced Tuesday evening.
Could this team follow the same path as that 2011 team? Not according to head coach Dabo Swinney, who says he now has a program that is accustomed to winning.
"We didn't handle success well that year. We've had a lot of success since then. We've been able to establish our culture," Swinney told the media Tuesday. "We jumped out to an 8-0 start and had 42 freshmen on the team. Our veterans had not been there before. It was unchartered territory for us at that time. We just want to consistently be a top 15 type of team. If you can hang in that area, you are winning a bunch of games then all of a sudden the expectation and buy-in comes into play.
"We didn't handle success or adversity well that year. We've won 17 out of 18, so we have handled adversity. We are built differently now. We might get beat this weekend. FSU can beat anybody in the country. If we get beat, we have to go on to the next one. That's part of having a great culture. We can't have one game define us win or lose. We have to play the next game. In 2011 we just weren't quite there yet. That was out first 10-win season in 21-plus years here. It's just a different DNA now."
Swinney said he has a program that plays hard and plays with an edge, something he loves.
"Yeah. I love that. Every game is huge for us. I know I say that every week," he said. "Sometimes people have a mentality that we're going to coast through these games. If you don't show up with that type of juice, you will get beat. Every game is the Super Bowl every week, every single week. As you go through the season and you climb that mountain, the margin for error gets smaller. It just comes with the territory. I like to play every week. I love to play. This team loves to play.
"They don't care if it's a noon game or a night game or a Hurricane. They like to play. We don't have to play Florida State to get excited about playing a game. Our fans don't either. We sell out Wofford and App. State. It doesn't matter who we play. That's the focus. Am I pumped about being 8-0? Yeah. Heck yeah. If we were 4-4, I'd be just as excited about playing this week. Now, the stakes wouldn't be as high. Your opportunities would be different. But we're in the championship phase of our journey. November and December is our championship phase. Man, what a great opportunity we have to compete for this."
A win Saturday over 17th-ranked Florida St. would clinch a spot in the ACC Championship Game, but Swinney said the fun is just beginning.
"When I got this job people used to talk about the good old days or back in the day," he said. "I tell my guys all the time we are in the good old days. We're in the good old days now. We haven't even scratched the surface. I want this to be the greatest decade in the history of Clemson football."