| | |
| --- | --- |
| Department of the Interior: Defensive tackles lead the way | |
---
| | |
| --- | --- |
| Thursday, July 31, 2014 1:23 PM | |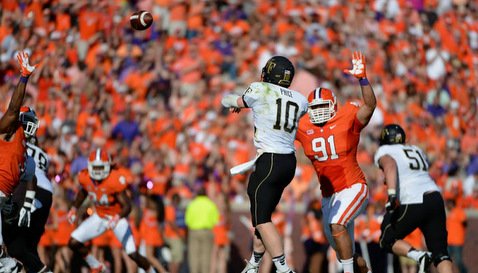 SUNSET – Expectations for Clemson's defensive line in 2014 are higher than the upper deck seats in Death Valley, and a solid group of defensive tackles is one of the main reasons that the Tigers' defensive line is considered among the nation's best.
Clemson led the nation in tackles for loss with 123, a program record, in 2013. They were second in the nation in three-and-outs per game, averaging 6.1. And they piled up 38 sacks, 13th nationally. And, as Clemson head coach Dabo Swinney

Dabo Swinney
Head Coach
View Full Profile told the ACC media last week, there wasn't a senior in the bunch and all of the key components are back to make another run - Clemson returns its entire two-deep defensive line and adds help from multiple talented redshirts, which will make an already talented line even deeper.
Grady Jarrett

Grady Jarrett
Sr. Defensive Tackle
#50 6-1, 290
Conyers, GA
View Full Profile , whose constant pressure was a disruption for Ohio St. in Clemson's win over the Buckeyes in the Orange Bowl, had 83 tackles, 11 tackles for loss, two sacks, 14 quarterback pressures, and two recovered fumbles in 539 snaps over 13 games last season.
However, tackles coach Dan Brooks

Dan Brooks
Assistant Coach / Defensive Line
View Full Profile says that even Jarrett knows he has to compete for a starting spot and that competition makes his group even better.
"I kind of like the fact that all of them know they have to compete," Brooks told the media two weeks ago at head coach Dabo Swinney's golf outing. "I think we started four or five different combinations last year, with Grady kind of being the constant. But going into a new year, even Grady knows that nothing is locked in.
"If we played tomorrow, then Grady would start, because he's earned that. For Josh Watson

Josh Watson
RS Sr. Defensive Tackle
#91 6-4, 285
Wilmington, DE
View Full Profile and D.J. Reader
D.J. Reader
Jr. Defensive Tackle
#48 6-2, 335
Greensboro, NC
View Full Profile and DeShawn Williams

DeShawn Williams
Sr. Defensive Tackle
#99 6-1, 285
Central, SC
View Full Profile - and don't forget that Carlos Watkins

Carlos Watkins
RS So. Defensive Tackle
#94 6-3, 300
Mooresboro, NC
View Full Profile started last year against Georgia as a sophomore - it's all about competing."
Jarrett, Williams and Watson are the seniors of the group, while Reader and Roderick Byers

Roderick Byers
RS Jr. Defensive End
#55 6-2, 275
Rock Hill, SC
View Full Profile are juniors. Sophomore Carlos Watkins started against Georgia in the opener and played in three games before a car wreck ended his season on Sept. 21st, leading to a redshirt. Freshman Scott Pagano

Scott Pagano
RS Fr. Defensive Tackle
#56 6-4, 280
Honolulu, HI
View Full Profile will add his name to the mix this fall.
"We're blessed, for sure, but it's also something we've recruited toward and worked toward over the past five years," Brooks said. "I really like the competition we have. I like them knowing that even if you play well this Saturday, you still have to work to be the guy next Saturday."
Brooks then said that all of the tackles were productive throughout the spring.
"D.J. had a really strong second half of spring practice, and DeShawn was consistent all the way," he said. "Josh, who had considered graduating and going ahead with life, he came back with the right attitude and he's lost a little weight."
Brooks that said Watson was advised that he needed to put on even more weight in order to be a better pro prospect, but that the added weight wasn't something the Clemson coaches wanted to see.
"Sometimes people on the outside convince guys that bigger is better, and it's not," Brooks said. "We want them to be able to run. If someone in the pros wants Josh to play at 320 pounds in a couple of years, fine. But that's not what we want. We want him to be able to move. He's lost some weight and it's helped him with his back and little ailments."
Brooks sat back and smiled, and said that he knows he has a lot of weapons at his disposal, and that people shouldn't discount Pagano just because he is a freshman.
"Carlos has started, Josh has started, DeShawn has started, and DJ has started. And Pagano's not going to take a back seat to any of them. We were sitting there worried last preseason, wondering 'how do we keep this guy off the field?' We wanted to redshirt him, but you wondered, because he was good enough, if that was fair. And there are only so many snaps. Then, unfortunately, he got hurt. But he's going to challenge. And in the spring, Rod Byers was the best he's ever been."