| | |
| --- | --- |
| Defense dominates early with two pick-sixes in Saturday scrimmage | |
---
| | |
| --- | --- |
| Saturday, August 16, 2014 2:53 PM | |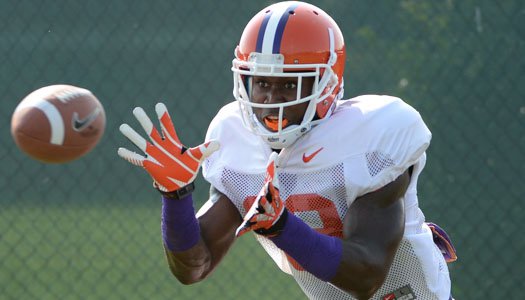 CLEMSON – A boring fall camp picked up a bit of intensity Saturday afternoon in Death Valley when Clemson's defense stymied the offense during the first part of the scrimmage, including returning two interceptions for touchdowns.
From what we heard, Clemson's offense failed to get a first down on each of its first nine possessions, and Tony Steward

Tony Steward
Sr. Linebacker
#7 6-1, 236
Hastings, FL
View Full Profile and Jadar Johnson

Jadar Johnson
So. Defensive Back
#18 6-1, 207
Orangeburg, SC
View Full Profile returned interceptions for touchdowns before the offense got in gear. Johnson's interception was on the second play from scrimmage.
Defensive tackle DeShawn Williams

DeShawn Williams
Sr. Defensive Tackle
#99 6-1, 292
Central, SC
View Full Profile told us that the defense met after Wednesday's scrimmage – when the offense had some success – and said that despite the fact that the offense guys are their teammates they were going to ramp up the intensity and "bring it" every single play.
However, once the offense found a rhythm they were able to move the ball with some success and freshmen quarterback Deshaun Watson

Deshaun Watson
Fr. Quarterback
#4 6-3, 204
Gainesville, GA
View Full Profile had a 40-plus year teardrop throw to Daniel Rodriguez

Daniel Rodriguez
RS Jr. Wide Receiver
#83 5-8, 175
Stafford, VA
View Full Profile for a touchdown, and Adam Humphries

Adam Humphries
Sr. Wide Receiver
#13 5-11, 193
Spartanburg, SC
View Full Profile went over two defenders for a highlight reel catch. Senior running back D.J. Howard

D.J. Howard
RS Sr. Running Back
#22 6-0, 205
Lincoln, AL
View Full Profile also had a 45-yard run. Head coach Dabo Swinney

Dabo Swinney
Head Coach
View Full Profile said that Howard's run "wasn't a bust, we just didn't make a tackle."
"Offensively we started out slow, but we picked it up as the day went along. Defensively, I thought we had a really good day," Swinney said. "We had a pick six on the second play of the game - Jadar Johnson. He had a great play. It wasn't as fast paced as we would've liked or as it was last Saturday. It's been a long camp. They are tired of each other. They're ready and the coaches are ready to get zeroed in on personnel that are going to play and get ready for this first game."
Swinney said he's seen enough of fall camp and the Tigers should be able to turn their attention to Georgia early next week.
He even took a second to let his offense know he has faith in them.
"The one thing that I'm really pleased with from camp is that there isn't much else you can see in football. We're well-prepared as far as all of the situations that we could possibly see," he said. "We're going to be pretty good on offense, too. Y'all just remember that and go ahead and write that down. We're going to be alright on offense. When this thing is all said and done, we're going to be one of the better offenses out there. I don't have any doubt about. Are we going to be a finished product, game one? I doubt it, but we'll improve as the season goes."
On the defense
"Tony Steward had a pick six. Stephone Anthony

Stephone Anthony
Sr. Linebacker
#42 6-2, 244
Polkton, NC
View Full Profile had a big pick in the overtime period. Those guys did a nice job. We didn't have any turnovers last week. Some of them were rush oriented. A couple of them were bad decisions and one of them was just a great play. I love that part of what we did today.
On the offense
D.J. Howard, it was probably his best day. I thought the offense started slow and the D.J. runs through a tackle and runs about 45 yards for a touchdown. Adam Humphries made an ESPN SportsCenter catch out there for a touchdown. He just went up and over two people. It was just an unbelievable play. Artavis (Scott) made a couple of good plays today. He moved around better. He was one of those guys that I thought hit the wall on Wednesday, but he responded today. The quarterbacks did okay. We've got a long way to go."
Grady Jarrett

Grady Jarrett
Sr. Defensive Tackle
#50 6-1, 290
Conyers, GA
View Full Profile
"With those guys, it's literally a Thursday decision. Every practice snap counts. Coach (Dan) Brooks has a rocking chair in his office because he has such great guys. He doesn't have to do much. But someone has to run out there and I usually let him make that call. I can't tell a difference in them. If we can win in the trenches then we have a chance to be successful every week."
Charone Peake

Charone Peake
RS Jr. Wide Receiver
#19 6-3, 204
Moore, SC
View Full Profile
Peake was held out of Saturday's scrimmage and is supposed to be back for full workouts next week. Swinney said that he still expects Peake to play against Georgia.