| | |
| --- | --- |
| DeShawn Williams on Louisville: "They called us out" | |
---
| | |
| --- | --- |
| Sunday, October 12, 2014 9:01 AM | |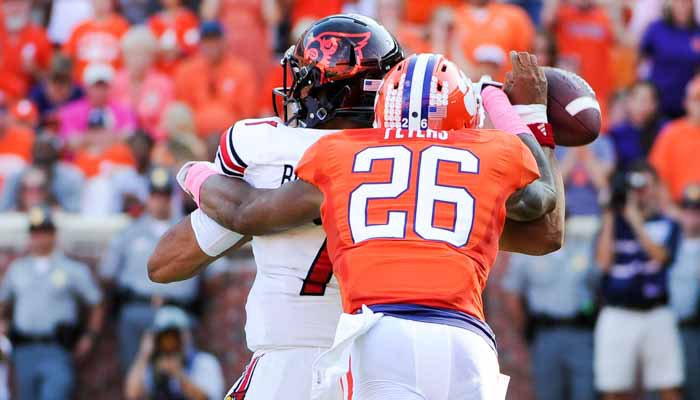 CLEMSON – DeShawn Williams

DeShawn Williams
Sr. Defensive Tackle
#99 6-1, 292
Central, SC
View Full Profile felt like Louisville's coaches and players called out Clemson's football team with their comments during the week, and the defense responded to those comments with an exclamation point.
It all started when Louisville head coach Bobby Petrino made the comment that Death Valley wouldn't be much louder than Syracuse's Carrier Dome and continued when linebacker Lorenzo Mauldin said that he thought it Clemson's offense went three-and-out on the first possession that the Cardinals would win the game.
Those comments made the Clemson fans angry but little did Louisville's coaches and players know the players were also angry, and it showed Saturday night in Clemson's 23-17 win over the Cardinals in Death Valley.
Williams said that the Tigers got the victory because they wanted to prove the doubters wrong and they simply wanted it more than their opponents.
"They called us out, and I don't know why they did that. It was enough to make the fans mad, and they made us mad, too," Williams told the media after the game. "But the defense, we stepped up when we needed to. I couldn't be more proud of them. When they got down there, there wasn't any panic. We knew they didn't have any timeouts. I am just glad to the W, but how we won it speaks to this team. The defense has been questioned this year on if we can stop some things, and we stopped them tonight .We wanted it more."
How dominant was Clemson's defense?
Two scoring drives came after the Clemson offense put the defense in bad field position, and the Tigers held the Cardinals to just 264 total yards. Louisville was also just 1-of-17 on third down. Running the football has been strength of the Louisville team, and Clemson's defense held the Cardinals to just 52 yards on 38 rushing plays.
Williams likened the game and the defense's performance to that of the rivalry between the Steelers and the Ravens.
"We've come a long way," he said. "All of us are seniors. We have been through the hard times, and just to see how we played tonight it feels good. We are ready for situations like that. That was a hard-fought win. It reminds me of those Steelers and Ravens game. Just hard fought."
It was an old-school battle where each player's manhood would be tested on each and every down.
"It was an old school slugfest, and we knew going into the week it was going to be a heavyweight fight," he said. "I was telling the Louisville players on the field that it was going to be one of those old school type of games. Defense, man, we played lights out tonight. We gave up that one touchdown but other than that we played lights out."
He went on to say that with experience, talent and makeup of the Clemson defense, they are prepared for that type of battle week in and week out.
"We are built for stuff like that," he said. "We've gone through so much, playing against Georgia and Florida St. We were ready for that, and we knew there was no other way. We led the team on defense the whole game and we thought we might as well finish it. He threw the ball right to me, and I knew I had to least put my hands up and batted it down. But I am proud of this team. A lot of people didn't have us winning this game, but we showed we can win it. "