| | |
| --- | --- |
| Dabo talks Boulware, Carlos Watkins, health of running backs and Josh Watson | |
---
| | |
| --- | --- |
| Wednesday, November 20, 2013 7:27 PM | |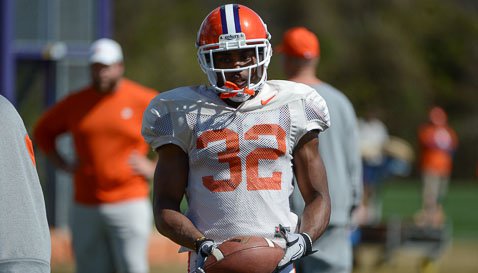 CLEMSON – There are a lot of side stories to go along with senior week and many underclassmen are contemplating decisions on whether to stay or go to the NFL; however one player's mind has been made up for quite sometime.
Redshirt junior defensive tackle Josh Watson

Josh Watson
RS Jr. Defensive Tackle
#91 6-4, 285
Wilmington, DE
View Full Profile announced on Facebook earlier this week that Saturday will be his final time playing in Death Valley and Clemson head coach Dabo Swinney

Dabo Swinney
Head Coach
View Full Profile confirmed the news after Wednesday night's practice.
Watson came to Clemson after spending a year at Hargrave Military Academy and then redshirted in 2010 so he is 24 years old and Swinney said that the Delaware native is ready to move on to the next chapter in his life.
"That's something Josh and I talked about back in May," Swinney said Wednesday night. "He was a prep school guy and then he redshirted so he's graduating in December. I think he's more focused on what's next for him. I really wish he would come back. I certainly don't want him to leave. Any time you have a chance you have a great player around here, you want them to be here.
"He's just ready from a maturity standpoint to take it to the next level. I think he can play on the next level, I really do. He's probably going have to have some type of back surgery at the end of the season because of a nagging injury, but I think he's just focused on getting healthy and what comes next. We love Josh. He's been a tremendous asset for us. He's come in here and graduated with a whole year left."
Swinney doesn't allow juniors to run down the Hill with the senior class, but since Watson will earn his degree in December he was offered the opportunity but declined.
"He did not want to be honored as a senior," Swinney said. "I certainly would have because graduation. That wasn't something that he wanted to do. He will be honored at our banquet as a senior. He'll get all of the benefits that the seniors will. As far as running down the hill, he didn't want to."
While Swinney hates to lose such a veteran player, the Tigers will return seven defensive tackles in 2014.
"I'm glad we've got all of those guys, but I don't ever like to lose a good player," Swinney said. "I think that is a position of great depth for us. We will get Pagano off of redshirt. We are going to be just fine at that position. We've got a great group of young men in there that have a ton of experience. That's a positive."
Included in that number is Carlos Watkins

Carlos Watkins
So. Defensive Tackle
#94 6-3, 300
Mooresboro, NC
View Full Profile who is been sidelined since September after a suffering injuries in a car accident and will receive a medical redshirt.
"Heck no [He won't play]. He could because as he really looks good, but at this point there's no way that I would play him," Swinney said. "We're going to be able to redshirt him and get a year back. Things happen, but when it's all said and done, I think one of the blessings from his situation is that he's got an extra year. That's never a negative. It's always a positive to have that fifth year – for him and for us."
Other notes
On the health and depth at running back
"C.J. [Davidson] is not quite there, which is really unfortunate for him because I really felt like he was getting ready to explode in that Virginia game. I hate that he's not quite there. He's close. Hot Rod is good. D.J. [Howard] is good. Zac [Brooks] –he's probably as good now as he was before because he hasn't been banged on in a couple of weeks. I think we're in good shape."
On Tajh Boyd

Tajh Boyd
RS Sr. Quarterback
#10 6-1, 225
Hampton, VA
View Full Profile 's health
"He's good. He'll play as much as we need him to."
On the team's mentality this week
"It's been really good. I just appreciate their attitude and the mentality that this group has. The senior group – this is always a special week and you can just see it in their eyes. I like where we're at as a team. I like how these guys are coming together and we are starting to peak at the right time. I like how we practice and the energy out here has really been pretty good. I think we're a healthy team, which is great going into week 11, especially when you look around the country and you see some the injuries that are out there. I think we are very fortunate here in that regard. Good week of practice. We are excited to get back in the Valley one last time with this group of seniors."
On kicker/punter Bradley Pinion

Bradley Pinion
So. Punter
#92 6-5, 230
Concord, NC
View Full Profile
"He's had a great year. For a true sophomore to get that dose of experience – punting and kicking off. I just think he's had a great year. He's done a super job. He's had a ton of pinning the opponent inside the 20. He's probably going to get the school record. He's close. He's got a unique ability to be able to pin them. He's got a funky style that he can throw it up there and get it inside the 20. I've been around a lot of punters, but I haven't ever been around one that can just drop in the bucket every time."
On Ben Boulware

Ben Boulware
Fr. Outside Linebacker
#10 6-1, 230
Anderson, SC
View Full Profile 's ejection
"Per the rule, it's the right call. It's just hard when you have an offensive guy that's going to the ground. Who's to say that guy's not going to get his hand down and keep going. It's a hard thing to coach when you're having to go down to hit a guy. The contact that he made, he wasn't trying to target the guy. He was just trying to get him down because he was still up. That's a hard one. It was definitely the right call, per the rule. He'll hang out in the locker room and we'll hopefully get him back in the second half."