| | |
| --- | --- |
| Crawford embraces underdog role, thinks "12th man" will be the difference | |
---
| | | |
| --- | --- | --- |
| Monday, October 14, 2013, 8:25 PM | | |
CLEMSON – Corey Crawford
Corey Crawford
Jr. Defensive End
#93 6-5, 270
Columbus, GA
View Full Profile knows his Tigers are the underdog this weekend to the Seminoles of Florida St., but he thinks the odds are in Clemson's favor considering the Tigers will have the advantage of a 12th man.
This weekend's contest between No. 3 Clemson and No. 5 Florida State might be the biggest game in the history of Death Valley, and it might be the biggest game in the history of the Atlantic Coast Conference. Florida St. hasn't won in Death Valley since 2001, and the road team hasn't won a game since Clemson claimed a 27-20 victory in Tallahassee in 2006.
The Tigers have also won six of the last 10 meetings between the two schools, and despite having a home field advantage and the luxury of having a fifth-year senior at quarterback, the Tigers find themselves as underdogs, and the national media will continue to push the Noles as favorites the rest of this week.
That's okay with Crawford.
"I feel like we're a team, we like to prove people wrong," Crawford said Monday in the WestZone. "If people think or say we're going to lose to Florida State, that's putting fire on top of the fire. I'm ready for it. I always feel like whenever someone feels they have to favor the other team over your team, when they know you're the better team on paper, I feel it's somewhat disrespect. But that's the glory of going out and proving people wrong."
Crawford said that Tigers have a distinct home field advantage, and he expects the crowd to be louder than ever Saturday night.
"The crowd is our 12th man. I felt like when we played Georgia, the crowd just sucked the life out of them," Crawford said. "I really like our fans, and I feel like they give us the edge to get on top of the other team."
He then said that the crowd made a difference in last Saturday's win over Boston College.
"The crowd was really loud and the offense couldn't hear what the quarterback was trying to check to, and they couldn't hear the snap count. We got two delay of games in one series, and the crowd played a big factor," Crawford said.
Running back Roderick McDowell
Roderick McDowell
Gr. Running Back
#25 5-9, 195
Sumter, SC
View Full Profile said he expects the atmosphere in Death Valley to be like nothing he has ever seen.
"The atmosphere will be bigger than anything we've seen this year. This will be bigger than the Georgia game, and I am ready for the atmosphere," McDowell said. "This is why you come to Clemson is to play games like this. I am ready for this. On offense, you can't worry about the atmosphere; you just have to focus on what you do. But on defense, you have to feed off of that. I am an offensive player, but when you have the crowd going and the defense is playing well, I feed off of that."
Florida St. head coach Jimbo Fisher said that Clemson's environment is special, but not alone in being hostile.
"There are a lot of other hostile environments, I promise you," Fisher said Monday. "The first thing that makes it a hostile environment is that you are playing a good football team. One that has good players that know how to play, and they are well-coached. And they have a fan base that is very passionate and they are used to winning. All of those things make it hostile."
Defensive end Vic Beasley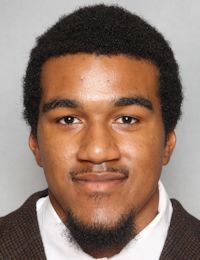 Vic Beasley
RS Jr. Defensive End
#3 6-3, 225
Adairsville, GA
View Full Profile – who could be seen trying to pump up the crowd on several third downs last Saturday – said he uses the crowd's energy and excitement to make plays.
"It's a great feeling seeing all of those people in the stands, and getting the crowd rocking. It just makes you feel like you are in the driver's seat," he said.