| | |
| --- | --- |
| Clemson's run defense to be tested by nation's leading rusher | |
---
| | |
| --- | --- |
| Tuesday, October 8, 2013 3:59 PM | |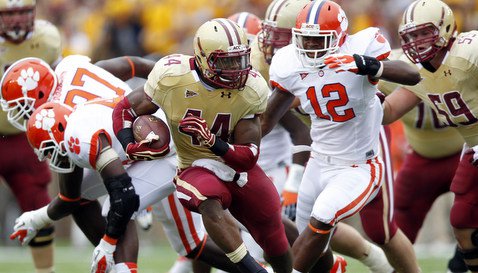 CLEMSON – Brent Venables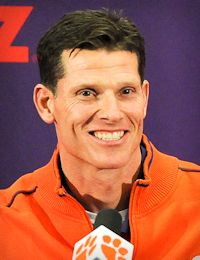 Brent Venables
Defensive Coordinator / Linebackers
View Full Profile ' defense is tied for first nationally with 19 sacks, and stands 36th nationally in total defense after the season's first five games, a huge improvement over this time last season.
Heading into the season, the thought was that with an improved and experienced front seven, teams would find it hard to run against the Tiger defense. The thought was also that with question marks surrounding the secondary, the big concern was the pass defense.
Through five games, Clemson is ranked 80th nationally in rush defense, giving up 171.20 yards per game. They are ranked 17th nationally in pass defense, giving up 185.4 yards per game through the air.
Last week at Syracuse, the Orange gashed the run defense for 323 rushing yards, and this week Boston College brings the nation's rushing leader to town in Andre Williams, who has 133 carries for 768 yards.
Venables was asked Tuesday during his press conference if he was concerned about the run defense, and he said no, echoing Clemson head coach Dabo Swinney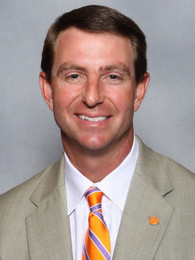 Dabo Swinney
Head Coach
View Full Profile 's comments from earlier in the day that the mistakes were correctable.
"Not as much concerned as you don't like to see it. You hate that it happened. You understand why," Venables said. "You understand what took place. There were mental issues that as a coach you know are correctable. You just hate that it happened. Some of that is my fault and some of that is we have to be more consistent mentally and handle things. It's gap integrity. If you're not in the A-gap, that's where they're going to run it. That bothers you a lot as a coach, so I take some gratification on all the other positive things. You can get beat by really good people in a tighter game and our guys recognize that they've been good about owning it. A few of the different runs, we just didn't execute very well. We executed those same calls for most of the night. But that back and the line, they're good enough to exploit you when you make some mistakes."
He then said that everything in the Eagles' offense starts with the run game, and said that containing Williams will be a challenge.
"Yeah, it's a big challenge. Everything starts in the run game," he said. "When people are able to establish it with consistency, you have issues on defense. They have a big physical presence with both the o-line and the back. They have a nice play action game, a veteran group on offense, give or take nine starters back. They're able to do a lot of things that are multiple personnel groups, multiple formations and they're doing it with a good, strong physical presence. It'll be very challenging for our entire defense."
In last season's game at Boston College, a 45-31 Clemson victory, Williams carried the ball 22 times for just 61 yards, a 2.2 yard per carry average. However, Venables said not much can be taken from last year's game.
"Very little. Every game, every year is different," he said. "It's a different staff, different schemes. He's playing with a great deal of confidence and they're playing with great continuity up front."
One player who did have a good game in last year's contest in Chestnut Hill was wide receiver Alex Amidon, who caught eight passes for 193 yards and two scores.
"Yeah, that's what I remember," Venables said when asked about Amidon. "Same things I remember last week when we got hit in the run game. I remember it with him in the passing game a year ago. He got us in the double-move and the long play action pass. He kind of had his way with us last year. He finds a way to get open and their quarterback does a great job of getting him the ball. Great competitor, good speed. He's a good player."
While Boston College does like to run the ball with Williams and will do so out of power formations, they also like to spread the field and get the ball to their playmakers in space.
"They're still spreading as well. They're finding ways to attack you in the run game," he said. "They're very multiple in how they attack you in the run game, not as much the quarterback run game that he has been known for (both at Temple and Florida), but you don't need to do that when you have the kind of back and line that they have."
Other notes
On the defense holding opponents to 14 points or less
"Just not letting people move the ball with consistency. You wish you could get back plays but I think we've been pretty consistent in doing the ordinary things pretty well, just playing with an overall better discipline and our guys are playing with incredible effort. When some of those mistakes are made, they have a great focus and great attitude and good toughness about them. They respond when their backs are against the wall. When we've let people on our side of the 50, we've either knocked them back or held them on fourth down. We've forced turnovers.
"There is a combination of a lot of things. I think we have shown consistently that it's hard because we make people work on the field. We haven't given up many eight, nine, ten-play drives. That's been real critical for us. And again being good in run defense when we have to be has helped. Even the other night, you don't like those numbers, but if they're gaining five and six and seven yards every time they snap the ball with 40-plus carries, it's very concerning when you give up the chunk plays and you look at the lack of consistency or tackles for loss. We forced them to punt nine times, so we really denied them the opportunity to get anything going from a rhythm standpoint."
Creating turnovers
"Just confidence, positioning, technique, trust, discipline. A year ago we stared in the backfield a lot. Whether you're in zone or man, it's hard to be in good position when you're looking at the wrong things. Sometimes you want to see what the quarterback's intentions are. But guys are more confident. Eye-control, technique, trust, all those things."
The role secondary coach Mike Reed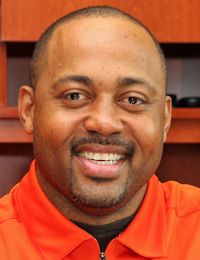 Mike Reed
Defensive Backs Coach
View Full Profile has played in the turnaround
"A lot of things, the fundamentals he teaches, the reps every day. We're creatures of habit, good or bad. He's just putting all the right things in front of guys on a consistent basis. He's got a good way of teaching them. I might be screaming and hollering or he might be calm. You won't get one over on him. He's very much a tool for those young guys and I think they realize that. Whether that's composure or correcting a technique or instilling a certain level of toughness, it's a lot of things. They have a functional intelligence about what we're doing. He's had a huge impact. Those guys have to take ownership and mature and invest in time. I think they've done that out of season and it has shown now. That just doesn't happen when you start practicing again. That is a long-term investment."