| | |
| --- | --- |
| Clemson's defense: Venables says group was good but not great | |
---
| | |
| --- | --- |
| Saturday, October 31, 2015 9:08 PM | |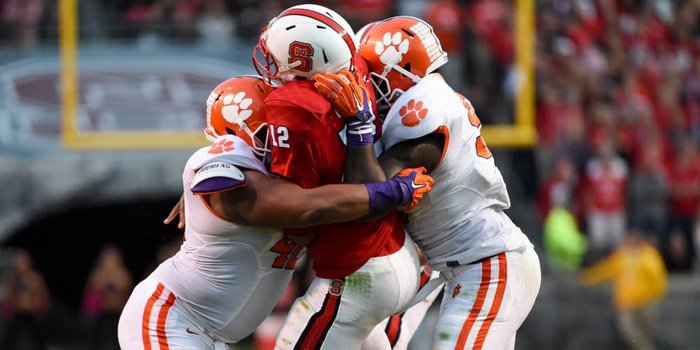 RALEIGH, NC – Brent Venables was happier than one might expect following Clemson's 56-41 victory over NC State Saturday afternoon, saying that his defense was good but not great in the win over the Wolfpack.
The numbers weren't pretty for a Clemson defense that shut out Miami a week ago. The Wolfpack marched down the field on the game's first possession to take the early lead, and it was all uphill for Clemson's defenders the rest of the night.
They were good enough to win – but not great, and he said he is sure he will have his group's attention this week.
"Obviously, I'm proud of our guys for the fight that we showed. I really thought it was going to be one of those kinds of games. Unfortunately, it kind of came to fruition," Venables said outside the locker room after the game. "The big plays we gave up were killers. We had a 40-yard run early that changed the field and a 60 yard run in the second half and a 40 yard on a throw back on third and short - a little wheel route that they got on us. I thought that N.C. State made some excellent plays. I have a lot of respect for their quarterback. He's a tough joker to get down. We weren't quite as precise as we have been.
"I thought they had a good plan. We've got to help our guys a little better. We haven't given up those big play runs like that this year. Those are killers in the course of a game like this - momentum, field position, points. We have to play better when we get down in the redzone. We made some terrific plays as well. I loved our fight. I thought N.C. State did some really good stuff, but, fortunately, we did more good stuff. There is plenty to correct, and we were far from great, but we were good especially when we had to be. There was a lot of excellent plays defensively and individual efforts. There's a lot to get their attention moving forward."
The Tigers had ten tackles for loss and five sacks but gave up 389 total yards (135 on the ground, 254 through the air). The Pack were just 4-of-15 on third down but had enough big plays to offset that stat. Quarterback Jacoby Brissett was 24-of-41 for 254 yards and three touchdowns and made several plays after making several Clemson would-be tacklers miss.
"You saw it in person. We've got some big strong guys, whether it's Jayron (Kearse) or Kevin Dodd or B.J. Goodson. He's a load and a great competitor," Venables said of Brissett. "He's one of those guys that can run it and throw it and keeps his eyes down the field, and that makes it that much more difficult. We had five sacks and probably should've had five-plus more, but he's a very good player."
Venables said the Tigers got a little help from Superman – quarterback Deshaun Watson led a Clemson attack that garnered over 600 yards.
"Superman and the crew. That was awesome," he said. "I felt like my first year where everytime they touched the ball they were scoring. It wasn't a matter of if they were going to do it; it was when. Sometimes it was too fast. I'll take that all day. I think they helped us out for sure."
For much of the night, the game took on the tenor of Clemson's 62-48 win over State in 2012.
"I try to forget that. Brain lapse. I thought we played better," Venables said of Saturday's effort. "You can't give up one-play touchdowns. You can't give up a 60-yard run. You can't give up a kickoff return for a touchdown. We had one one-play drive. You can't do that, but I thought we were getting into a rhythm until that 60 yarder. I thought we were starting to get into a rhythm during the latter part of the first half and into the second half. There are four or five plays that I'd like to get back that I don't think are reflective of who we've been, and the others, they're going to make some plays. That was a slug fest right there just in regard to having to continue to fight and find a way to get a stop there. I loved that last drive. There were some plays that they made, but our guys - all the way to the end - really showed a lot about who they are as men, as competitors, and as Tigers, so that was pleasing to see."
It was good. Just not great, and now the Tigers have been tested heading into next week's showdown at home against Florida St.
"We've been tested. I think giving up some of those plays, our guys haven't been used to that this year. I think that gives them a little dose of humility, and that keeps everybody better and helps you grow and improve," Venables said. "That's part of the journey and the course of the season where things don't always go your way. We preached it over and over all week and in the locker room before we went out - there's going to be a lot of adversity tonight, and we're going to have to overcome it. They're going to come out with some things you aren't familiar with, and we've got to weather that storm."