| | |
| --- | --- |
| Clemson's Orange Bowl chances? Just pull for the 'Noles | |
---
| | |
| --- | --- |
| Friday, December 6, 2013 3:30 PM | |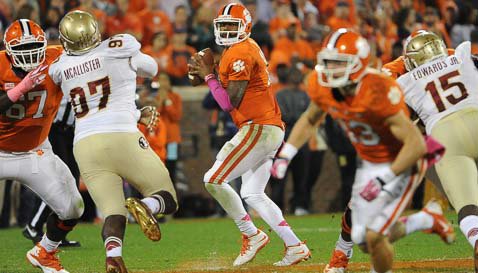 Making reservations for a bowl trip are a pain in the neck on short notice, and as Clemson waits for a bowl invitation that will happen sometime Sunday night, those reservations and bowl plans are put on hold.
However, TigerNet spoke with CBS Sports BCS analyst Jerry Palm Friday afternoon, and we asked him how confident he was in Clemson receiving an invitation from the Orange Bowl if Florida St. defeats Duke Saturday night in the ACC Championship Game in Charlotte.
His answer: Make those bowl reservations for Miami if you are confident the Seminoles will handle business against the Blue Devils, sending Florida St. into the National Championship.
"How confident am I? I would say the same level that you are confident in FSU beating Duke," Palm told TigerNet. "So you can draw your own conclusions from that. If FSU beats Duke, then Clemson goes to the Orange. It's that simple. If Duke wins, they go to the Orange and Clemson is out of the picture. But I can't imagine a scenario where the Orange Bowl would pass over an eligible ACC team, simply because the Orange Bowl and the ACC have that tie-in."
I asked Palm who Clemson should be rooting for over the weekend, and he said that while some of the games will have a definite impact on the BCS, the Tigers are in a really good spot, and he can't see any team jumping Clemson with a win.
Bowling Green plays Northern Illinois (14th BCS) Friday night, and a Northern Illinois win won't mean they jump No. 13 Clemson.
Oklahoma (17th) plays at Oklahoma St. (6th) on Saturday, and Palm said that one could be interesting depending on just how well the Sooners play, but he doesn't see a jump.
"That could be a team that could jump Clemson," he said. "But the question would be how far are they going to go? To me, that just doesn't seem like a likely jump. That could be a team that could jump Clemson. How far up are they going to go that just doesn't seem like a likely jump.
The loser of the Stanford (7th) and Arizona St. (11th) game might fall behind Clemson, allowing Clemson to move up a spot. A Michigan St. (10th) loss to Ohio St. might also cause the Spartans to drop, and a Michigan St. win over the Buckeyes simply means that Urban Meyer's squad would play in one of the other BCS games, according to Palm.
Clemson Athletic Director Dan Radakovich wrote earlier this week that the Orange Bowl has concerns with potential Clemson ticket sales, but the Orange Bowl's Larry Wahl told TigerNet Friday afternoon that tickets are just a small part of the equation and that Clemson fans have let the bowl know they are interested in attending.
"There have been a number of social media contacts and emails that have been coming from Clemson people," Wahl said. "They have all said, 'Please take Clemson.' But one thing I want to make clear is that there are a lot of criteria our leadership will evaluate in what schools they are going to select, and ticket sales is just one of those criteria. There is no priority or particular order in which we view those things. Our leadership looks at a variety of factors. It's not just ticket sales, but other things that will factor into it as well."