| | |
| --- | --- |
| Clemson's Defense: Refuse to Lose | |
---
| | |
| --- | --- |
| Sunday, August 17, 2014 11:59 AM | |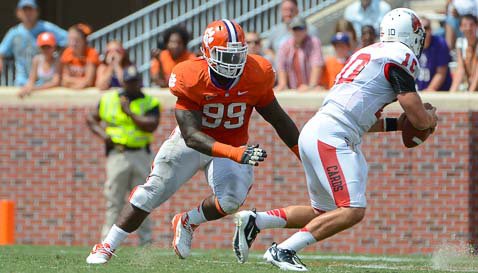 CLEMSON – It doesn't matter who the Clemson defense is facing or where or when they are squaring off. If it's a competitive situation, they simply refuse to lose.
As fall camp comes to a close both the offense and defense are tired of facing each other, but that didn't stop the Tiger defense from winning Saturday's scrimmage in Death Valley.
Senior defensive tackle DeShawn Williams

DeShawn Williams
Sr. Defensive Tackle
#99 6-1, 292
Central, SC
View Full Profile told the media after the scrimmage that he and the defense take pride in winning every situation.
"Short yardage is always competitive, so we take pride on defense to not lose competitive situations," Williams said Saturday. "It's all in fun, but when it's that time we want to get out there and be nasty. We want to take care of them [the offense], but when coach says it's competitive, we don't want to lose."
Satuday's scrimmage went a lot better than Wednesday's due to the hold nothing back attitude that the defense had when they took they field.
"We wanted to do a better job than we did the last scrimmage, so today we set the tone up front and the back end with the pick-six early," Williams said. "We just wanted to come out have no regrets like the last scrimmage and just go all out."
The defense has practiced with a chip on its shoulder all throughout camp, but a lackadaisical performance Wednesday led to a team meeting and a new mentality.
"We had meetings about it and we just took it upon ourselves as players to not disappoint the coaches and discipline ourselves," he said. "Don't come off the field with what ifs. We've got to be better and we left it all out on the field and it showed today."
It will take that same kind of attitude if Williams and his teammates are to accomplish the goals that they have set for themselves.
"We feel that if we would've had some more plays that we would have been in the national championship," he said. "I take it upon myself - jumping offsides against USC - that was all on me. We're trying to get there [to the national championship]."
However, Williams said that as the Tigers turn their attention to the Georgia Bulldogs, they simply need to continue to practice with the same sense of urgency that they've had all throughout August.
"Don't change anything. Continue to practice hard. Study film," he said. "Be all in and put in an all in effort on and off the field because we're going against a good Georgia team that has a lot of weapons on offense. We can't have any screw-ups."