| | |
| --- | --- |
| Clemson is "national championship good" but have to run through 'Noles | |
---
| | |
| --- | --- |
| Tuesday, July 14, 2015 8:10 AM | |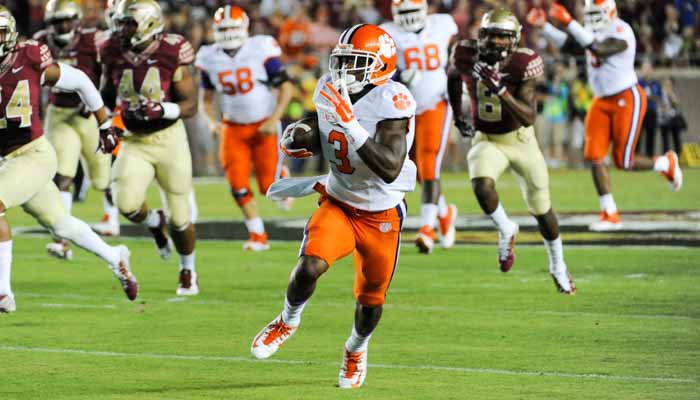 The ACC media will convene at the Pinehurst Resort in North Carolina later this week, and the voting for the team that wins the ACC title this season will likely be a battle between Clemson and Florida St. In other words, it's business as usual when it comes to the Tigers and the 'Noles and one national radio host agrees that the fortunes of the ACC will come down to those teams.
Braden Gall, a writer for Athlon Sports who also hosts college football radio shows for the Sirius/XM college football channel, told TigerNet this week that the Tigers are in a prime position to contend not only for the ACC Championship but perhaps even a spot in the College Football Playoff.
"First and foremost, you have to love the situation they have there with the roster and the talent," Gall said. "The opportunity to win a conference title is clearly there for Clemson, and I do think it is clearly a two-team race. As much as I like Georgia Tech and as much as I really like and respect Bobby Petrino, you don't know who else will step up in the Coastal Division and at the end of the day it's a two-horse race in the ACC for the championship and that once again comes down to Florida St. and Clemson.
"This year it is in Death Valley. This has kind of been the hurdle for Clemson since Florida St. got back to where they are normally at. I think they are more evenly matched than they were last year - which was a great game - and certainly with the ugliness that took place in Death Valley two years ago. This is a team that has National Championship aspirations. It is a team that very easily has ACC Championship capabilities. My only issue with Clemson is all the ifs. If all those ifs go correctly, then I think Clemson could very easily be an ACC Champion, a top five team in the nation and if you're sitting there at 12-1 then I think you're absolutely staring a playoff bid in the face."
If Clemson is to make it to the promised land, the health of quarterback Deshaun Watson

Deshaun Watson
So. Quarterback
#4 6-2, 205
Gainesville, GA
View Full Profile will play a major role.
"I think one of those ifs is certainly his health. But I think from a national perspective Deshaun Watson is as highly-regarded by the national media as it is from the guys who cover him," Gall said. "His ability is unbelievable. It's as good as anything we've seen at his age in college. I think the sky is absolutely the limit. He has Heisman Trophy capabilities. His talent is just obvious. You know as well as I know the numbers the offense puts up when he is on the field versus what it is when he isn't on the field are pretty obvious. There are three big ifs for this program heading into the season, and one of those is keeping Deshaun healthy. If he is healthy then the sky is absolutely the limit. He can be the ACC Player of the Year and he can lead this team to a conference title and even lead this team to a playoff berth."
Going back to Clemson and Florida St., Gall said that the Tigers and Seminoles should be the programs contending for an ACC title every season.
"In the ACC, there are two programs that should have and do have better players than everybody else," he said. "They have better fan support, better stadiums, bigger stadiums, louder stadiums and better players than everybody else and that is Florida St. and Clemson. Now Miami is sometimes in that mix, but they don't offer the same kind of Saturday atmosphere and the same kind of campus stadium or fan support. Miami is like this unique kind of beast that kind of floats around out there that has the chance to be the best program in the world but has a lot of real weird negatives about it that stem from the lack of a stadium and fan support.
"Virginia Tech is probably that next tier in the ACC because of the great stadium and fan support, but it's not on the same level as Florida St. or Clemson. Every year this league should come down to - if they are well-coached and people are in the right places - every year the ACC should come down to Clemson and Florida St."
How far away are the Tigers from being on a level with teams like Alabama and Ohio St. and even Florida St.?
"Florida St. is on the tier of the top programs in the nation with Alabama and Ohio St. and Texas and USC - Clemson may be on the top of the second tier with the Oregon's of the world as far as big picture success," he said. "That is national championship good. They are good enough to be a national champion. I do think this year with no Chad Morris

Chad Morris
Offensive Coordinator / QBs
View Full Profile and the fewest number of returning starters in college football, if Clemson wins an ACC title this year with all of the ifs and the holes then I think you can safely say Clemson is one of college football's upper echelon programs. I don't think you can make the playoff at 11-2, but if this team goes 12-1 and makes the playoff I don't think there is any question where Clemson resides in the hierarchy of college football."